Some of you may be aware that we have SOLD our amazing Signature 543sf and have started the build of another new one – so I thought it was time to review our last two Signatures and explain the differences 😉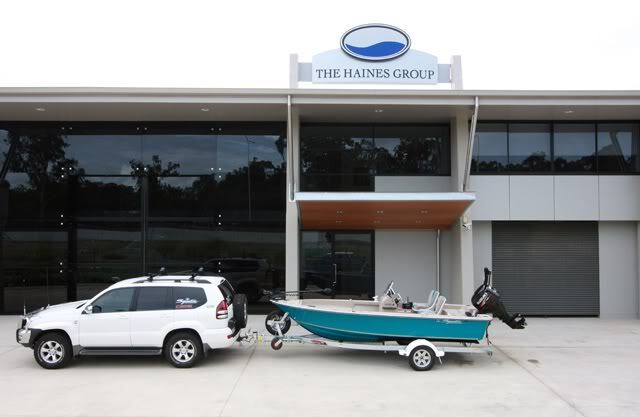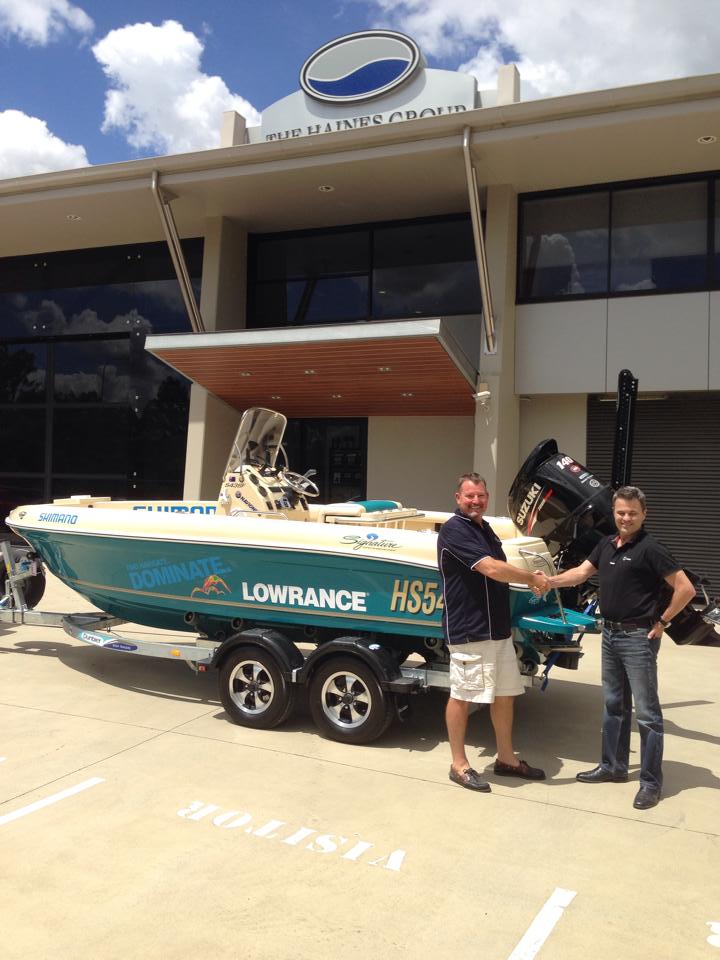 Tale of two boats – Haines Signature 485SF and 543SF Reviewed
By Scott Mitchell
Buying a boat usually involves an element of compromise – unless you are able to own more than one boat. Most of us are not fortunate enough to own different boats for different fishing options like we do with our tackle so we need to select a boat which covers the fishing options we enjoy doing the majority of the time. The rest is a compromise.
I have owned a number of boats over the last four decades and fished in many more with mates and guides around our great country. This experience lead to the privileged position to work with our country's largest fibreglass trailer boat manufacturers The Haines Group to build the Haines Signature 543SF and tweak our previous 485SF. The Haines Group actually manufacture a number of well know boat brands including Haines Signature, Traveller, Tournament boats, Seafarer and the exciting new Sea Change Boating range.
Having an amazingly diverse range of fisheries surrounding us in Queensland's Hervey Bay meant a challenging search for a boat to cover it all.
I initially wanted a boat which would comply with the engine restrictions on our local water supply "Lake Lenthall", which only allows for four-stroke and direct injection two-stroke engines up to 60hp. Lake Lenthall has had a few tough years but now looks set to return to its former glory; so if you want to enjoy fishing Lenthalls your boat has to perform with a maximum 60hp four-stroke or direct injection two stroke.
I also wanted the convenience of owning a boat small enough to launch single-handed and easy to tow with a standard family car yet large enough to fish the bigger lakes like Monduran and Awoonga was .I also wanted to fish our local Mary, Susan and Burrum rivers, and the maze of waters within the Great Sandy Straits. If that wasn't enough I wanted a boat that would float in next to no water for flats fishing on the inside of Fraser Island, and finally allow us to run wide to the southern gutters and cross the Wide Bay Bar when weather permitted – I know it is a tall ask!
Back in February 2009 I ran into fishing writer Warren Steptoe at lake Awoonga and first saw his Haines Traveller TD149 and tiller steer Suzuki 50 four-stroke. The boat just had beautiful, classic lines and reminded me of an O'Brien game boat. Warren explained that The Haines Group were working on a slightly longer model and that there was a Suzuki 60hp four-stroke in the pipeline. A few months later I saw the new boat at the Brisbane Tinny & Tackle Show. It didn't take long to assess the boat as truly something special. I soon made plans for the new Signature 485SF to become our new "project".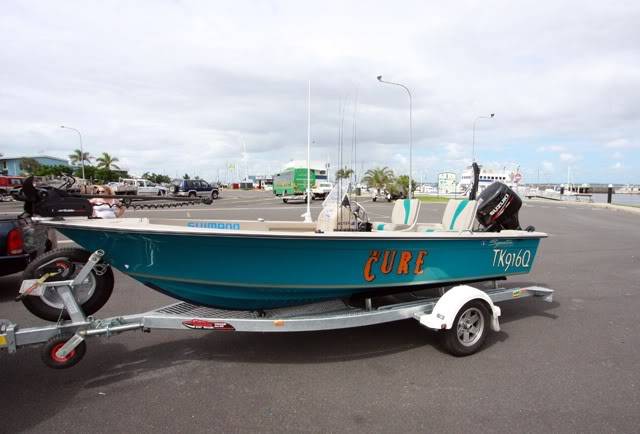 A build to Rivale anything
The Haines Signature 485SF hull has an interesting heritage and was a long time in the making. Originally produced as a Seaquell, it eventually became part of the Traveller range – the popular alternative line-up to the company's excellent Haines Signature range.
The Haines Group has led the way when it comes to innovation in Australian boat building. The technology used in the building of many of their boats including the 485SF is another example; Rivale – "Resin Injected Vacuum Assisted Low Emission" – is a form of sophisticated resin injection moulding that produces deck and hull mouldings with smooth finishes on both sides. They are also thinner, lighter and ultimately stronger than a traditional fibreglass hull.
The 485SF's hull features two Rivale mouldings that form the interior and outer hull, with foam filling between, all bonded into a single unit by another Haines Group developed proprietary process – Nexus.
The unique Rivale build process allows fantastic flexibility when it comes to customising interior designs to suit buyers' fishing styles and budgets. The hull can be ordered as a plain basic dory and then each modular part can be added as required; this can also continue over time, as owner funds allow.
Our 485SF had all the "bells and whistles" with options that included a bow casting deck with a moulded under-floor storage bin; anchor well; fully plumbed live well that, being foam-lined, doubles as an extra ice chest; rear casting deck with tackle storage on either side; ice box/fish bin; portside rod locker extended to accommodate fly rods up to 10ft in length; 120L under-floor fuel tank; sports side console; comfortable Signature seats and non-slip surfaces throughout.
A Teal coloured gelcoat was selected for the hull so as to blend in with the waters around the bay (everyone's got a white boat …) and a Stone coloured gel coat for the deck colour to reduce glare when sight fishing the flats – we have found white decks act like a big reflector and are a pain to keep clean. The Stone colour stays cool and is fantastic!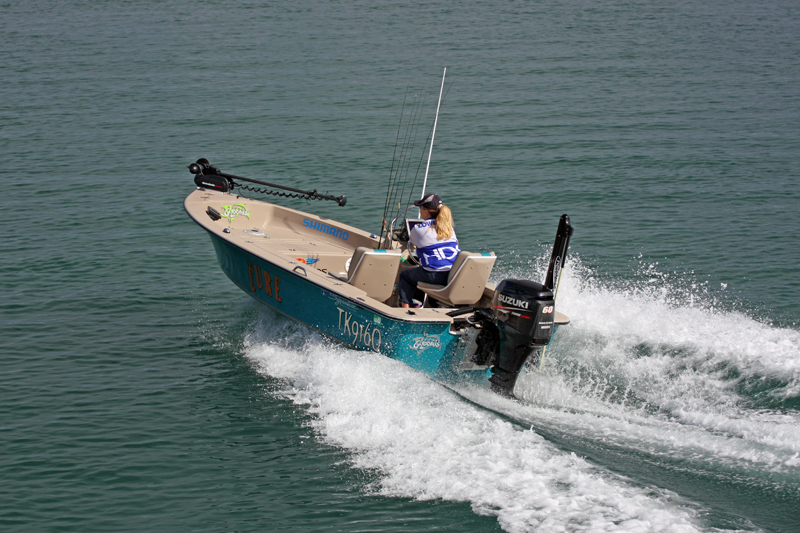 One with the lot !
We fitted a Motorguide wireless 74lb 24v electric motor to the bow of our 485SF , housing the two deep cycle batteries in the front casting deck along with a C-TEK XS1400 on-board charger. A second CTEK XS800 12v charger was mounted to the main cranking battery as well. This is a great system and makes charging your batteries quick and easy. All that's needed is an extension lead run out to the boat to charge the batteries after each session. The CTEK chargers are smart chargers and can be left on indefinitely without fear of damaging expensive deep cycle batteries.
I have been on the Lowrance Pro-Staff for a long time and always run the latest equipment with our 485SF being fitted at the time with a Lowrance HDS5 sonar unit up front with the Motorguide and a HDS 8 combo sonar/GPS unit fitted on the console with an additional LSS-1 structure scan module. We also fitted a Lowrance LVR-250 VHF radio.
Running Gen 3 touch units and 3D Structure scan today shows how far our electronics have come in the last 10 years!
The unusual looking poles on the transom of my last 3 boats is a PowerPole or hydraulic anchor. This allows the boat to instantly hold position at the press of a button in water up to 10ft deep. I'd now rate the PowerPole as the next most important item after the electric motor and sounders and couldn't imagine owning a boat without a 10ft Blade.
For the trailer a custom built EasyTow was the first choice after having one under our last two boats. The team at EasyTow designed the trailer to allow the hull to sit as low as possible for launching in shallow areas and offer streamlined towing while on the highway, all while maintaining reasonable ground clearance. I settled on timber/carpeted skids over rollers to allow the use of Keel Shield to protect the hull and for better support, while eliminating the need for roller maintenance.
We ran the faultless Suzuki DF60A on our 485SF, although the hull is rated up to 90hp. Weighing in at only 104kg the four-stroke outboard is an impressive 42 per cent lighter than its predecessor and is 2010 state-of-the-art. It features Suzuki's computer-controlled Lean Burn Control system as seen on the DF70/80/90. Lean Burn monitors and adjusts air to fuel mixture at various engine revolutions for optimal performance and economy. I liked the Suzuki's 19amp alternator that's capable of supplying 11.5 amps at 1000rpm to keep all our 12 volt gadgets working! We connected the DF60A up to Bay Star hydraulic steering for smooth reliable handling and manoeuvrability.
So how did our 485SF perform? Beyond our expectation is the short answer and to top it off some great fish came over its gunwales in the 3 years we owned her.
Its stability is fantastic with two anglers being able to fish up front without any problems. The extra wide gunwales also make it easy to get around the deck quickly when chasing a fish. The decks are uncluttered with enough storage to keep everything needed for a day's fishing organised and close at hand.
The non-skid fibreglass decks are fantastic for keeping clean. About the only hassle I've noted comes with having to remove the passenger pedestal seat to access the rod locker, but it still provides good insurance when carrying more rods than we ever really need.
The 485SF has been described as being soft riding, dry, predictable and one of the safest hulls in an under-five-metre boat by those more qualified than me. I can now endorse all of these comments – it really is that good.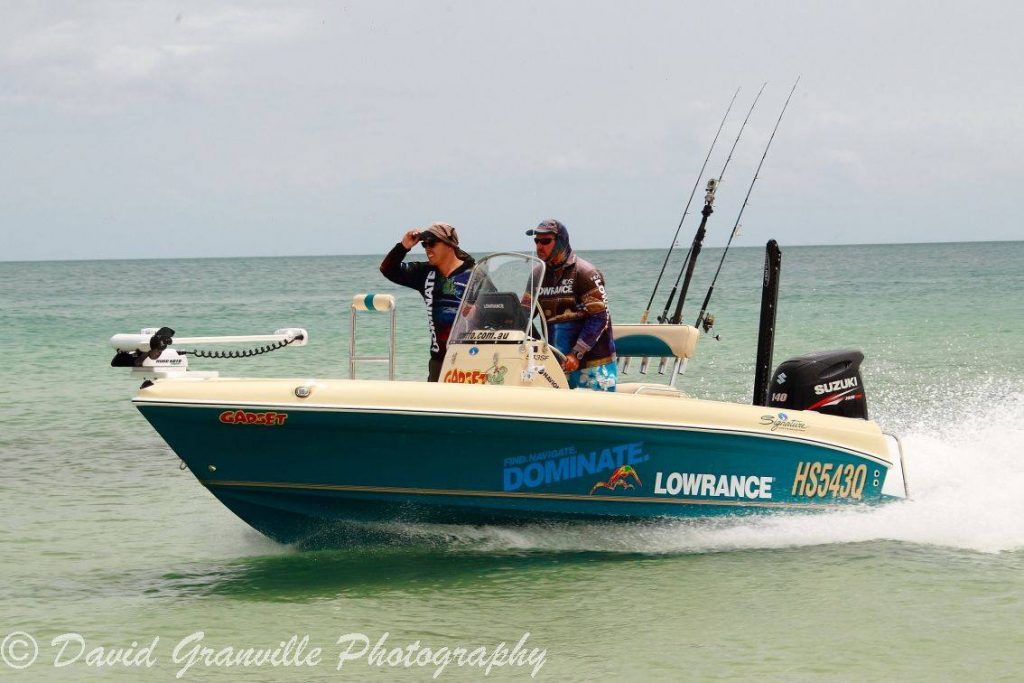 Bigger is always better – right?
The Haines Signature 485SF is now the company's largest selling sport fishing (SF) model and is the basis of the new Sea Change Boating brand. Having such a diverse range of fisheries surrounding us in Hervey Bay, it's a challenge to find a boat that covers everything with every boat being a compromise. The 485SF is an amazingly versatile boat with an emphasis on inshore fishing and the capability of running offshore when conditions allowed.
Over the last 14 years living in Hervey Bay I found I was spending more and more time out in open water fishing as far as 30 miles off the top of Fraser Island and the gutters and reefs which signal the bottom of the Great Barrier Reef. So the decision was made to get a larger boat more suited to safely fishing offshore with my priorities in reverse. But I still wanted to fish shallow flats, creeks, rivers and our larger impoundments for bass, barra and murray cod when required.
There no question that size "does" matter when dealing with rough open water and we were looking for a little more comfort as we are getting older – some may say softer!
What I really wanted was a larger Signature 485SF. I spoke with the team at Haines Group again and suggested there was an opportunity for an Australian fibreglass boat manufacturer to build a "specialised" sportfishing centre console to suit our local fishing styles and compete with the international imports. After quite a lot of discussion, it was decided that the Signature 543 was the right hull for the job with a well-proven sea handling reputation and was a great length to be handled easily either on your own or with a few mates – but needed a new deck for sportfishing.
Danish-born Australian adventurer Hans Tholstrup undertook the impossible and completed an extraordinary expedition and one of the greatest small boat ocean voyages of all time in a stock standard Haines Signature 540 powered by a 90 hp engine. Hans completed the 7,500 km odyssey from Darwin to Okinawa, Japan back in 1999. Our Signature 543SF is a third-generation on that hull with time-proven sea legs!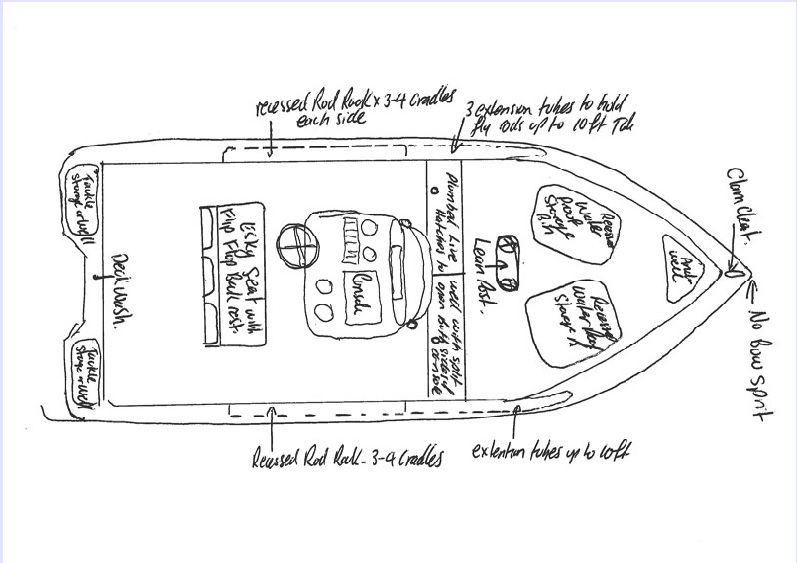 So begun the 543SF project. We drew up the general deck design with the key features. Starting at the bow there is a deep anchor well large enough to carry at least 110m of rope with suitable chain and anchor. There is a custom-made electric motor plate which can be mounted on either the port or starboard side to suit your preference. Being right-handed, I prefer mine on the starboard side so I'm not casting over the Minn Kota when it's not deployed. We went with a Minn Kota Terrova iPilot 24 volt 80lb bow mount with 60-inch shaft this time around.
The front casting deck is large enough to sleep two people comfortably, making it ideal for long-range trips. I wanted at least one large dry storage compartment which caused some debate in relation to the definition of "dry". John Haines Jnr said very few deck storage options can truly be classified as completely dry, however, the use of a deep hatch track and seal would provide sufficient waterproofing for most. We settled on having two split hatches towards the bow deep enough to house any items you would prefer to keep dry – safety gear, jackets, bedding, cooking gear etc. The hatches have been fitted with gas struts for ease of opening and to hold these up when open.
Next was a kill tank/live well. The one we had previously in our 485SF was fantastic so we elected to reproduce it again – only with a little more depth this time due to the increased height of the raised casting deck. This compartment has been foam-lined to improve insulation as both a live well or kill tank and will hold ice for day/overnight trips. It makes a fantastic live storage well for species such as bream, flathead, whiting and bass and will keep them in top condition until either released or dispatched for eating. It carries approx. 120 litres of water.
Next, we have another large general storage compartment with two access hatches that are ideal for storing long items like gaffs, folding nets, lure retrievers, drogue, and tackle boxes. There's a deep bilge sump below the floor with plumbing for the live well and deck wash system flush mounted into the port side.
A lot of thought and design has gone into the centre console. Anyone who's fitted electronics in centre consoles previously will appreciate the hinged folding top section! With sounder screens getting larger every year the dash section will accommodate flush mounted screens in excess of 12-inches. I initially mounted Lowrance HDS Gen 3 Touch units (Now running HDS LIVE units) with a Touch 9 as my GPS/charting unit and a Touch 12 for sonar and 3D Structure scan. Both units are networked so you can accurately mark bottom structure as a waypoint or split the screens as desired. I also added the new Sonar Hub with CHIRP transducer and saltwater Hydrowave H2 unit.
I mounted a Lowrance Sonic Hub for playing a few tunes on the longer runs or overnight trips. There are two Lowrance LMF 400 gauges to read all the engine data and fuel management details via an interface to the engine. We also fitted the Suzuki Troll Mode system which allows the engine's revs to be adjusted in 50rpm intervals simply by pressing the Troll Mode control switch from idle up to1200rpm. I also went with the Lowrance Link 8 DSC VHF radio with a short whip antenna.
Everything on the console is ergonomically positioned for easy access. The Bennett trim tab switches are positioned just above the single binnacle control box so the boat can be easily trimmed while running. All the switches for lights, bilges, live wells, and deck wash is positioned across the dash directly in front of the steering wheel, which is also on an adjustable tilt helm. There is a Sterling Pro Mariner three bank (30 amp) battery charger mounted under the console, hard-wired into the two Deka marine Intimidator 8A31 batteries for the 24-volt Minn-Kota system as well as the third Deka house battery to run all the other electronics. This makes charging all the batteries painless by just running a lead to the boat and plugging it into the Clipsal power plug on the side of the console. I also had a separate C-Tek MXS 5 maintenance charger hard-wired into the Deka crank battery down the back.
There are three-rod racks built into each side of the boat's gunwales with individual tubes to protect rods up to 12 feet, making it ideal for both conventional and fly rods. Soft cushioned coamings have been fitted in the main cockpit area for added comfort when fishing heavier tackle and battling larger fish. Behind the console, there's a comfortable boat seat with storage built-in under the cushion. There's enough space underneath the seat to fit a larger cooler or tackle bags. There's also a removable padded backrest with another four-rod holder built into it.
The transom area features a small seat on each side which houses the main crank battery, charger and isolator switches on the port side with a plumbed live well on the starboard side.
The hull is rated up to 150hp with our choice of a motor being the Suzuki DF140A. We couldn't be happier with the performance and have propped the boat for midrange fuel economy by running a Suzuki stainless steel 3 x 13 7/8 x 21 R prop. This combination gets out of the hole well, while offering a cruising speed of about 20 knots and burning 15 litres per hour at 4000 RPM. This gives the boat great range with the underfloor 160-litre fuel tank. WOT at 6000 rpm produces 36 knots, burning 45 litres per hour.
The whole rig comes in at about 1800kgs sitting on a tandem axle Dunbier wide-body Supa Rolla trailer with sexy alloy wheels.
We feel very privileged to be given the opportunity to work with The Haines Group and believe the 543SF will gain legend status around fishing circles in years to come as more angler's purchase and fish from one. The Signature 543SF has set a new benchmark for a dedicated Australian manufactured fibreglass sportfishing weapon.
Being locally manufactured by our country's largest fibreglass trailer boat company you have the flexibility of customising your whole package as well with a number of options available including a tiller steer, side console and our fully optioned centre console model all being available in a range of classy gel coat colours.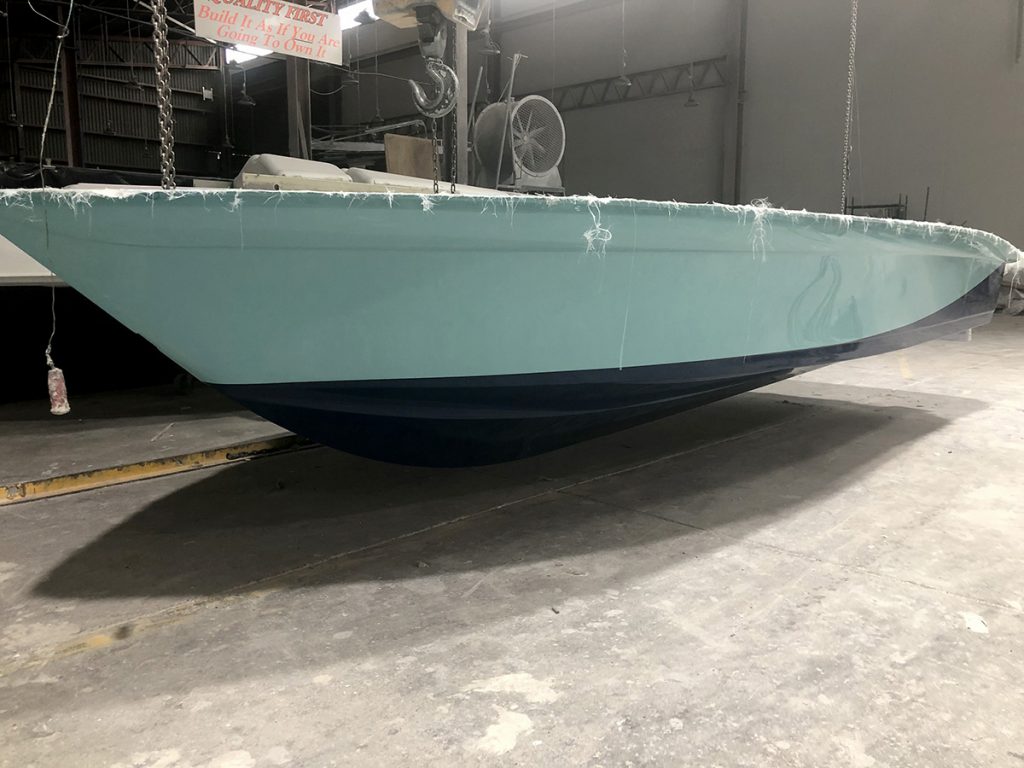 We have been so happy with our Signature 543SF over the past 6 years that we have decided to purchase another one with some cool new gadgets – You can view the compleat build details on both our Signature 485SF and 543SF and our NEW 543sf via the "Our Boats" pages under the Main Menue on the left-hand side of this web site as well
Regards Scotto