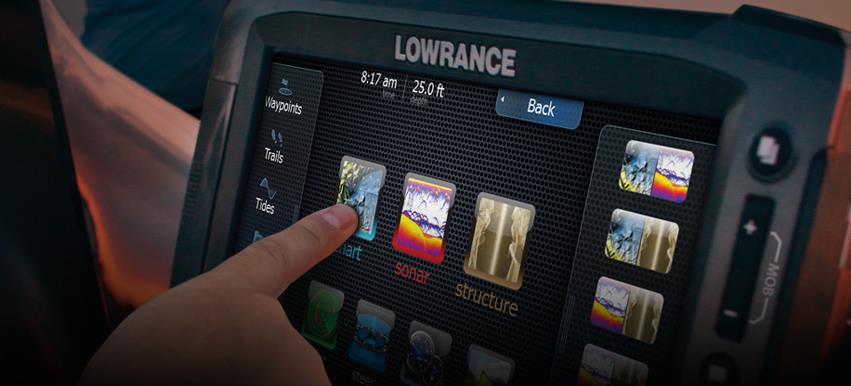 Lowrance releases HDS Gen2 Touch range
Marine Business
02 Oct 2012
LOWRANCE has recognised the growing trend towards touch screen technology with the announcement of its wide-screen HDS Gen2 Touch range.
The new Touch range is availble in 7, 9, and 12-inch displays and has several additional and innovative features not previously available.
Lowrance said its new technology delivers the same award-winning benefits that made the HDS High Definition System the world's top-selling multifunction display series; Gen2 Touch models incorporate new easier-to-use, wide touchscreens in 7, 9 and 12 inch sizes.
The new Lowrance lineup — an addition to the current HDS Gen2 series — also features the Broadband Sounder and StructureScan HD — as well as powerful chartplotting capabilities and seamless integration of Lowrance's comprehensive range of performance modules including Broadband Radar and SonicHub marine audio server.
"The new HDS Gen2 Touch combines all the superior fishfinding and navigational technologies Lowrance customers love, in a sleek easier-to-use touchscreen multifunction system that includes our largest display ever, the new 12 inch HDS-12 Gen2 Touch," said John Scott chief operating officer Navico Asia Pacific.
"The revolutionary integration capabilities of the Gen2 Touch paired with built-in Broadband Sounder and StructureScan HD help our customers get the most from each on-the-water experience."
Easy-to-Use, Touchscreen Control: Featuring high-bright, 1200 and 1500 nit, sunlight-viewable displays; Lowrance says HDS Gen2 Touch models provide the flexibility to customise and configure personal screen views with up to four panels at once, and have the added advantage of a new three-panel, vertical-page view. Effortless touchscreen operation makes panning and zooming fast, responsive, and most of all, easy to learn with its intuitive icon-driven menu. The HDS Gen2 Touch also provides five push-button options, allowing users to easily remain in complete control in any boating situation.
John Scott told Marine Business the unit's five push-button controls is similar Apple's iPhone design which also features five essential buttons to complement its touch screen.
HDS Gen2 Touch fishfinder models feature both a built-in Broadband Sounder and StructureScan HD, to provide greater sensitivity, peerless echo clarity and underwater definition proven to find more targets. Built-in SideScan and true DownScan Imaging sonar signals offer full panoramic displays for clear picture-like views of underwater structure to the left, right and directly beneath a boat.
The systems also feature Lowrance's premier TrackBack functionality, allowing anglers to scroll-back through recorded sonar history to review and zoom-in for a closer look at bottom structure or fish targets, and pinpoint locations with a waypoint. The Gen2 Touch now also includes an innovative window above the screen to allow users a better idea of their trackback history.

More details & video @ http://www.lowrance.com/Products/HDS-Gen2-Touch/ 
#Lowrance #HDSGen2 #FishingWithScotto