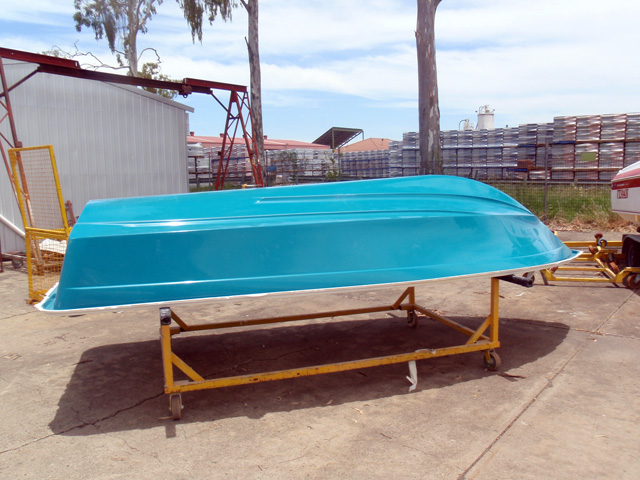 It is the 1st teal green hull they have poured – and appears to be a different shade at every angle, but should blend well out on the bay .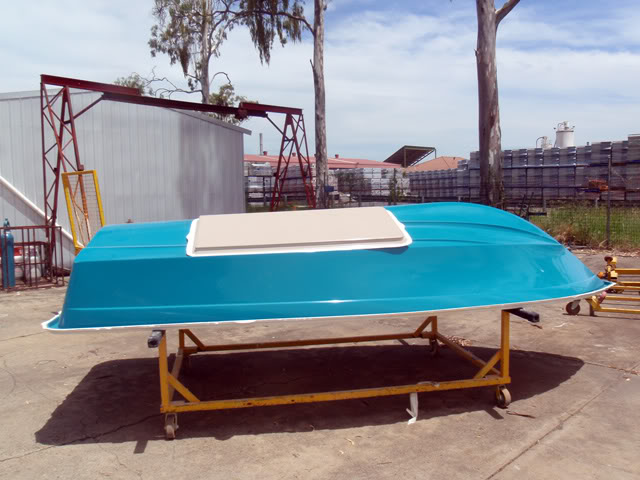 The deck & console will be a stone/coffee colour, but wasn't fully ready so I stuck a hatch on for contrast. I will add more shots over the next few weeks as we put it all together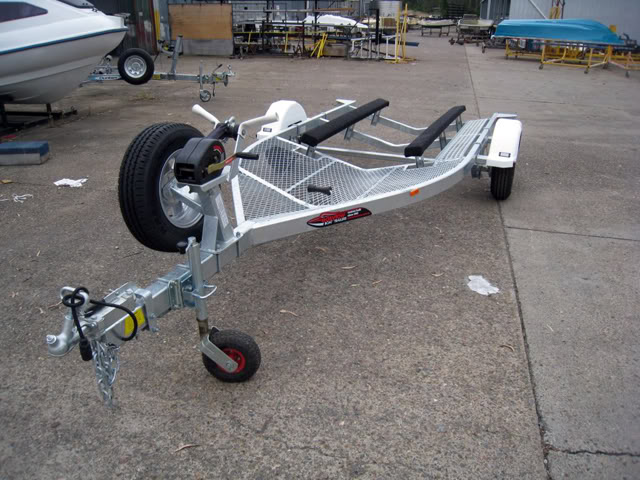 We have had Easytow trailers under our last two boats & believe they are as good as I've seen – so we had them custom build us a new one for the Haines using skids to allow us to fit KeelShield & reduce maintenance with rollers etc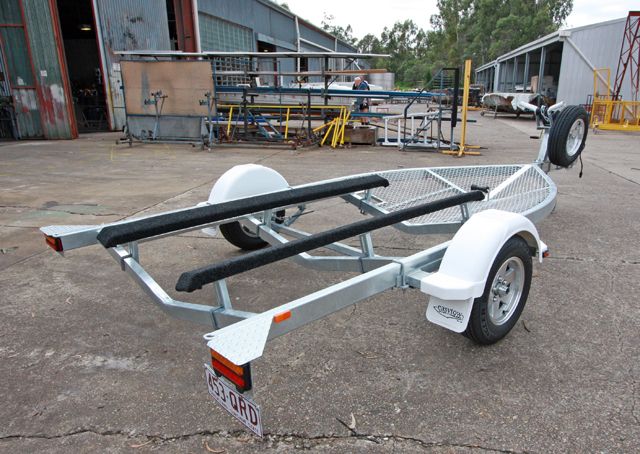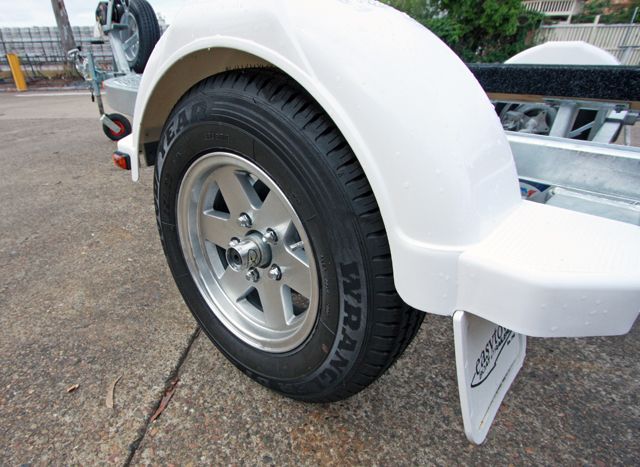 All EasyTow trailers now come standard with Durahubs & we elected for Alloy rims
We have put a lot of though into this boat and the service from Haines has been fantastic :-
·Options fitted
·Anchor Locker Hatch
·Casting Platform
·Casting Platform Extension With Kill Box
·Rigging – Control Cables (Suzuki Only)
·Rigging – Engine Fit Up (Suzuki Only)
·Rod Locker – Lockable
·Seating – Extra Relocatable Seat Bases (1)
·Seating – Outboard Well With Full Rear Casting Deck
·Side Console
·Two Tone Hull – Full Sides
·Under Floor Fuel Tank – 130L
·Wiring Harness Inc Switches, Bilge Pump, Anchor Lights & Nav Lights
·Insulated & Plumbed Live Well With Divider To Be Foam Filled In The Front Deck
·Centre Live Well In Rear Casting Deck To Be Replaced With Battery Holder
·Flush Mounted Pop-Up Cleats At Transom Corners & forward of console (4 )
·Custom Trim Colour Hydraulic Steering – Baystar Kit
·Steering Wheel – Upgrade To 13.2″ S/S Steering Wheel With handle
·Seating – Signature Std Pedestal Seats ( 2 With Bases)
·Suzuki Df60Tl (New)
·Fit – Bob's manual jack plate 5" set back
·Fit – Clam Cleat On Bow – No X-Bollard
Non – Factory accessories to be fitted :-
·Lowrance HDS – 8 combo unit for console( sonar/GPS )
·PDRT-WBL ( Thru hull transducer )
·Lowrance HDS-5X – Sonar unit for bow
·Lss-1 Structure scan module
·Lowrance LVR-250 – VHF radio + antenna
·CTec14000 CTEK MULTI XS 14000/24 On-board CHARGER
·CTec XS 0800/12V Crank battery CHARGER
·Power-Pole XL black with remotes
·Motor guide Wireless bow mount with universal transducer
·SWE-185100F-12-1R SWE / C. BREAKER SWITCH / MAN 80 A
·BTFB12 BAINTECH FUSE BLOCK 12 WAY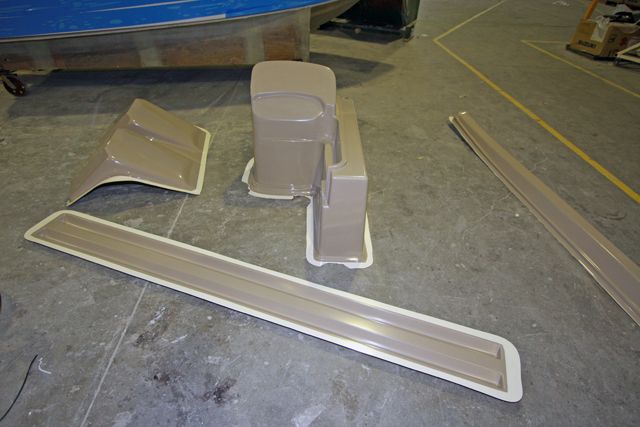 Just back from our final factory visit before we pick her up – The RIVALE modular build system used on the 485 DF is pretty amazing & the stone deck colour scheme has become a new favorite at the factory !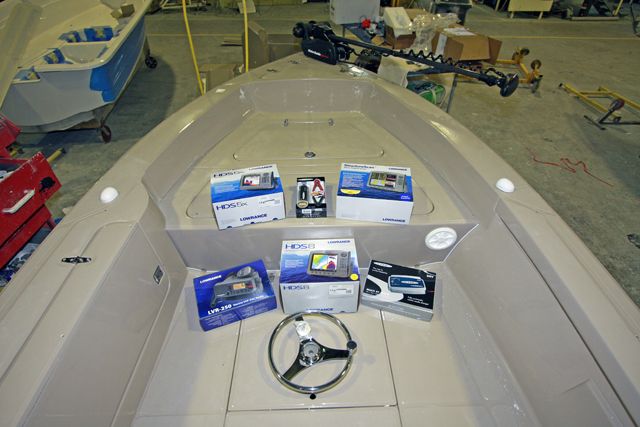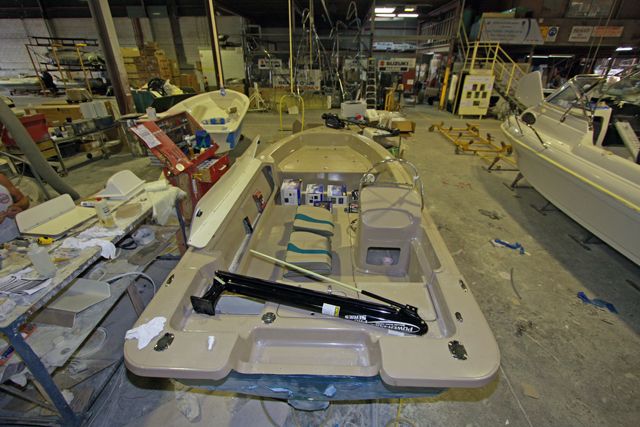 You can't have too many "gadgets" – Luckily I have Wayne Thompson & Tony at the factory on hand for the hardware fit out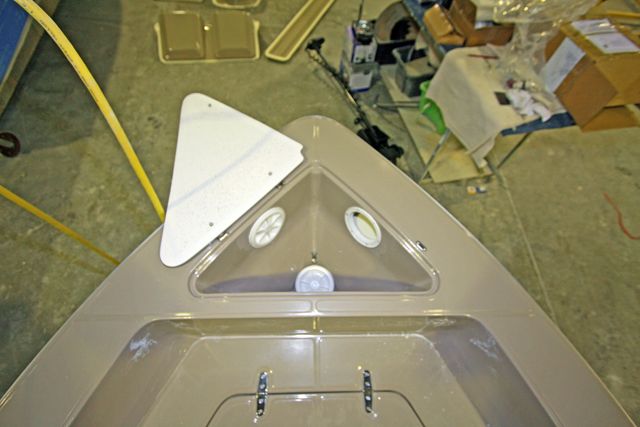 Starting from the bow – Anchor Well
Casting deck extension – this is where we'll be housing our two AGM batteries & CTec14000 CTEK MULTI XS 14000/24 On-board CHARGER to run our wireless 74lb Motor Guide bow mount electric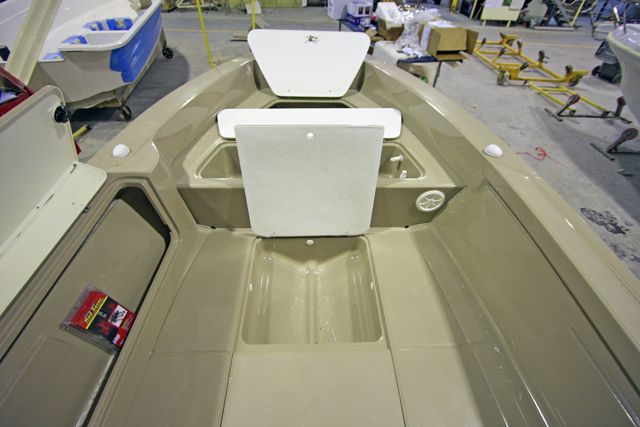 Insulated ( foam filled ) Kill tank under floor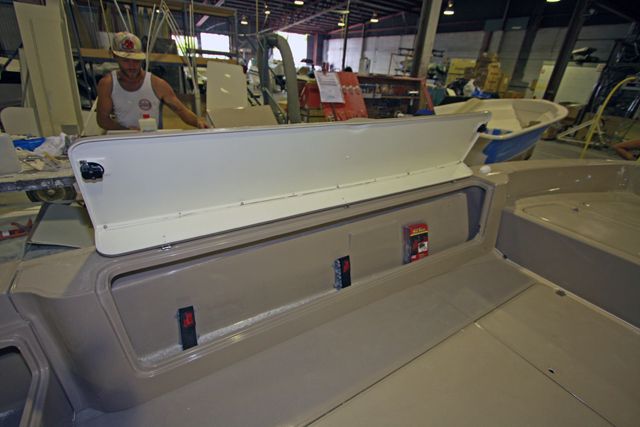 Rod Locker – to have three extension tubes run up through front bulkheads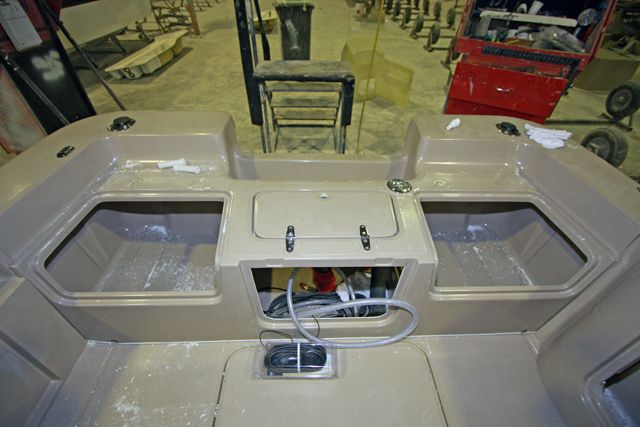 Rear Casting deck – quite a bit to go in there !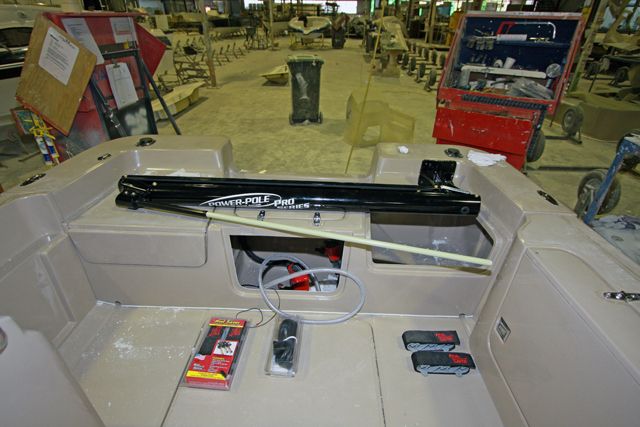 Just waiting on the Engine now !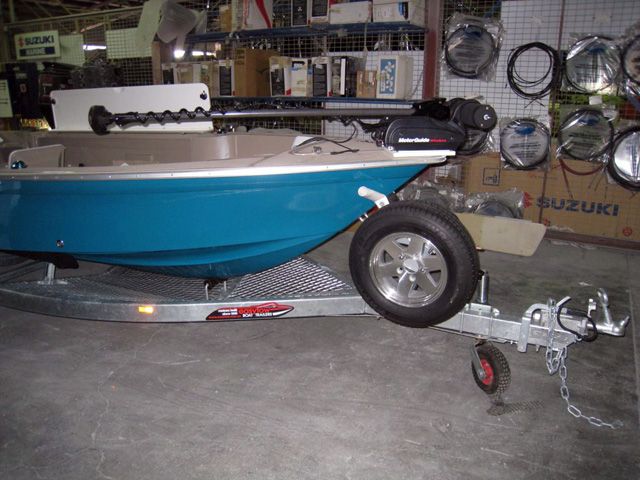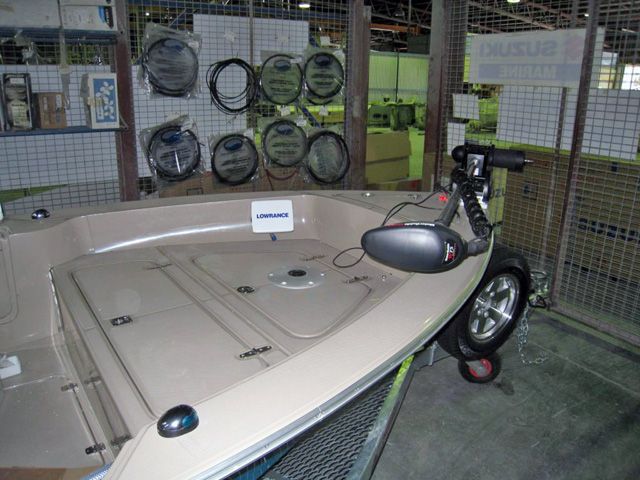 A few extra shots from the factory today – got he Motorguide fitted & connected to the Lowrance HDS on the bow – with batteries & on-board charger wired up inside front deck.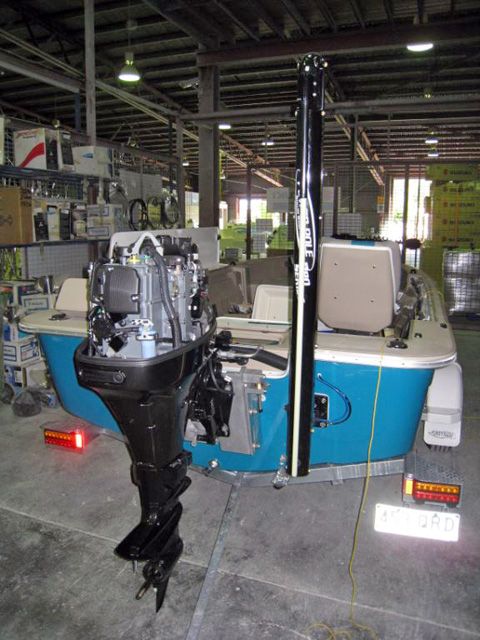 Jack plate fitted & NEW Suzuki D60 on the back with the Powerpole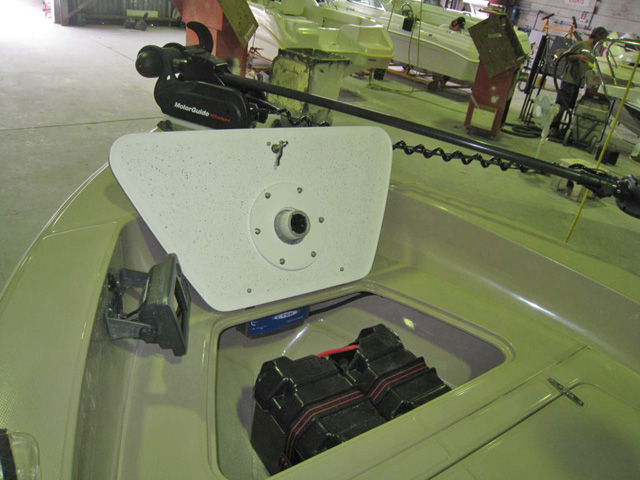 Last factory shots – water tests today & I'll have it home in the bay on Monday. AGM batteries hardwired to CTek in bow compartment with Lowrance HDS5 & Wireless Motorguide 74lb 24 volt motor.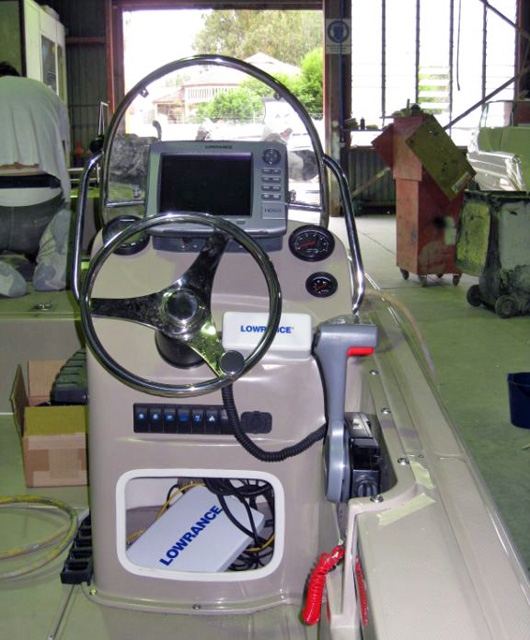 Console with Lowrance HDS8 Combo unit & VHF-250 ( LSS-1 is also in there somewhere)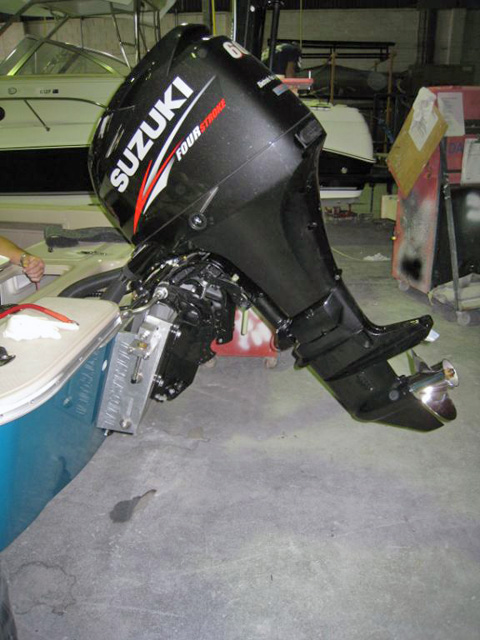 Brand NEW – 1st in the country – Suzuki DF 60 4 Stroke on the back with jack plate & hydraulic steering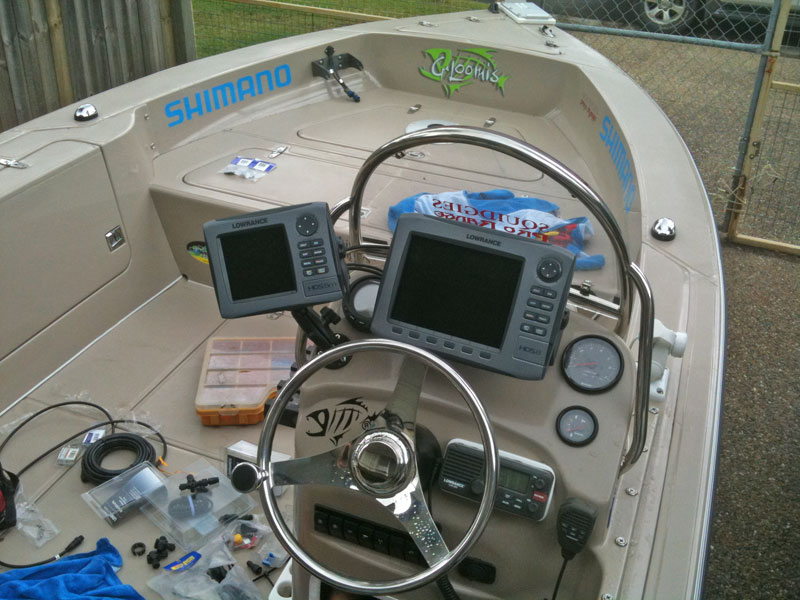 The work & support from the team at the Factory in putting this boat together has been AWESOME – Thanks to everyone who have worked on it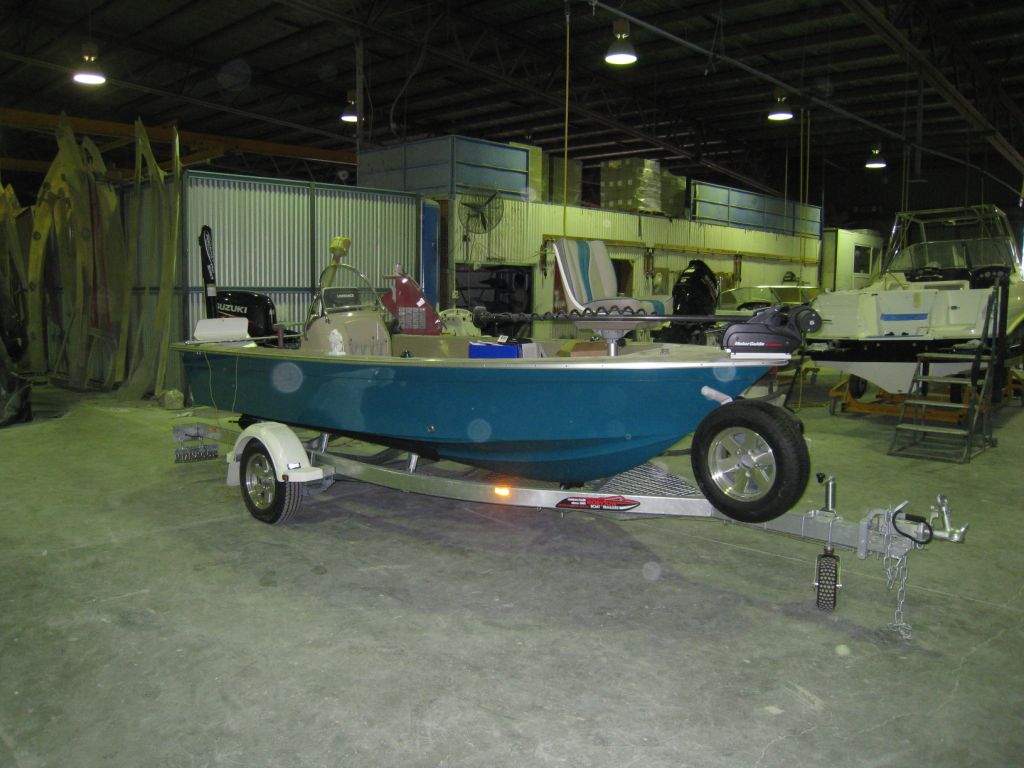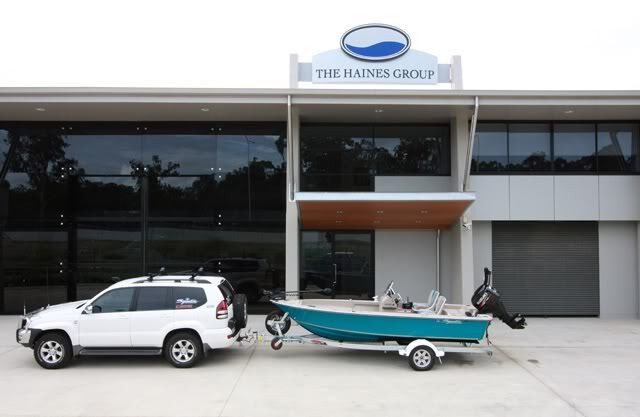 Nearly 12 months in the planning – I can't tell you how stoked we were to take this shot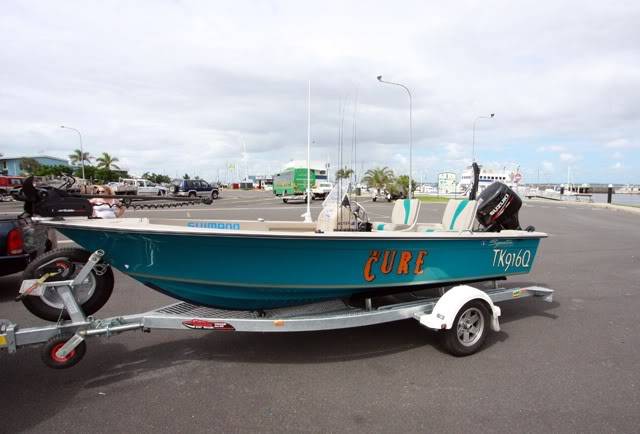 Monday morning saw me around at the local signwriters ( Thanks Chooka) to have the name, rego & a few extra decals added – Then it was down to the Urangan harbour for the maiden voyage!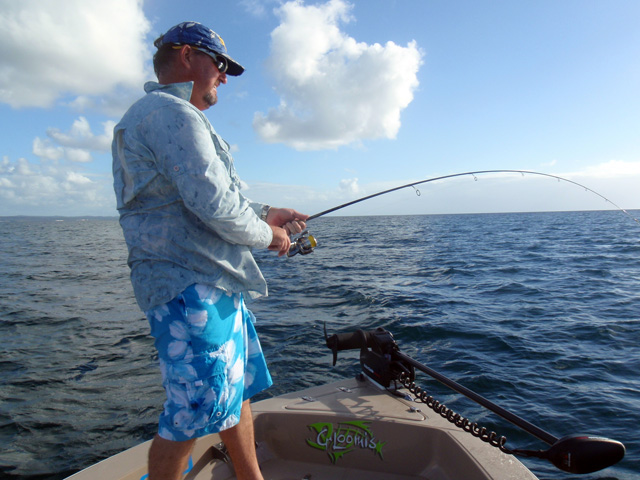 I can't say how happy we are with this boat – the finish & ride is AWESOME. The new Suzuki 60 4 stroke has heaps of torque & with 130 litres onboard plus fishing gear – we got out of the hole quickly & reached 30 mph at 6000 rpm with the fuel flow showing 15 litres ph. Even the weather broke & the sun came out as we arrived at Watumbah & were met with scattered schools of longtails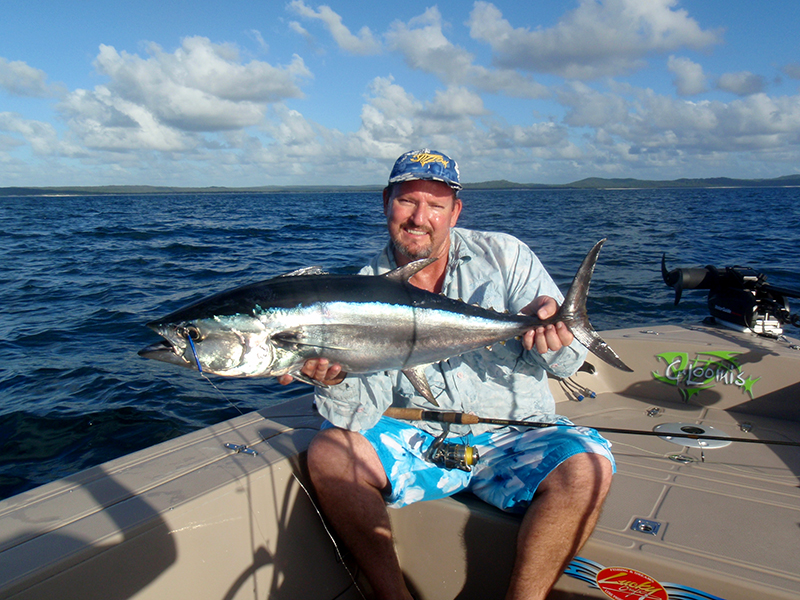 Happiness is your first fish in a new boat – not a bad start I must say!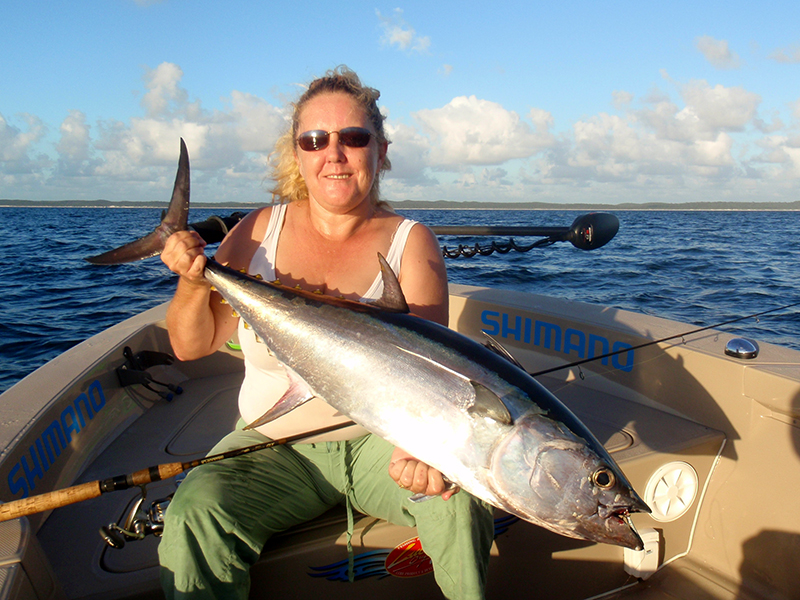 Not to be outdone – Katrina's landed her first HB longtail & of coarse it was bigger than mine!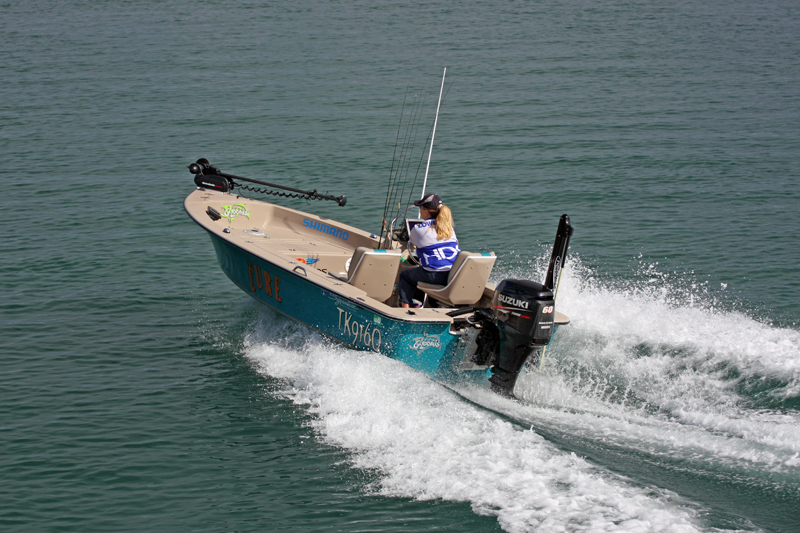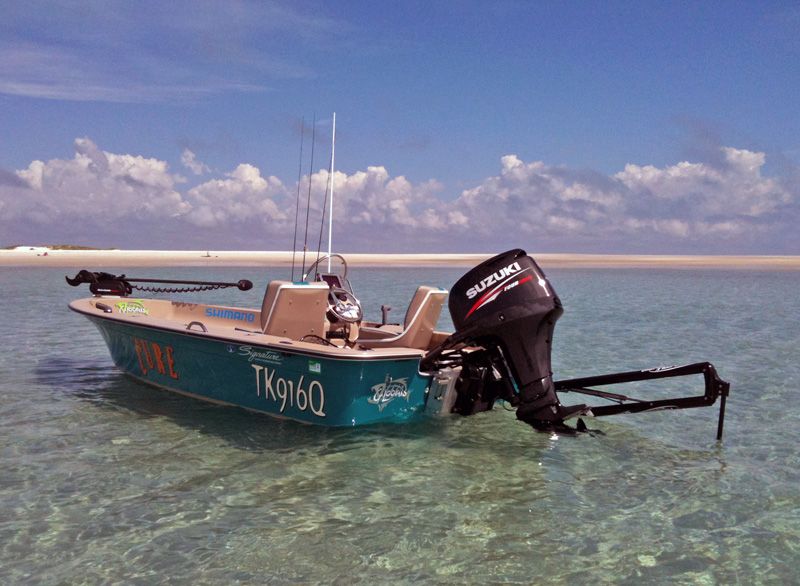 Thanks again to the team at The Haines Group – we couldn't be happier 

Regards Scotto