With our fantastic Haines Signature 485sf now in safe hands with her new owner, it's time to focus on our exciting new project.
I cannot say how privileged I am to have the opportunity to work with our countries largest fibreglass trailer boat manufacture again "The Haines Group " With aim being to build the Ultimate 5.4 metre specialist sport fishing centre console !
This will all start with what many have described as the best 5.4 metre (17 foot) deep vee hulls ever produced in Australia , The Haines Signature 543 F – which incorporates Haines Signature's time proven "variable deadrise" hull. The Haines group are consistently refining their hulls with the 543 being a 3rd generation to that used by adventurer Hans Tholstrup on his epic voyage from Darwin to Japan!
Hans Tholstrup completed that extraordinary adventure, pushing himself and his equipment to the limit as he undertook the impossible: taking a stock standard, 5.4 m Haines Signature powered by a 90 hp 4-stroke, on a 7,500 km odyssy, from Darwin to Okinawa, Japan !!!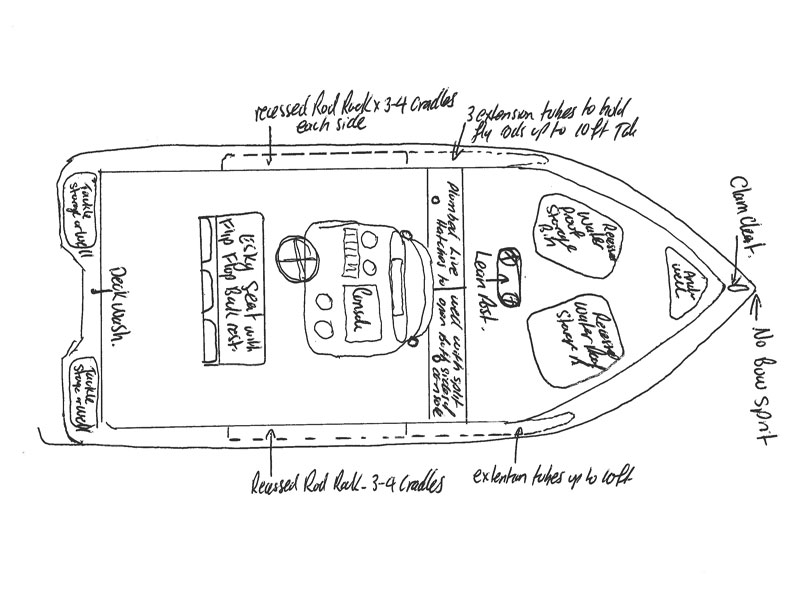 The whole concept started after I had fished in a number of mates boats all around the five and a half metre mark running motor sizes between 90 – 150 hp and I noted that they where using little more fuel than I was with our 60 on the 485sf. This got me thinking that I could go larger in boat size to achieve a little more comfort in rough conditions as well as allowing us to run further afield in safely. This was due mostly to the larger engines all running lower rev ranges to achieve a similar cruising speed of around 22-24 knots. Fuel economy is critical here in Hervey Bay as we tend to travel long distances regularly – with 100-200 km round trip days being common. I also liked the idea of having some more deck and storage space for camping out over night on extended trips with a slightly larger boat.
Having already owned a fantastic Skeeter Bay boat and fished from a number of other US made specialist sportfishing boats I started to look again at what was available off shore. As great as many of these boats are I noted that many still lacked key features that I am sure many of us would like to see in a specialist sportfishing centre console.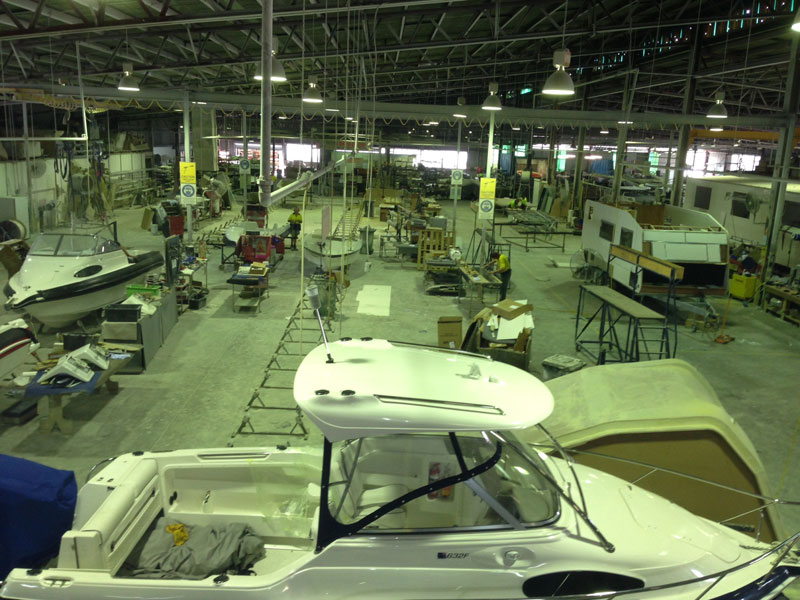 Having been so happy with our amazing Haines Signature 485sf we started talking with the Team again at The Haines Group who agreed that it was time to build a specialist sportfishing machine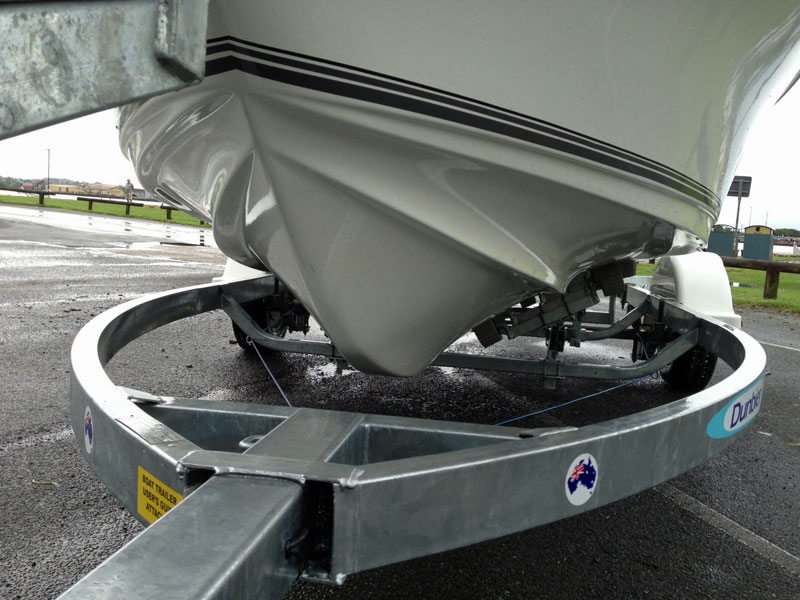 The Haines Signature 540 F / 542 F / 543F series has long been respected as one of the best deep vee fibreglass hulls in its class of boat in the country. It's soft, dry under normal circumstances, very stable at rest and an absolute delight to handle in rough and tumble offshore conditions.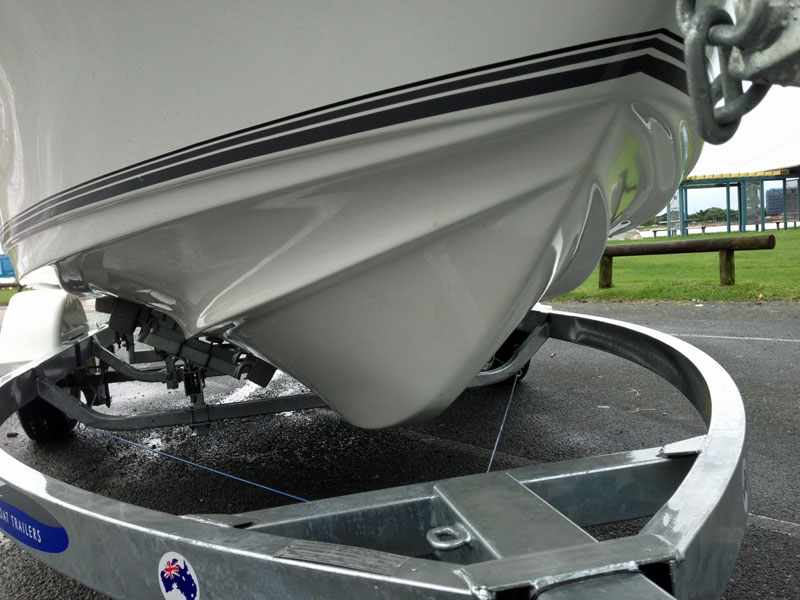 Many have stated that very few other boats perform as well as this hull on the market in this class, and very few in the sizes up or down, for that matter !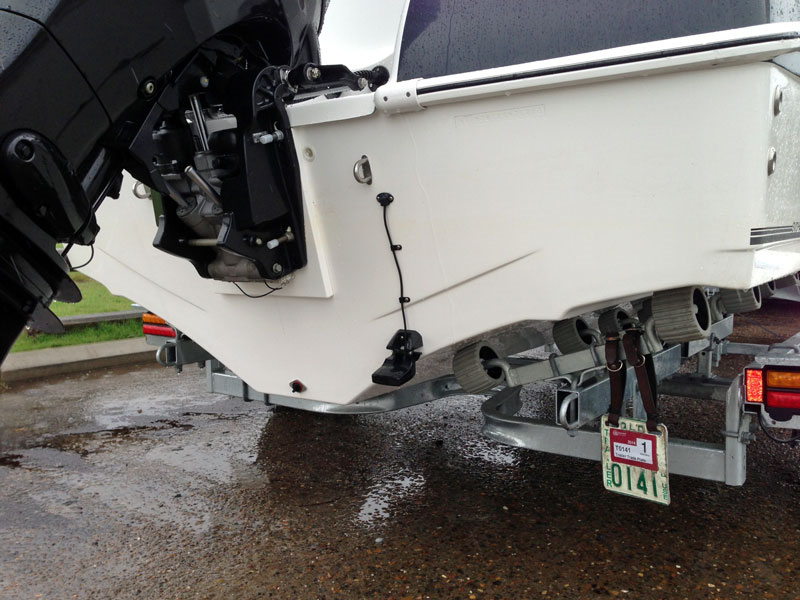 The patented the Signature Deadrise Hull "SVDH" This world patented technology offers unique advantages over the traditional vee bottom hull which will both save you money and enhance your enjoyment when out on the water. The Signature Variable Deadrise Hull "SVDH" gives real stability at rest compared to other deep vee hulls and lower planing speeds for a flatter, safer, drier, more economical ride. The hull design has another unique feature, the way the hull manipulates the water. Water flows over the warped hull created by the concave section and as water cannot be compressed it creates enormous amounts of lift. Enough lift to obtain planing speeds as low as 4.5 knots on even the longest models.
This all adds up to less power being required to achieve the same performance of other hulls resulting in a reduced initial purchase price and monetary saving every time you go out on the water through lower fuel costs.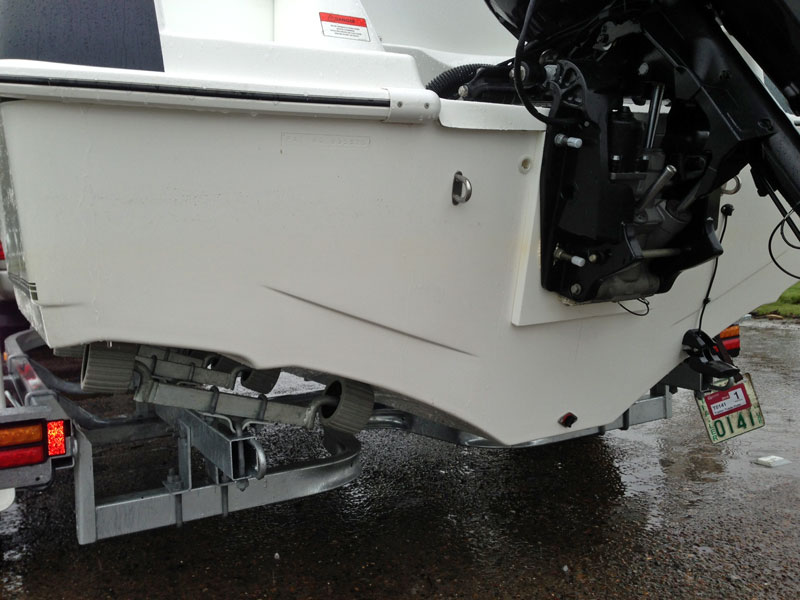 The benefits don't stop there as the low planing speed makes towing water toys with the kids a breeze and should you get caught out in the rough you will not be constantly fighting the throttle trying to find that balance between keeping the plane but not going too fast for the conditions. The Signature Variable Deadrise Hull "SVDH" ensures your boat will be just as happy in a following sea as in a head or quartering sea.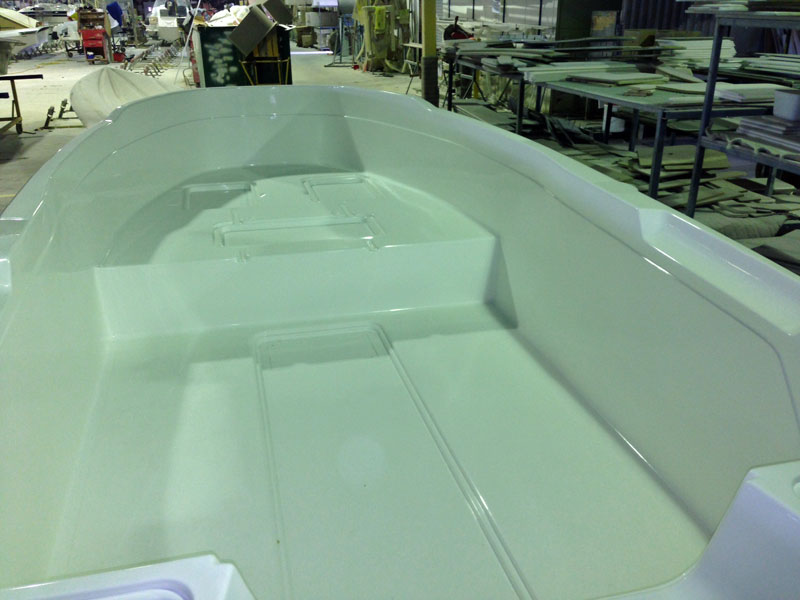 The innovation doesn't stop with the hull, it just starts there. The hull takes care of the business, the rest of the boat takes care of you and your families comfort. The whole package is bound together by superior construction materials and methods that have stood the test of time and are continually under scrutiny for improvement.
Another significant feature is the use of PuFF (Polyurethane foam filled) in all Signature models. While still in the mold, special cavities within the hull are pressure injected with high density polyurethane foam. This non absorbent material provides positive buoyancy, added strength and an outstandingly quiet ride.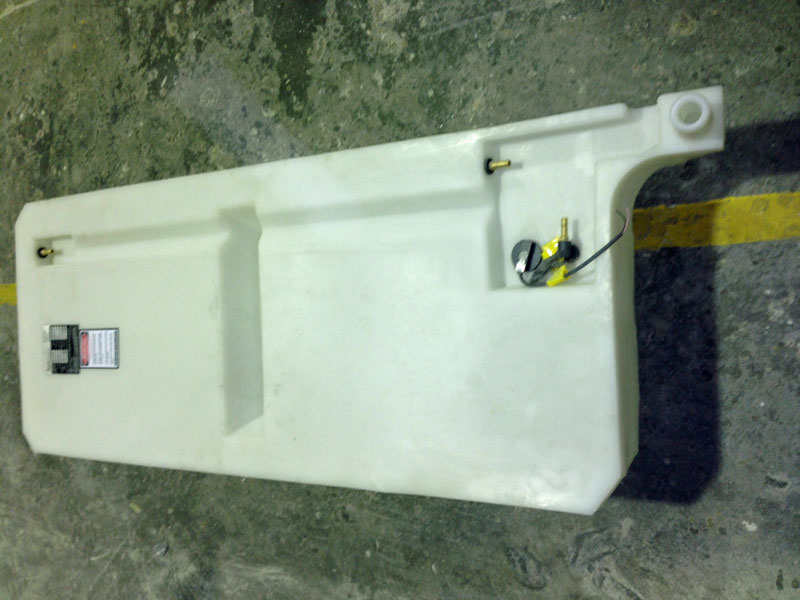 We have been able to squeeze a 160 litre tank under the floor to allow fantastic range for a boat of this size which will be matched with the new Suzuki DF 140 A.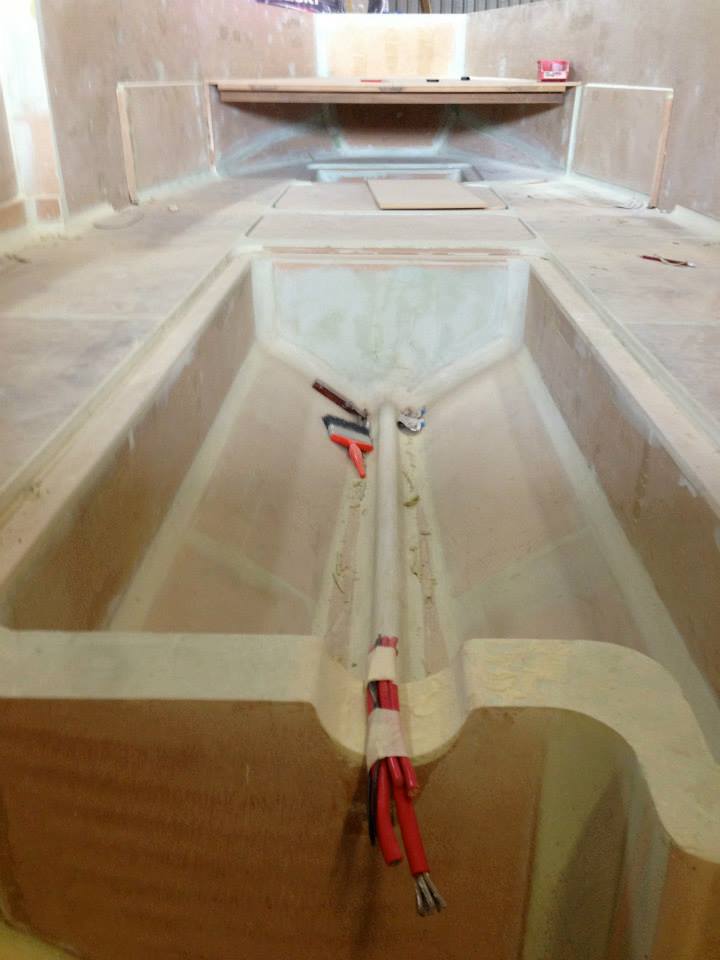 This is the deck Plus showing where the 160 litre fuel tank will sit under the floor with space for rigging to the centre console.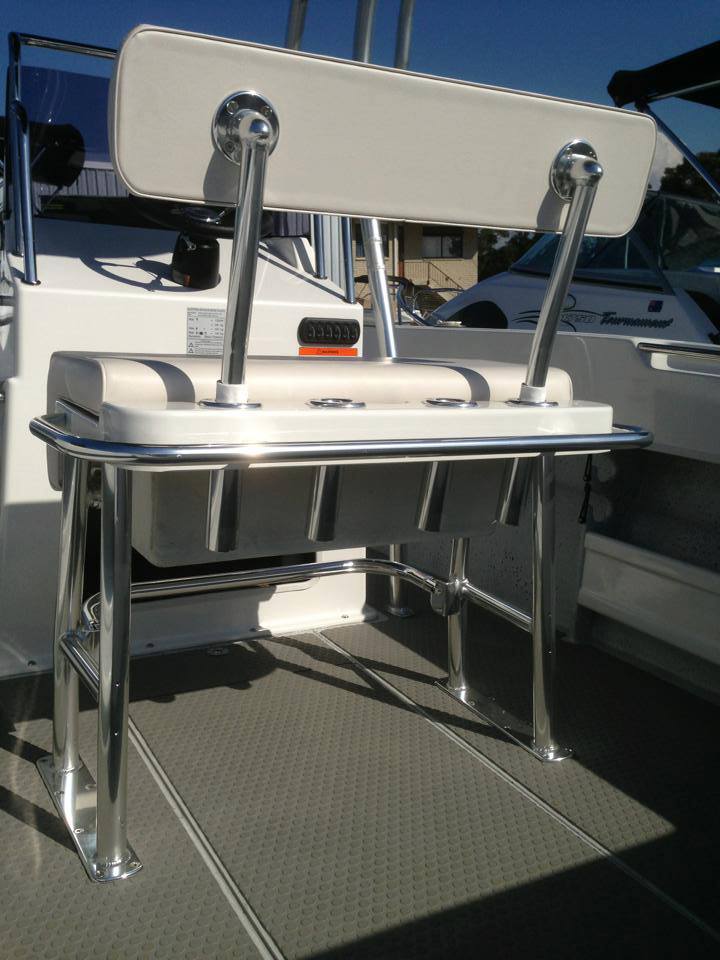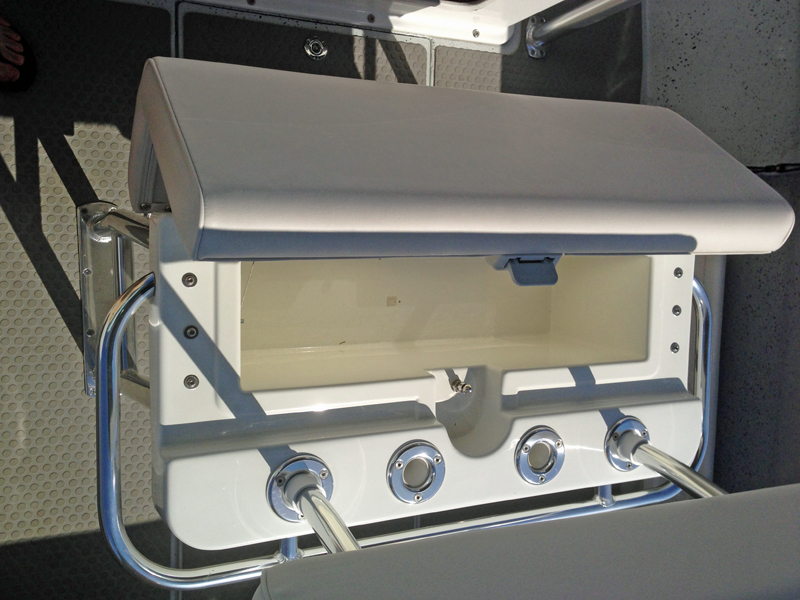 This is a lean seat we are looking at modifying which has a cooler built-in under the cushion and would allow a larger cooler or tackle bags to be stored underneath as well. We're also look at adding a rod rack to carry extra rods on top of the 6 ( 3 x each side ) that we will have build into the gunnels.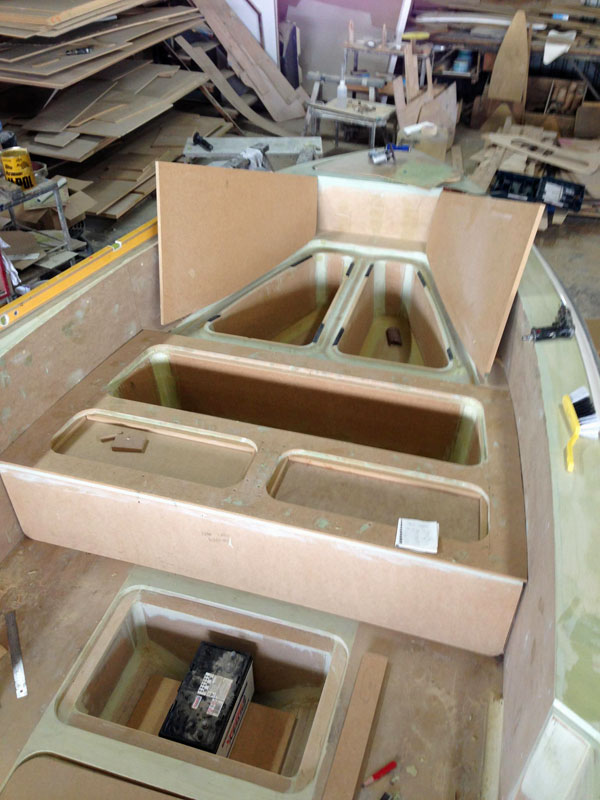 This is the front casting deck which is approx 1.8 metres long so you can sleep comfortably on it when needed. It also features 2 large storage wells which will feature gas struts , a HUGE kill tank or plumbed /insulated live well, plus two more storage bulkheads. There is also a large anchor well on the bow with provision to mount an electric motor on either the port or starboard sides .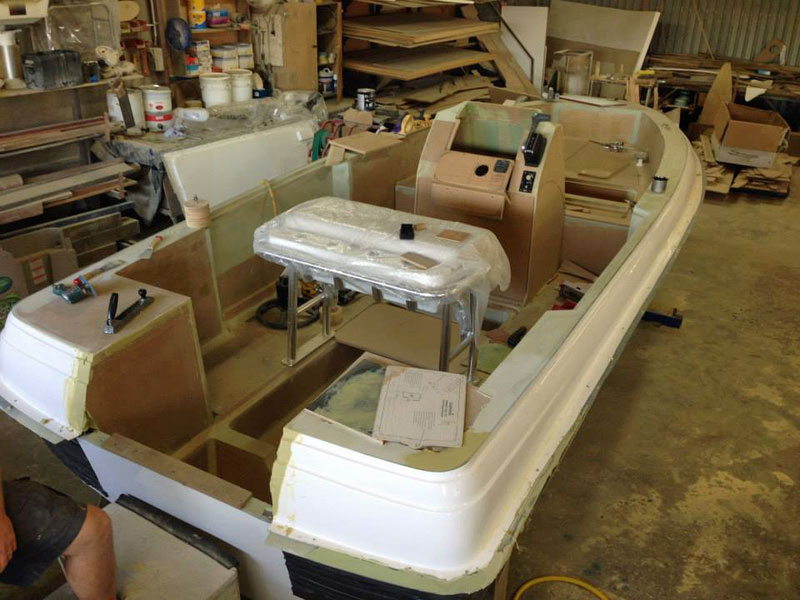 Starting to come together now for those of us who need to "visualise" stuff .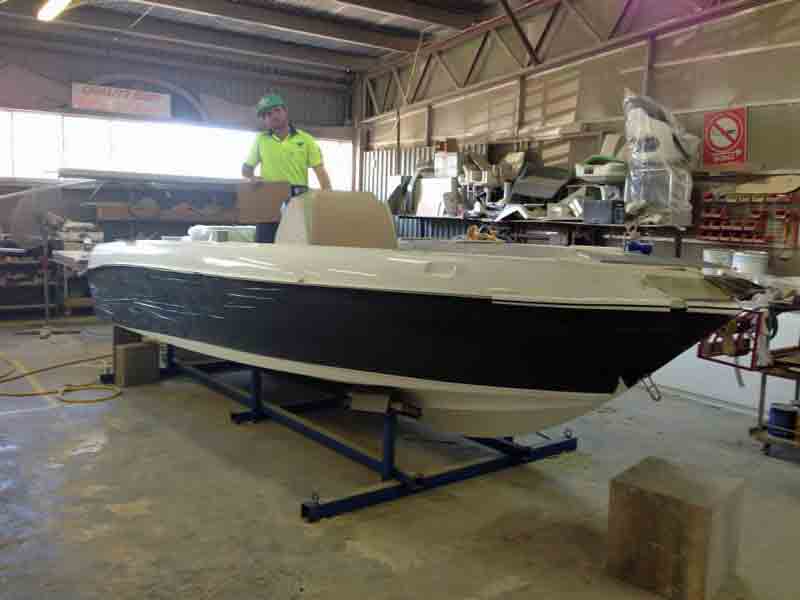 This is hull is only being used to build the deck plug and will be destroyed once the deck mold is finished.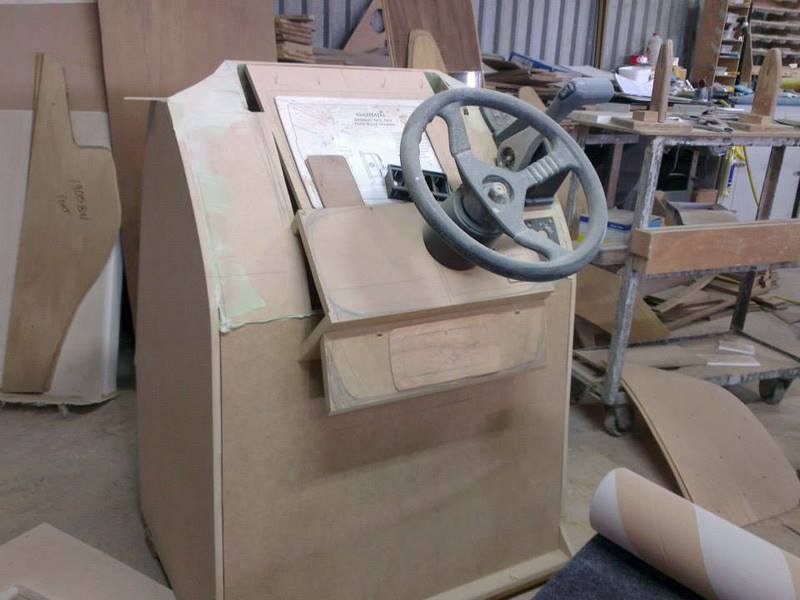 Console Rough with right hand off-set on wheel and control box so passengers will have a better standing position while travelling.I am interested in peoples thoughts on what side the wheel & control box should be off-set ?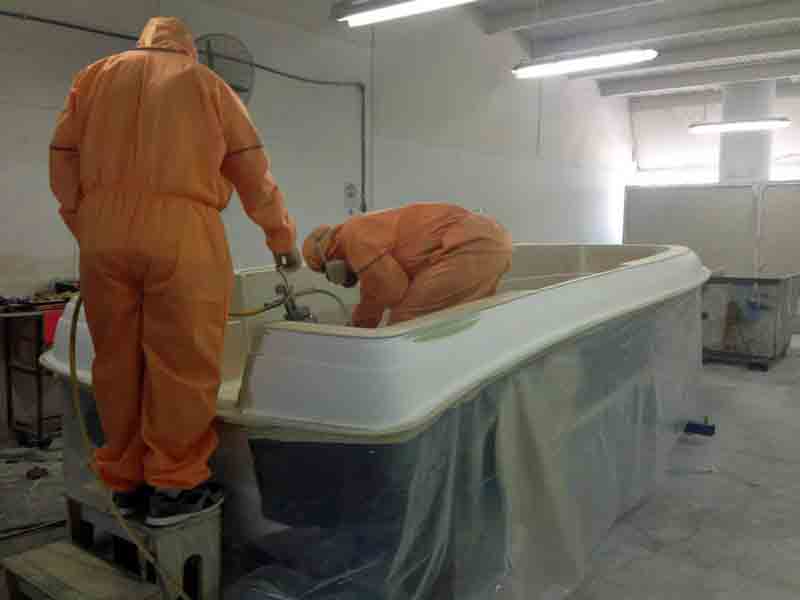 This is a really cool pic. This is stage one of the spray coat process. Followed by a sand and another spray a few more times.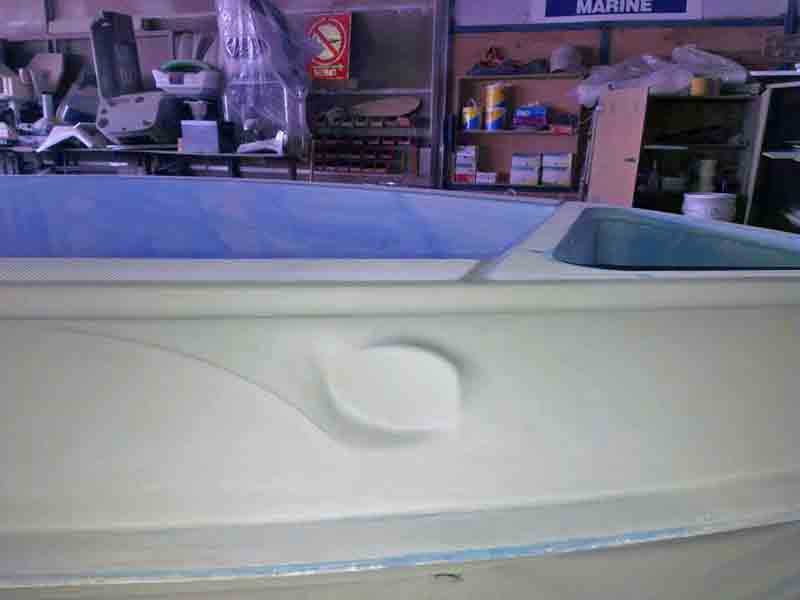 A few more coats and some more sanding and we can move onto the console next …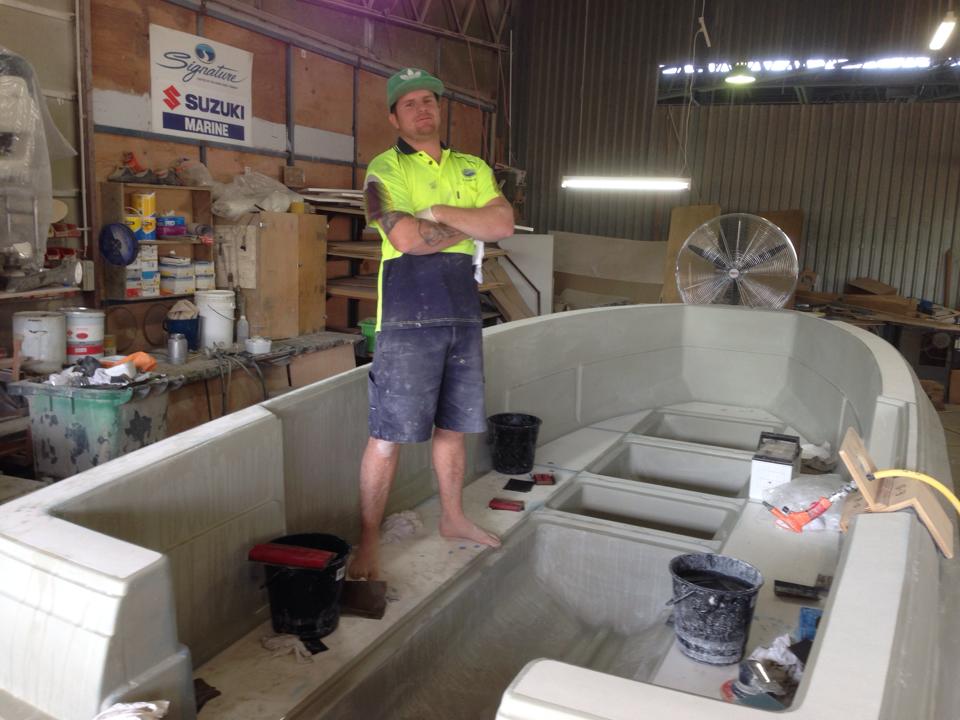 Blake and the team are just finishing off the last of the deck rubs on the plug which will go across to be molded next week. Here you can see the hull wells that will be underneath the floor and front casting deck. The front two are both under the front casting platform the 3rd one is for the batteries under the console. The front one will be filled with foam – the second one will be for bilge's and plumbing for the front live well/kill tank + a deck wash. Rear one houses the 220 litre fuel tank.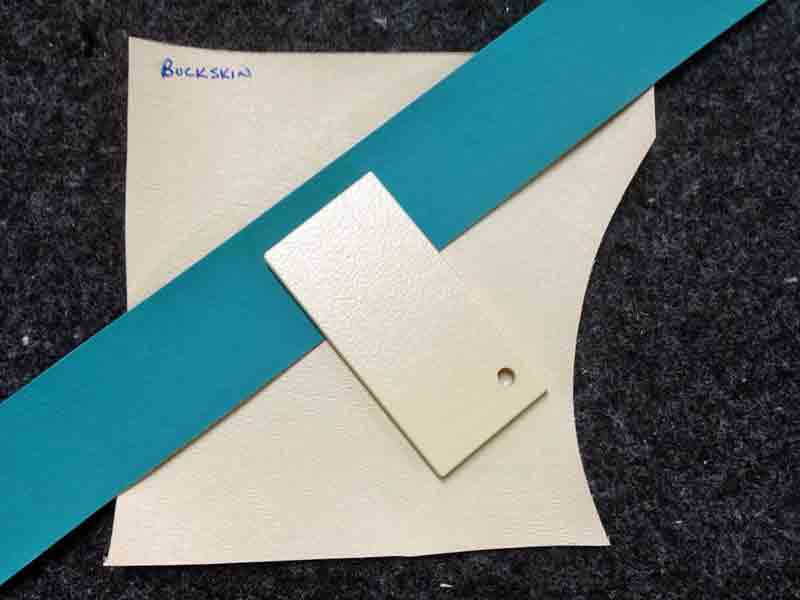 The deck colour on our 543 build will be slightly lighter than the stone we used on our 485 – closer to sand this time round. We will go with a teal hull again with matching two the upholstery.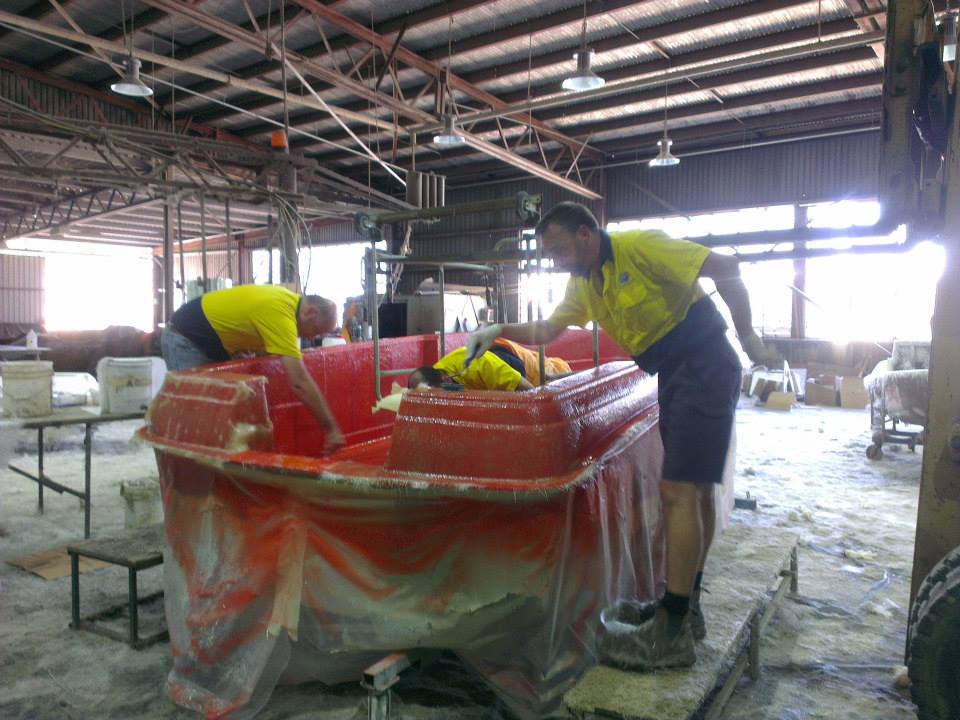 Another snippet of our 543SF build – Now in for a coating of fibreglass 🙂

This is the 1st section of the front casting deck which will feature great dry storage space and will include gas strut hinges on the lids ..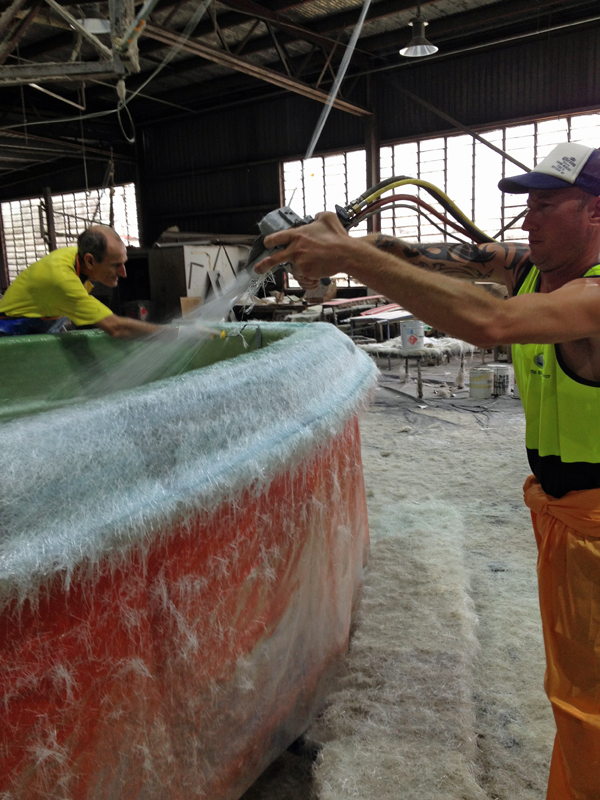 Been an exciting last week with the team finishing off the deck plug ready for the mold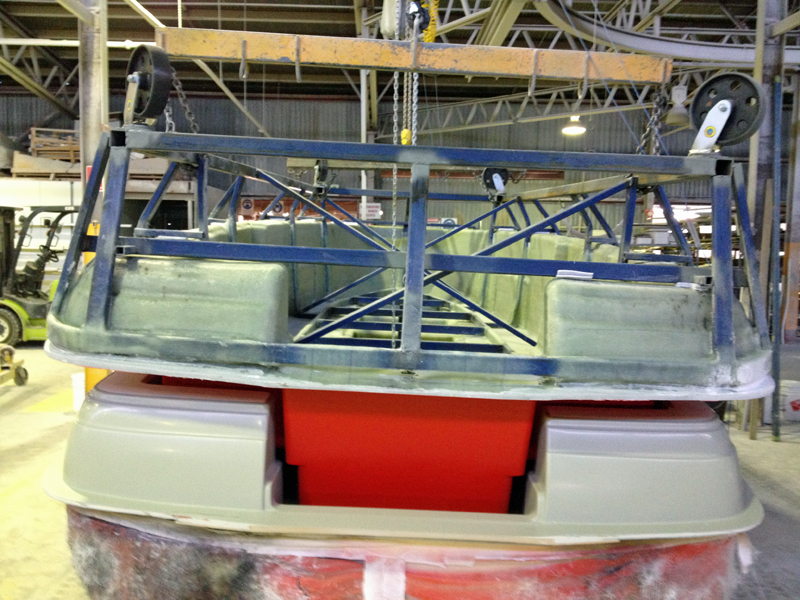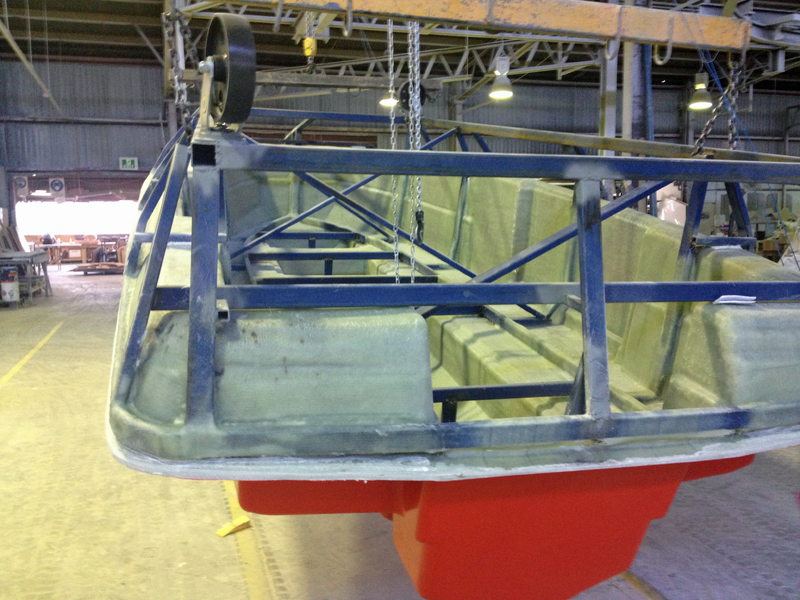 The team at The Haines Group build custom steel frames over their molds to increase strength and durability of each mold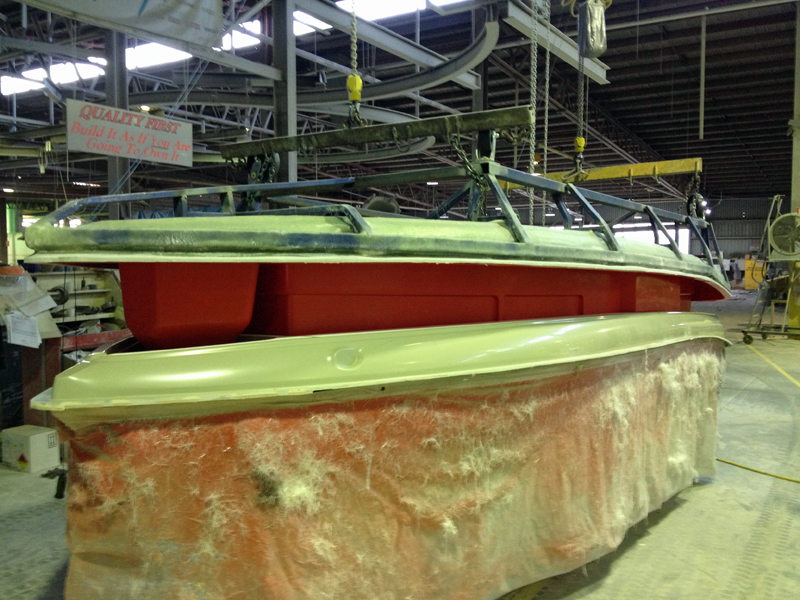 It is truly an amazing process to be apart of and watch as it all takes shape !
They use an orange/red tooling gel coat on the mold in order to show clear separation/detail when working with the standard gel coat colours on the finished boats.
With the deck mold now finished we just need to finalise the casting deck molds and console next ……
The team have now poured our deck in the new "sand" gel coat colour ..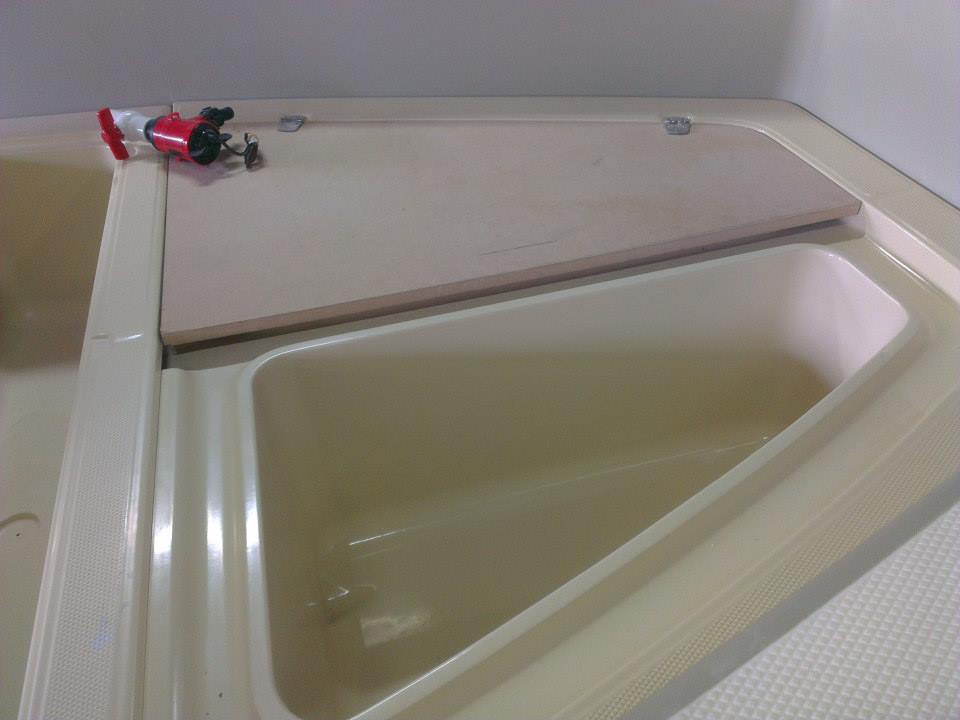 This is the front casting deck now poured in the "sand" gel coat showing the large dry storage bins that will feature gas struts on the hatches..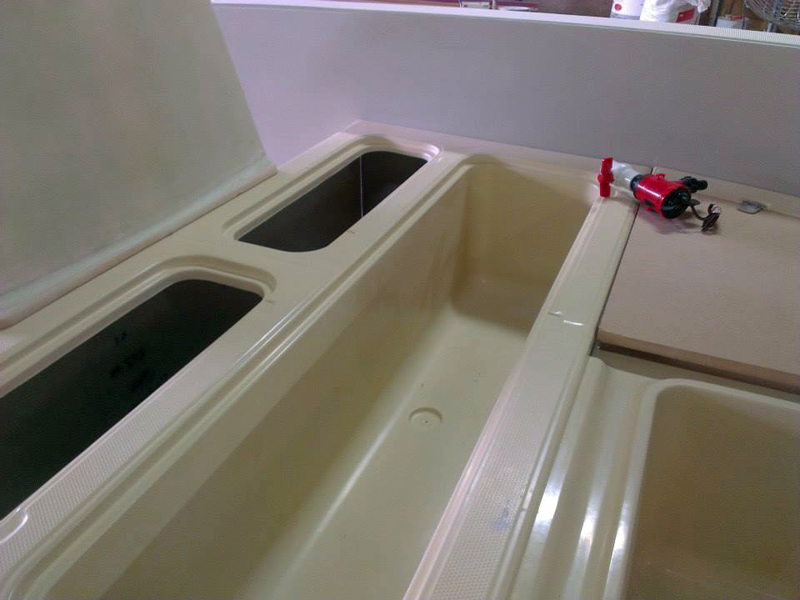 This is the HUGE kill tank/live well ( I will have mine plumbed and insulated ) built into the front casting deck with more storage hatches and access to front bilge area as well…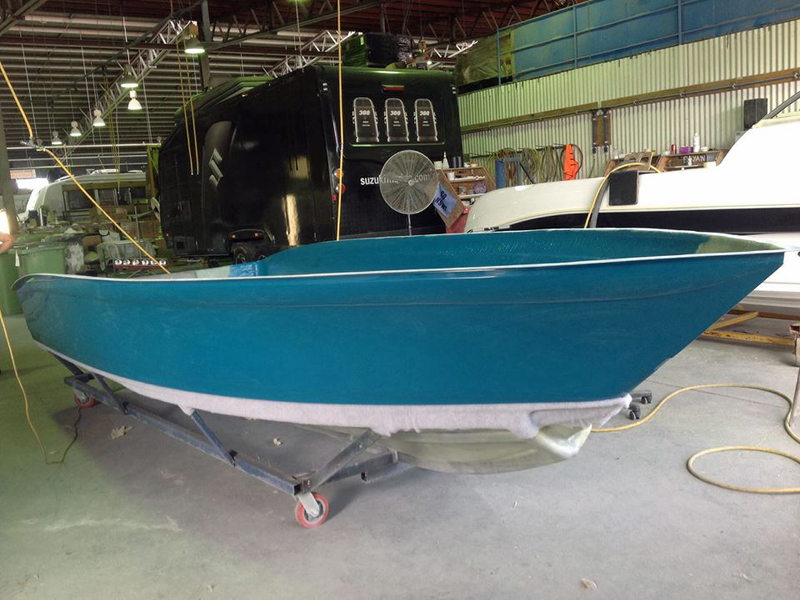 We have gone with the same hull colour as our 485sf – Teal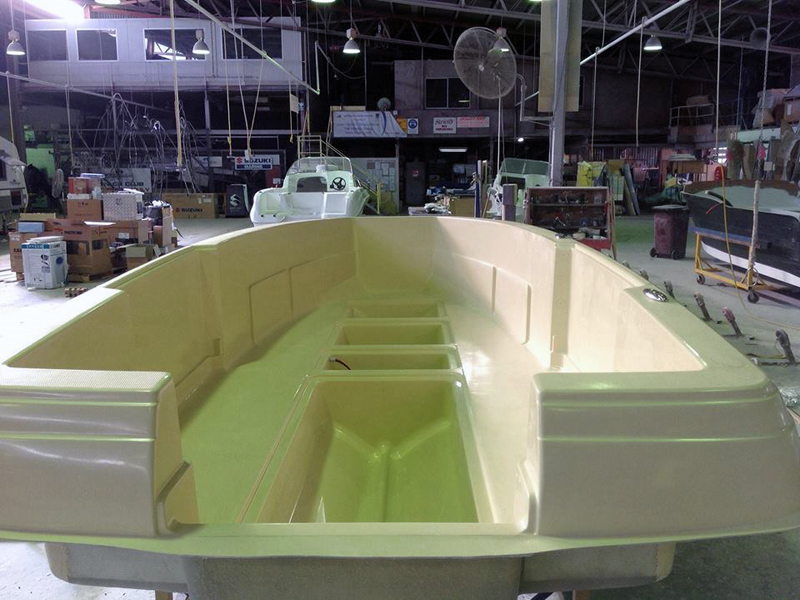 This is the finished deck mold – in new "sand" gel coat colour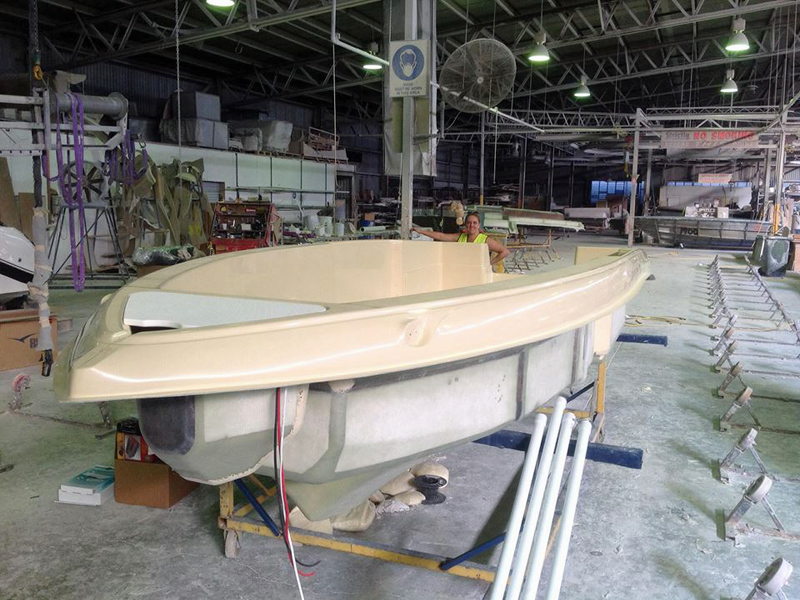 You can see the rod tubes that will be fitted to rod racks to protect rods up to 12 ft long …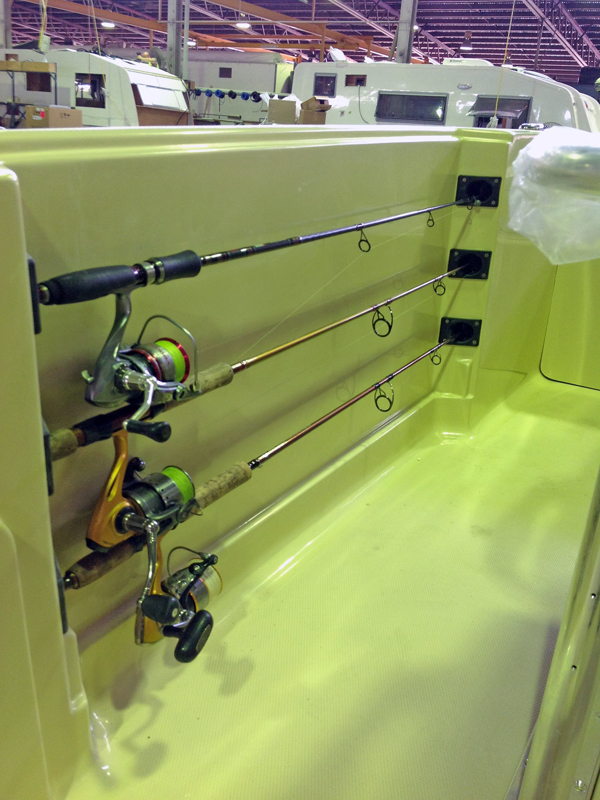 Tested out the rod locker which features individual rod tubes and will safely carry 3 rods up to 12 feet each side ..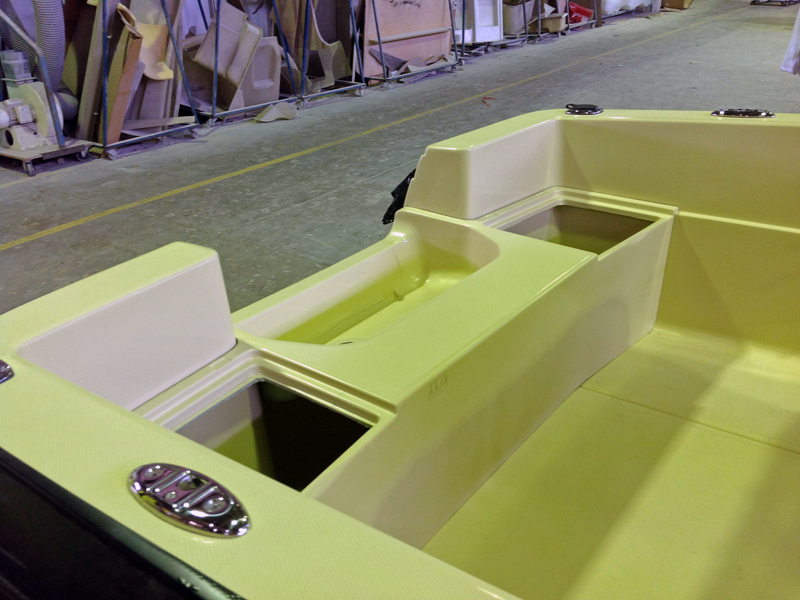 Transom mound finished with rear platform/step. One side will feature a 35 litre plumbed live well while the other side will house our crank battery.You can also see the "fold-up" cleats ..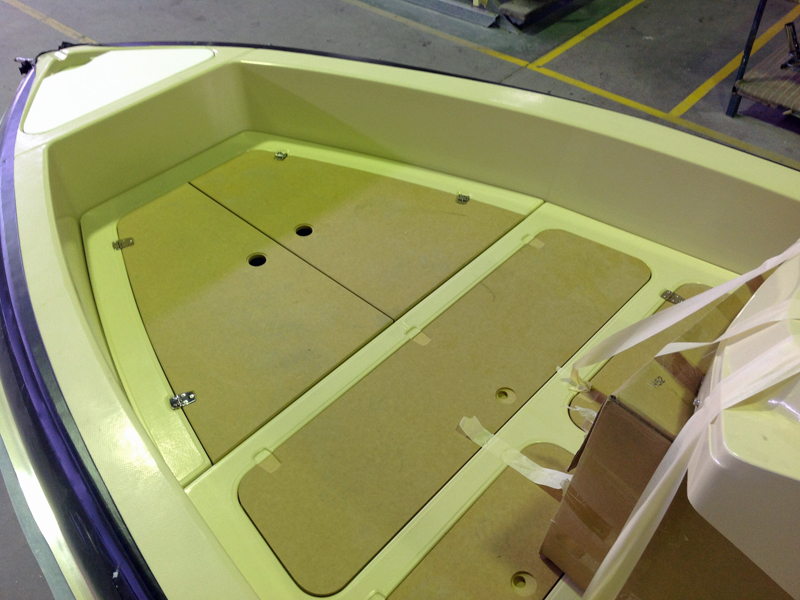 Front casting deck has now been fitted – still waiting on hatch material to arrive …. Cardboard & tape was used to adjust the console height so we can get the base section made next.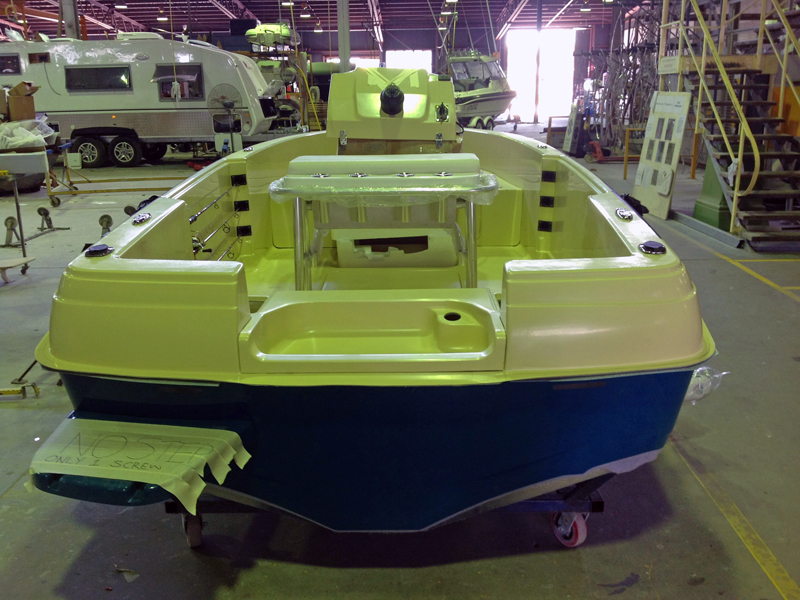 Deck now fitted to hull and you can see the rear boarding step on the left. We will be fitting a 10ft Power-Pole Blade to the other side + trim tabs, squid lights, Hydrowave and three transducers … Delivery now scheduled towards end of January 2014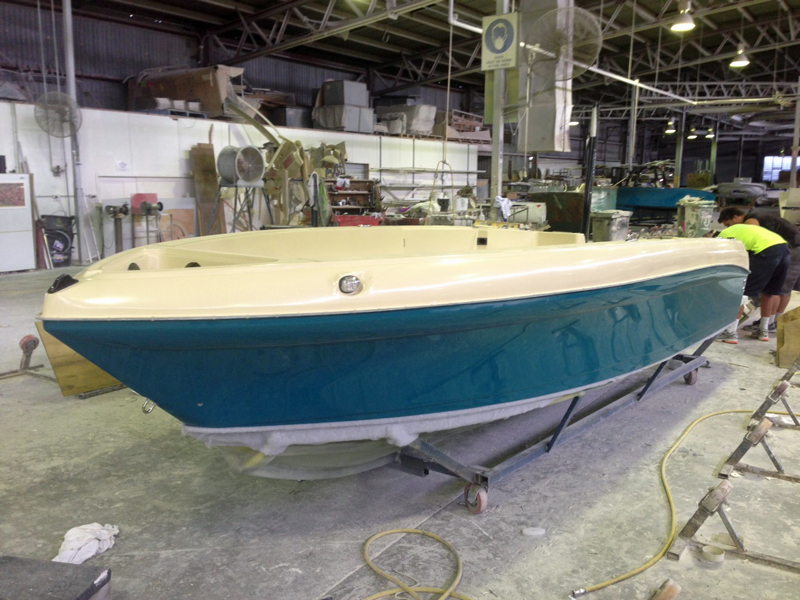 All coming together now – Love the hull colour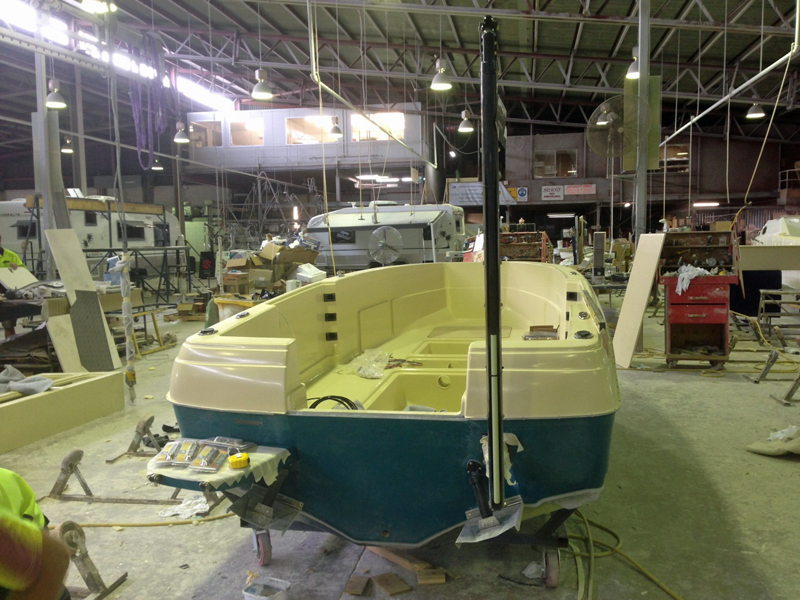 Bennett Trim tabs & 10ft "Blade" Power Pole fitted …. more updates to come as all the "Gadgets" are fitted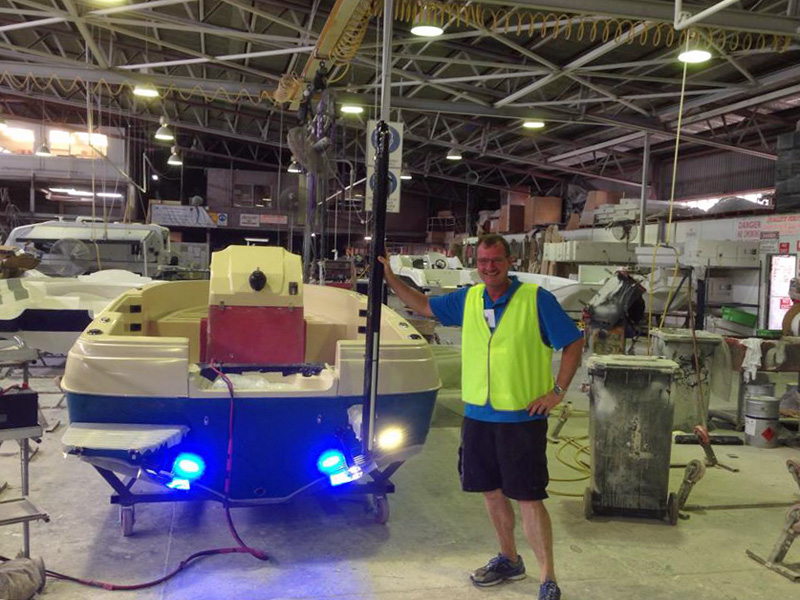 Added some squid light Bling 🙂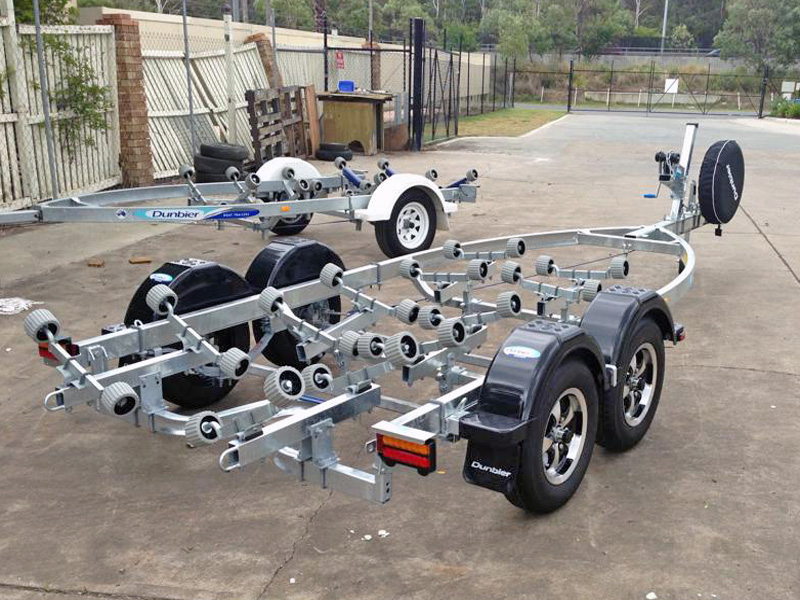 Really happy with our new Dubier Supa Rolla wide frame trailer – sexy wheels 🙂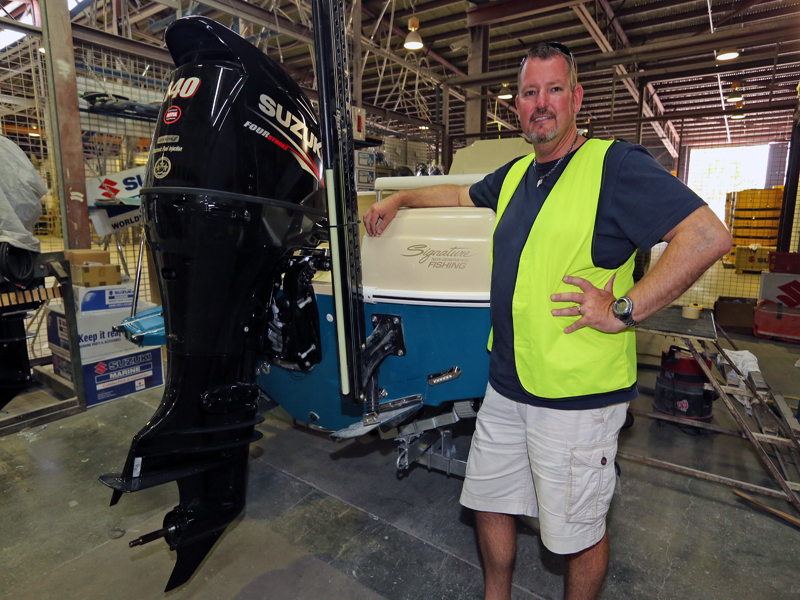 Last factory visit today ( 17-01-14 ) before we take delivery – Couldn't be happier with our new 543sf – It Is AWESOME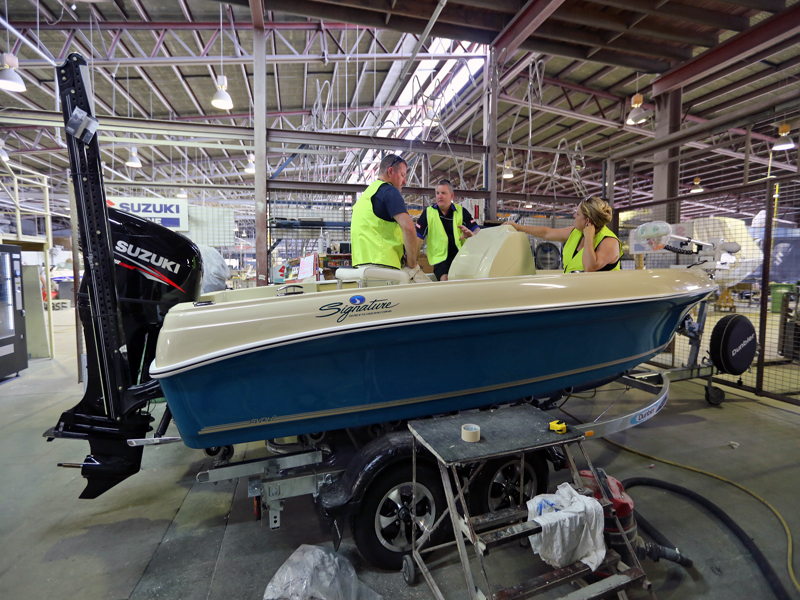 Just finishing off the console, windscreen and electronics placement & we're done – next trip will see it on the back of our Prado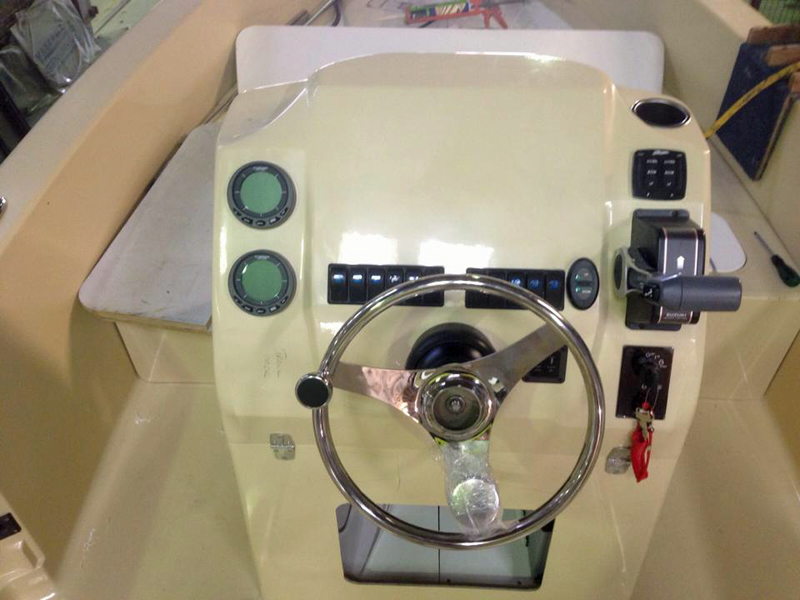 Console Dash starting to take shape – we'll be running a Lowrance Touch 12 in the centre with structure scan & chirp + a Touch 9 for GPS and chart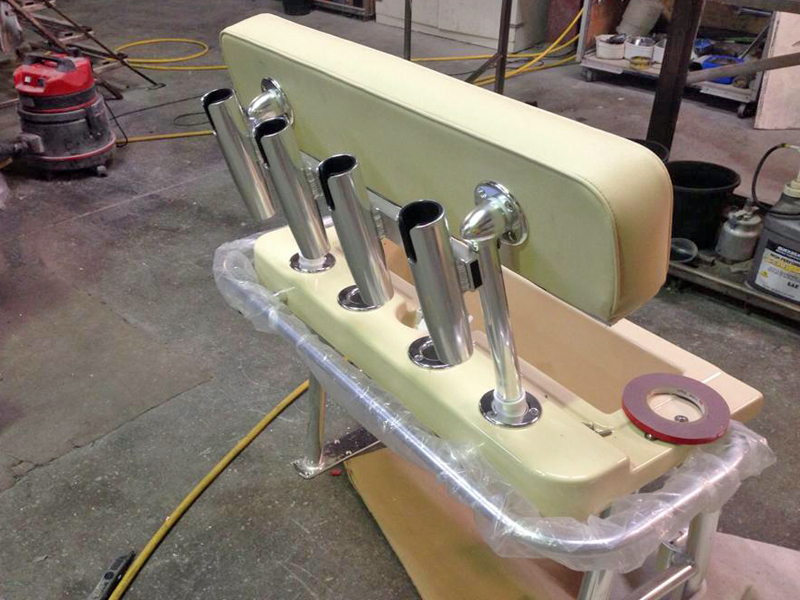 Custom made rod rack on the back of the lean seat to hold 4 rods out of the way while fishing + we have another 6 in the gunnels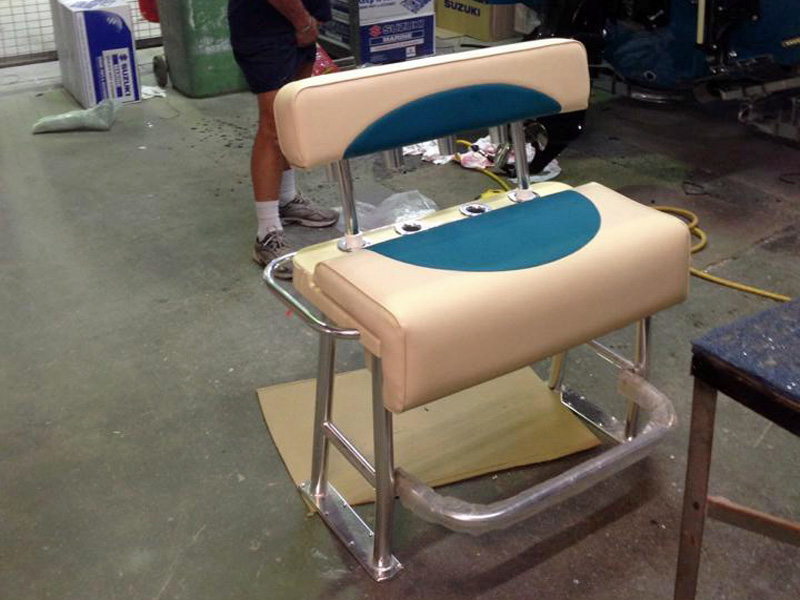 Customised seat upholstery to match hull & deck colour scheme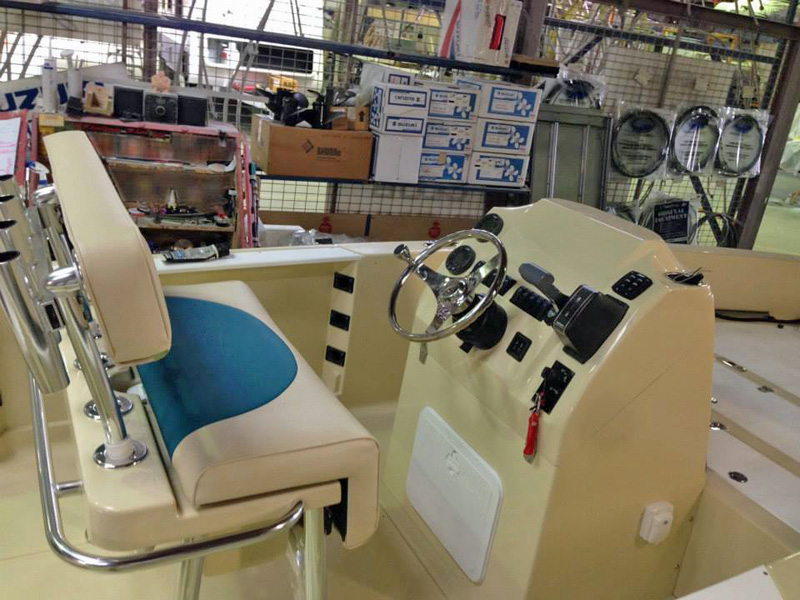 All coming together – just windscreen and hand rails to finish off next …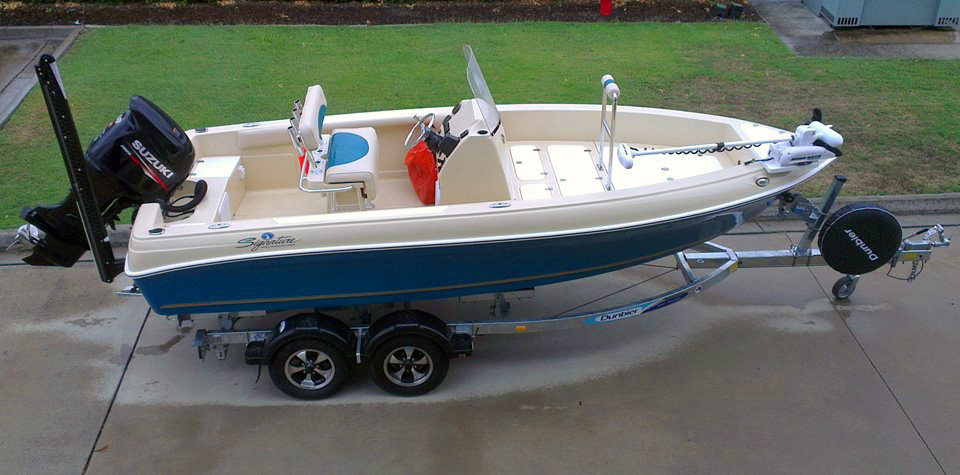 Just gotta add some rails to the console and then the electronics next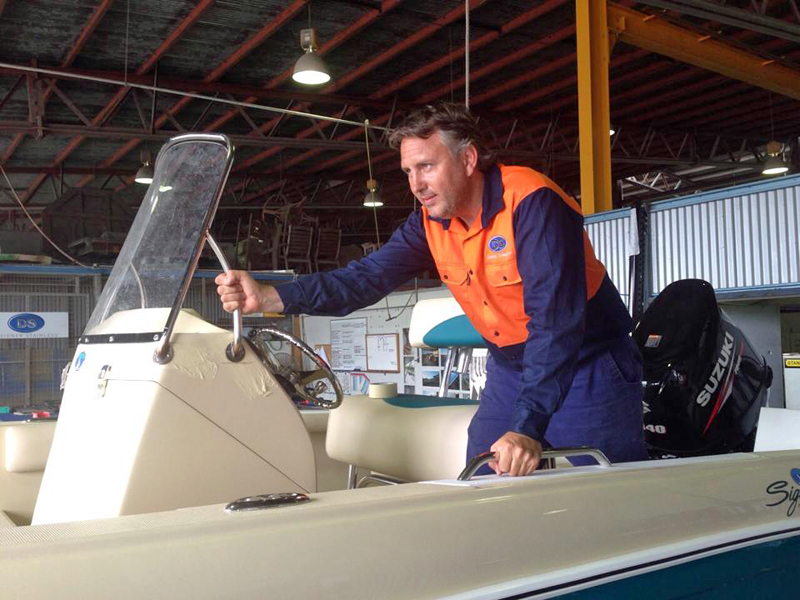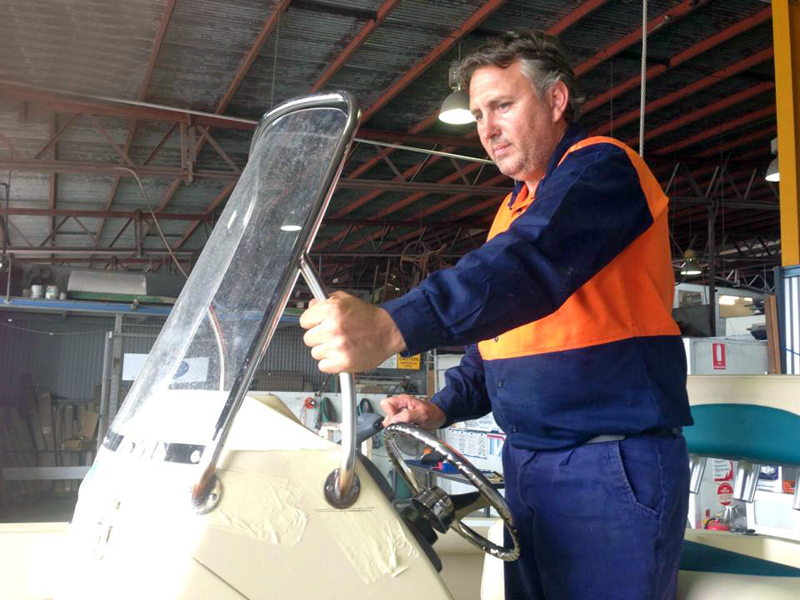 Paul Williams from Designer Stainless ( The Haines Group In-house S/S design & fabrication for over 22 years ) carrying out some R & D on our grab rails..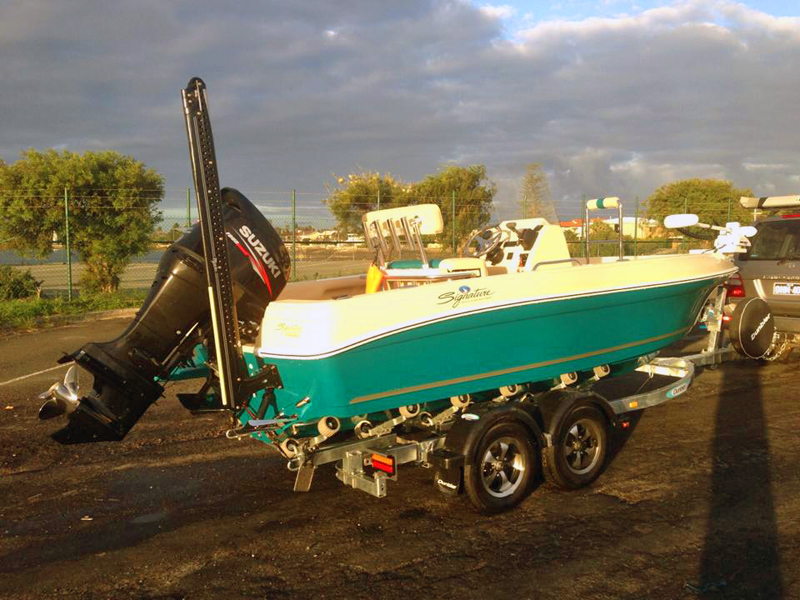 You may have seen our boat yesterday afternoon down at Cleveland – Gordy said it attracted quite a crowd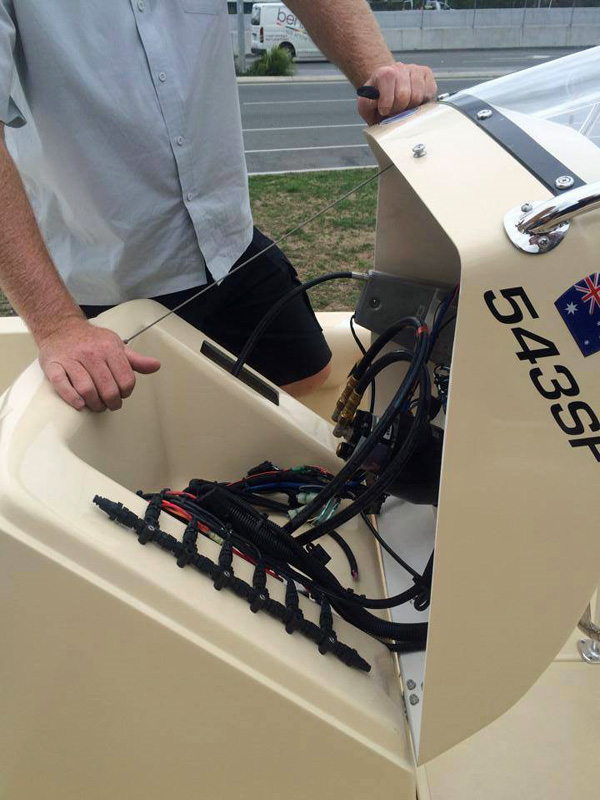 How good Is this – Any one who has spend any time working on/under a centre console will truly appreciate this unique design feature !!!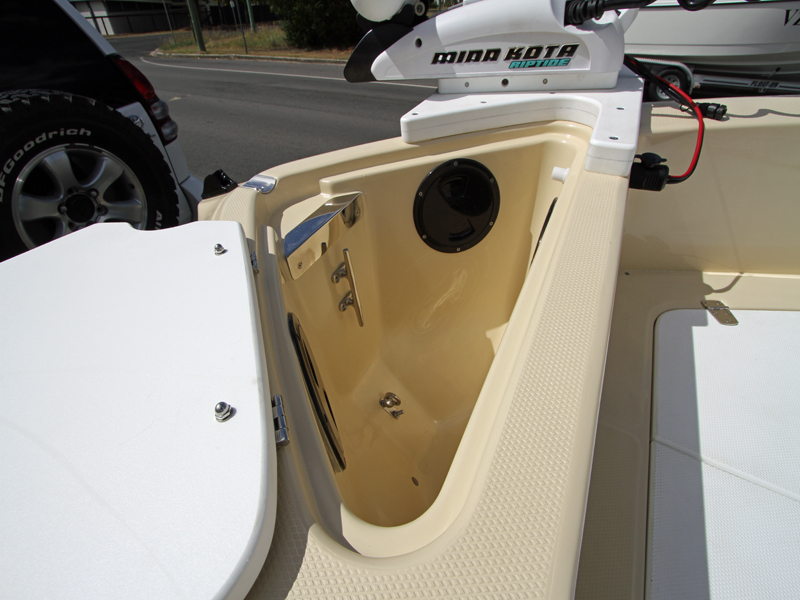 The attention to detail is awesome – even in the anchor well and Minn Kota bracket:-)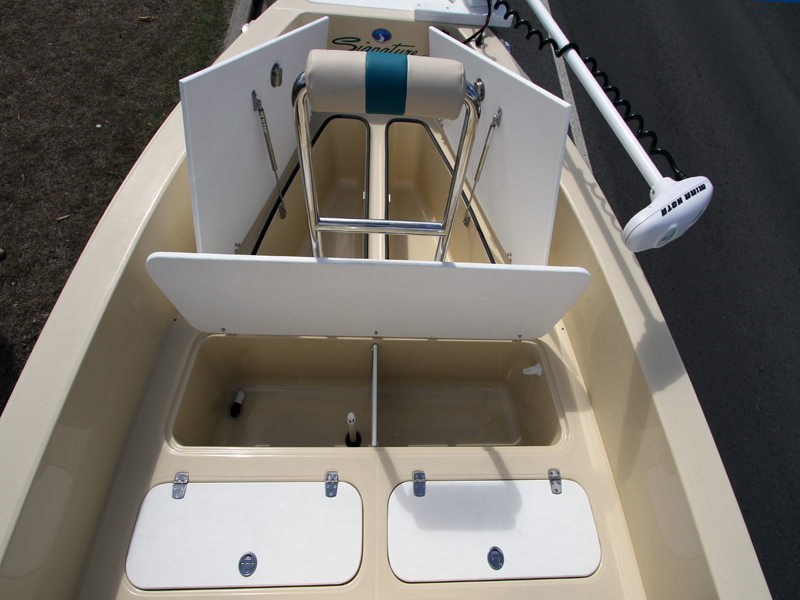 Dry storage at front with lockable gas strut lids – plus HUGE plumbed live well/insulated kill tank & more storage in front.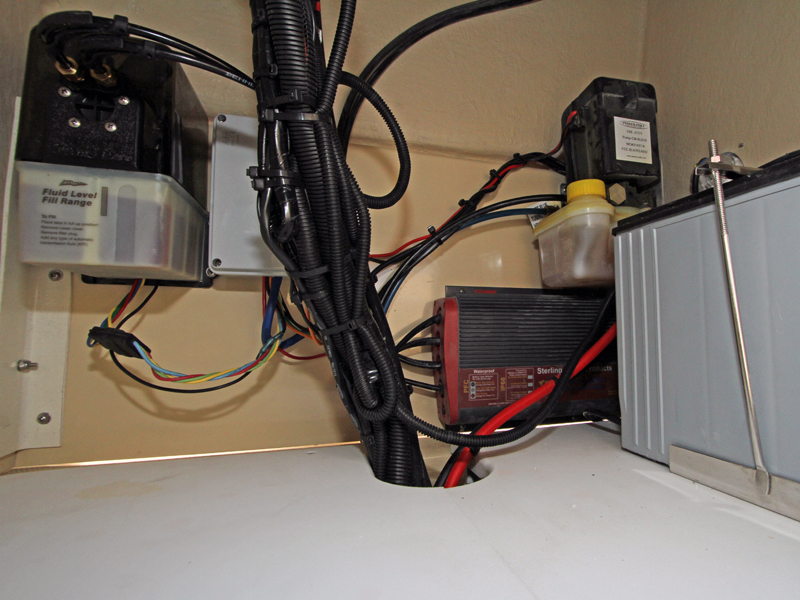 Underneath the console is the house battery + Sterling pro-Mariner 3 bank on-board charger for house battery & the 2 x batteries under the floor for Minn Kota + trim and Power-Pole pumps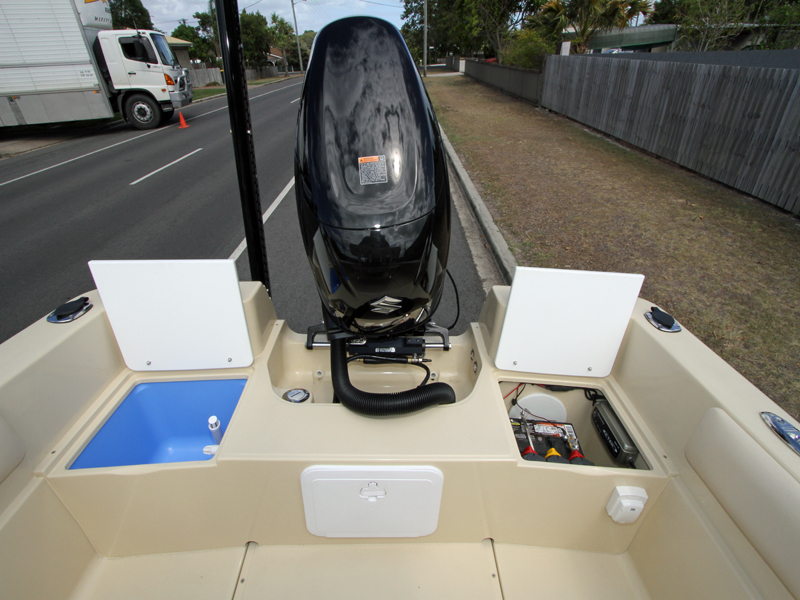 Transom step houses a 35 litre plumbed live well in colour to make the live bait happy Plus crank battery , isolators & C-Tek maintenance charger ..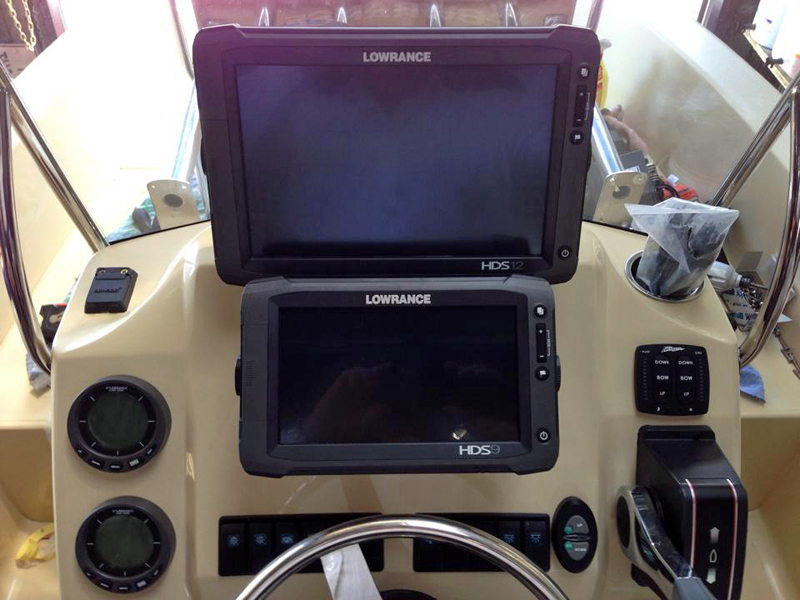 The electronics installs begin ….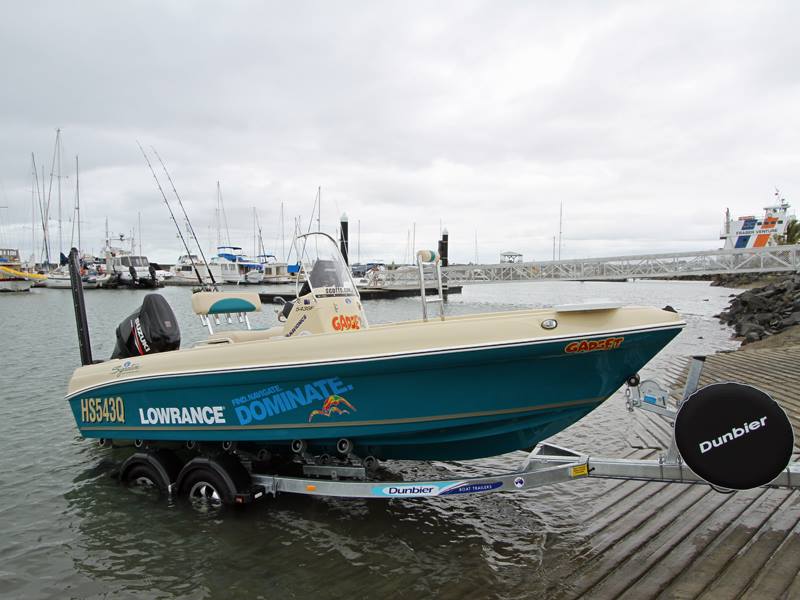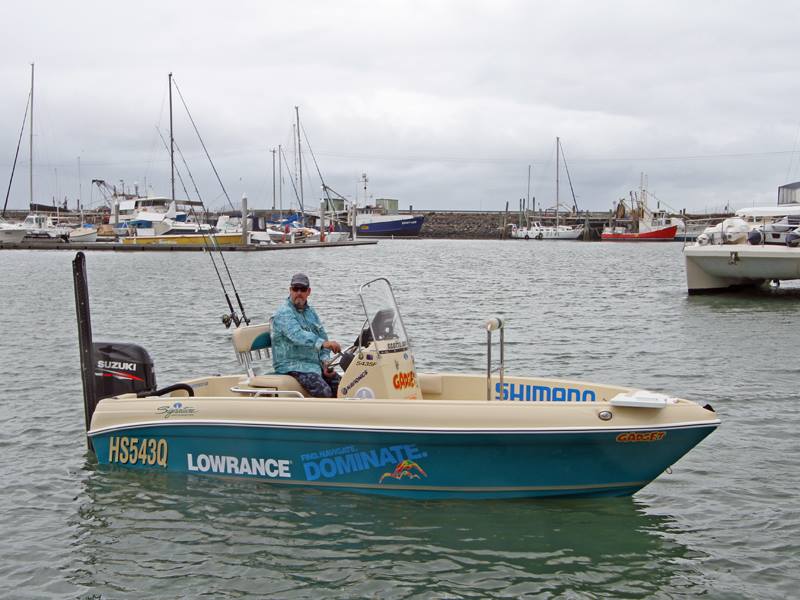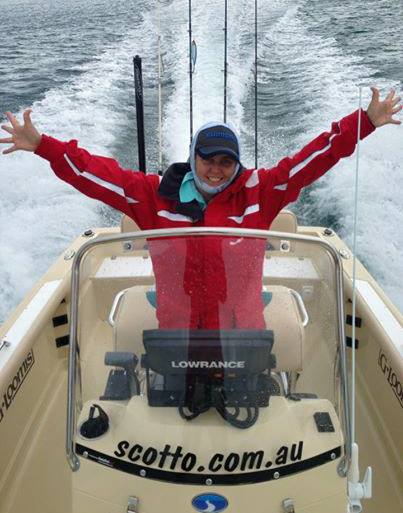 Well after nearly 12 months from when we hatched this project and over 7 month in the Haines Groups R&D we spend our 1st afternoon on the water in our new Signature 543sf and couldn't be happier – the ride & lay out is simply AWESOME !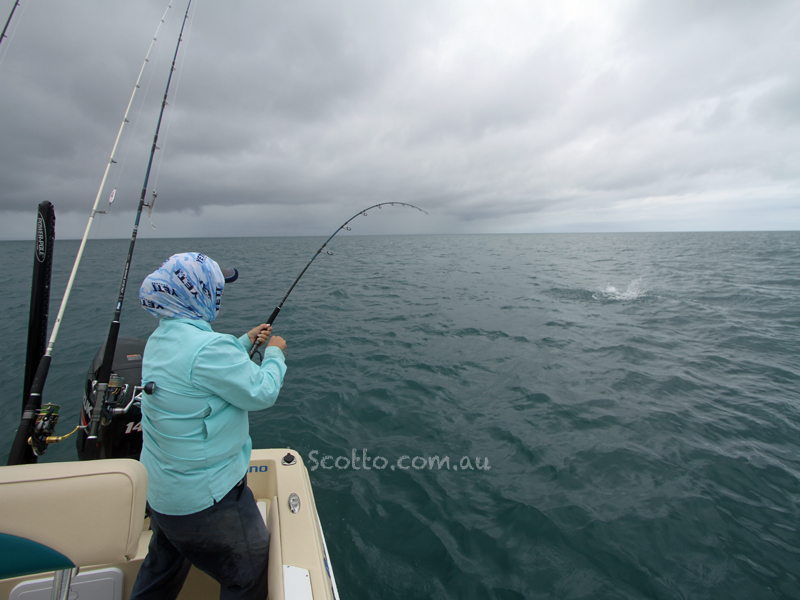 Finally got a break in the howling SE winds and headed up the island for our 1st full days fishing after an afternoon shake down run the day before …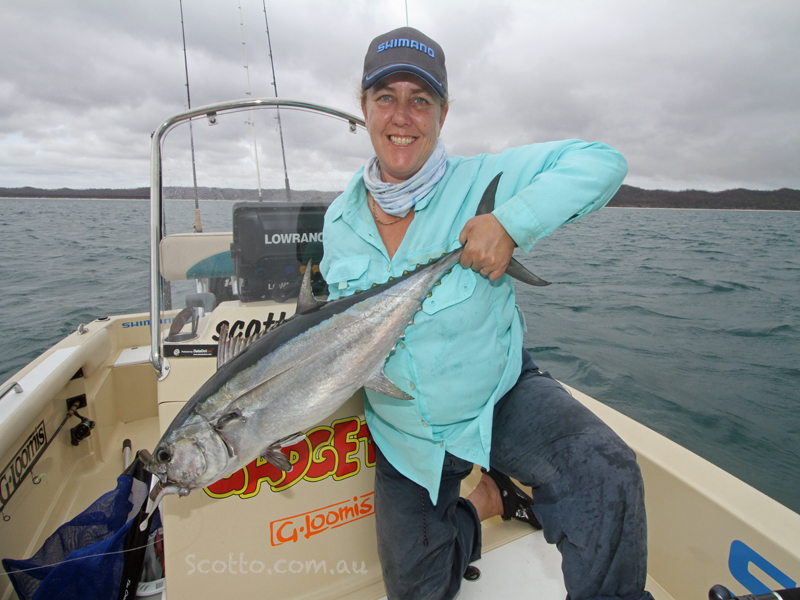 Katrina with "Gadgets" 1st longtail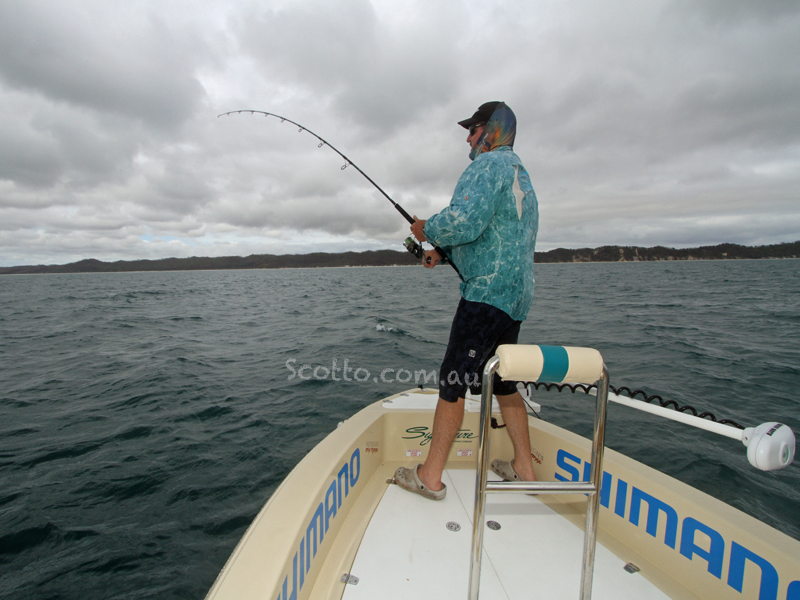 We came across a couple of great bait balls – but the sharks were ferocious !!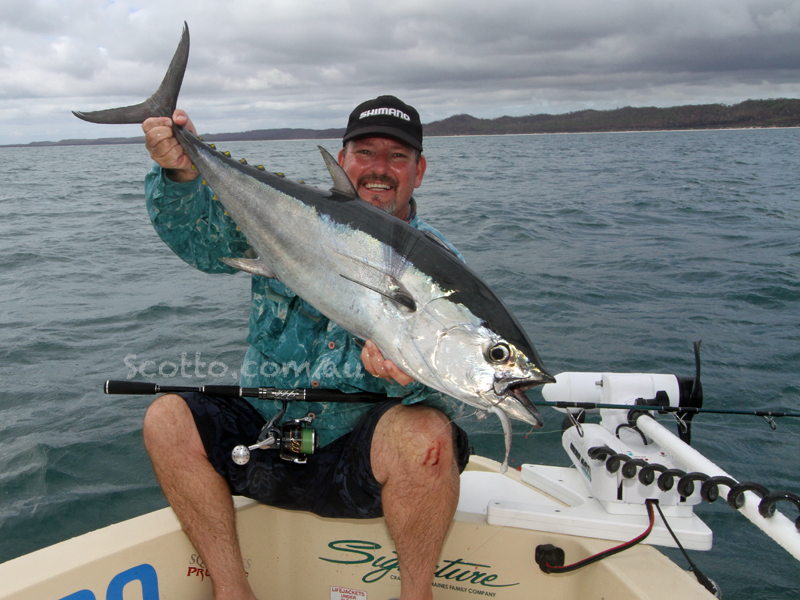 Finished the day off with this nice Longy – which I am sure will be the 1st of many fish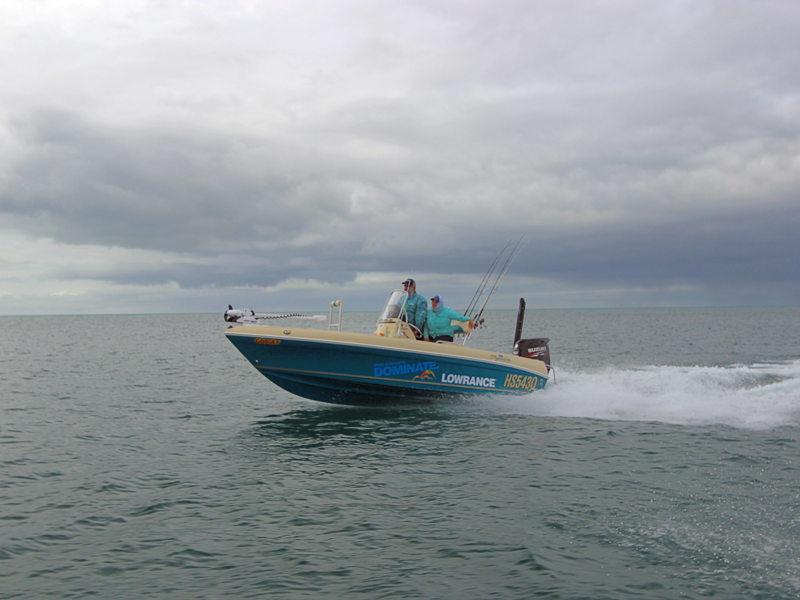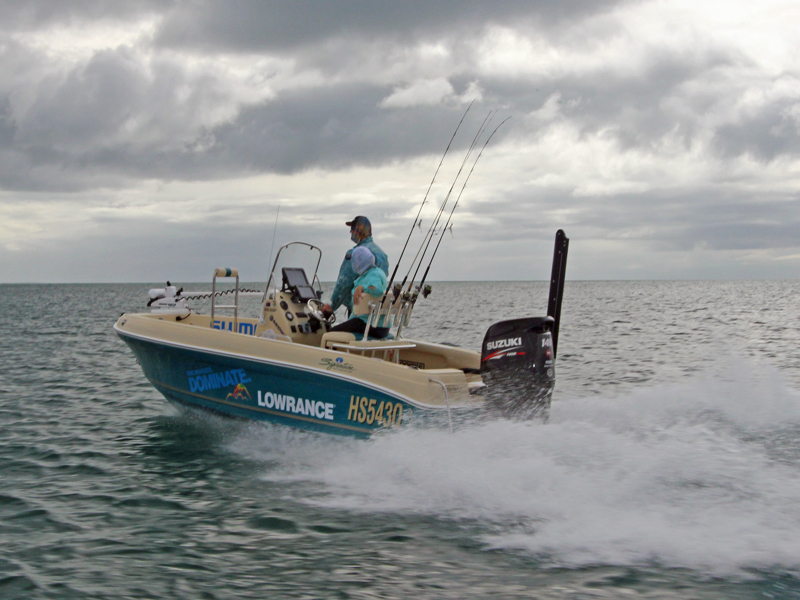 The 543sf truly is an amazing hull on the water – the ride quality & performance has to be experienced to appreciate just how good it is !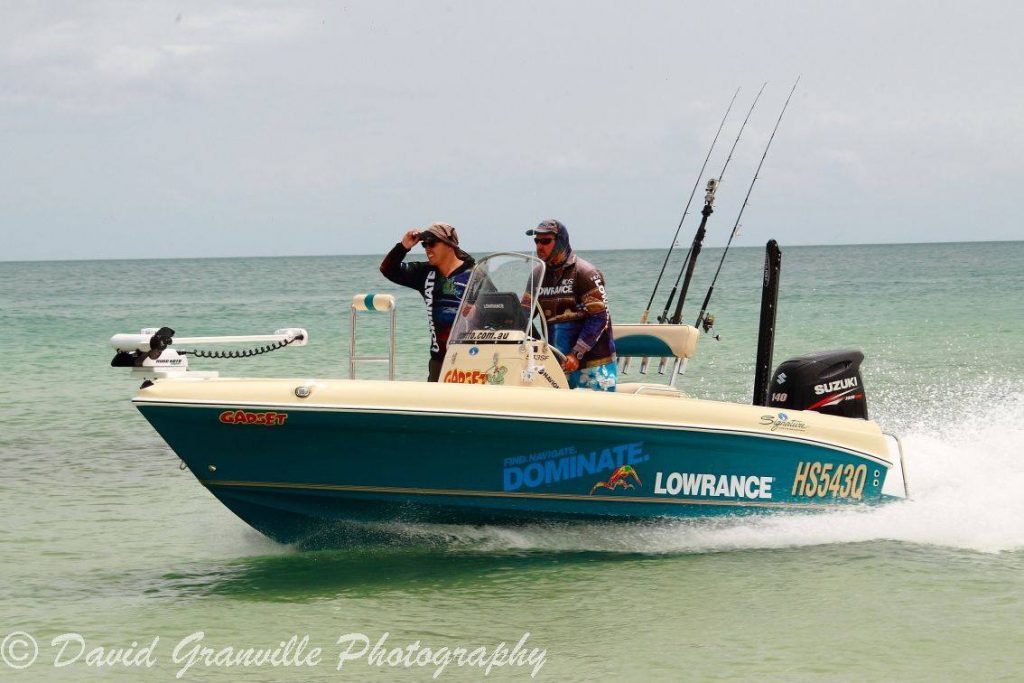 Put nearly 30 hours on the motor this week and a number of fish over the sides & couldn't be happier – this is one sweet hull !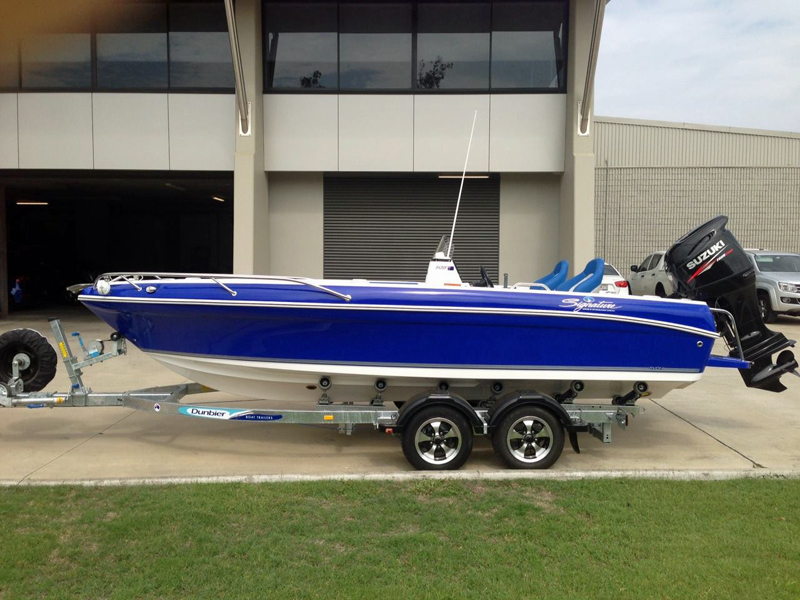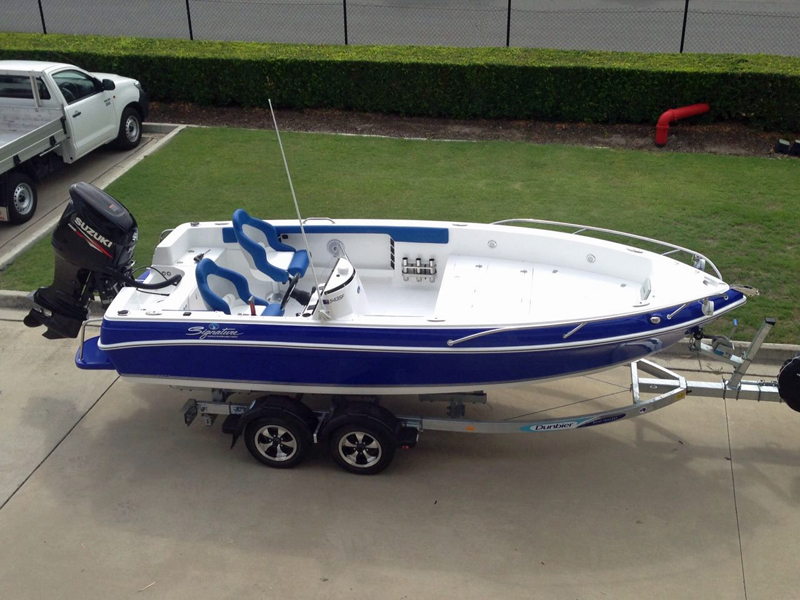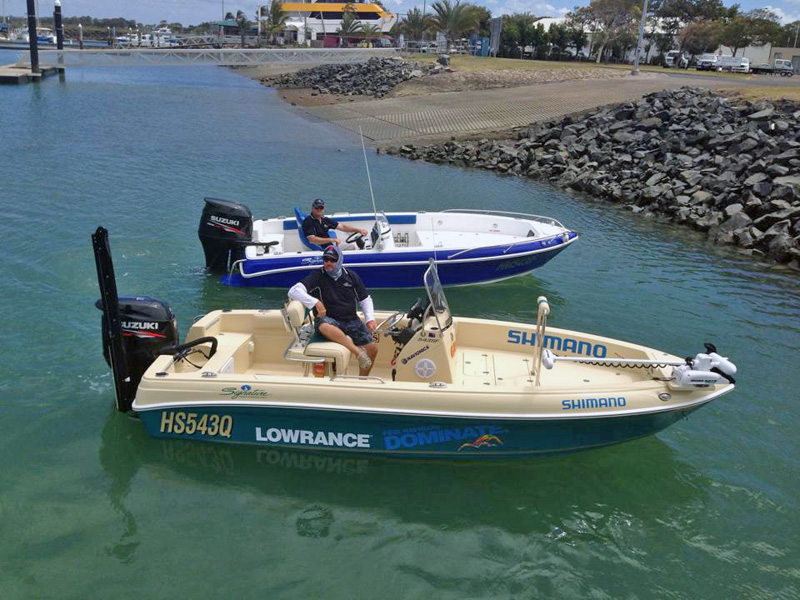 The team at The Haines Group have also built a side console version for those who prefer that lay out as well. Every 543 can be cusomised to suite your fishing preferences !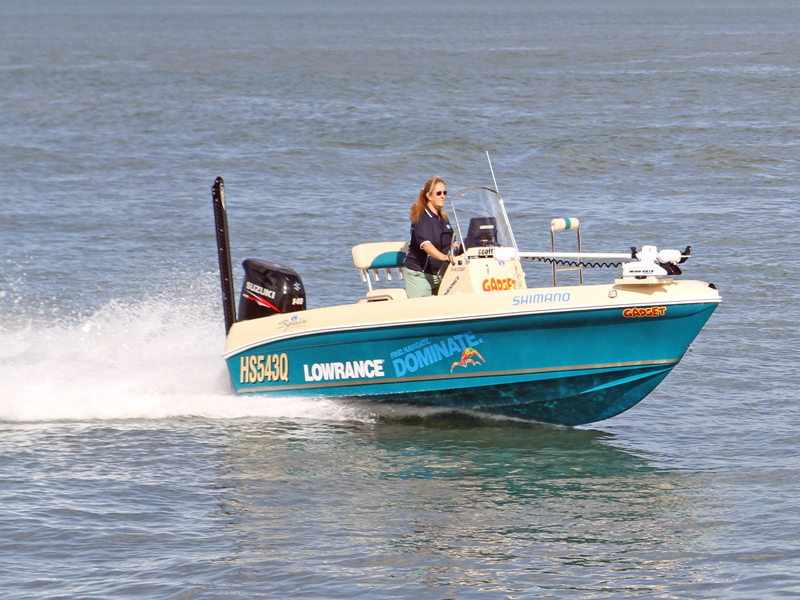 The hull is rated up to 150hp with our choice of motor being the benchmark Suzuki DF 140A. This motor has again earned quite a reputation and perfectly balances the boat while offering fantastic fuel economy with Suzuki's lean burn technology. We couldn't be happier with the performance and have propped the boat for midrange fuel economy running a Suzuki stainless steel 3 x 13 7/8 x 21 R prop. This combination gets out of the whole well while offering a cruising speed of 37 km/h (approx 20 knots) burning 15 litre per hour at 4000 rpm! This gives the boat great range with the underfloor 160 litre fuel tank. WOT at 6000 rpm produces 67kph (approx 36 knots) burning 45 litres per hour
*See attached PDF for full performance figures below
Boatless No longer – Scotto