Another year is nearly past & I have to say we have had some great fishing here in Hervey Bay. A quick re-cap starts with the disastrous summer which saw a series of catastrophic floods hit Australia fuelled by the strongest La Nina event since 1973 , beginning in December 2010, with Queensland being worst hit. The floods forced the evacuation of thousands of people from towns and cities with an estimate of over 200,000 people affected. Three quarters of the state of Queensland was declared a disaster zone after one of the most powerful cyclones to have affected Queensland since records commenced, tore through the coastal communities between Innisfail and Townsville.
We experienced only minor flooding in Hervey Bay with the worst areas being along the Mary River which peaked at over 19 metres at Gympie. I personally have never seen such prolonged heavy rain with phenomenal totals being recorded around our region. This incredible event also caused many of our dams / impoundments to reach their total capacities – many exceeding them. Wivenhoe Dam reached its highest level ever, peaking at 191% in January 2011. Our own local water supply, Lenthalls Dam has been spilling on & off since reaching its new height via crest gates installed back in 2007. Lake Monduran near Gin Gin also spilled for the first time in nearly 20 years. Further up the coast at Gladstone or countries premier barramundi dam – Lake Awonga also spilled for the first time since the dam was raised by the Gladstone Area Water Board (GAWB) from 30 to 40 metres in 2002. The dam actually reached its highest level in its 26 year history, peaking at a staggering 140.25% – which equates to an amazing 4.25 metres of water going above the spill way height! Cania Dam just outside of Monto also spilled for the first time since the dam was constructed in 1982.
So what happens when these dams that have been heavily stocked with native fish start spilling – some of their inhabitants will go with the flow!
The fishing grapevines & forums were buzzing with reports & stories of "millions" of fish escaping these dams & worse dyeing from their journey over the spillway. Not just BIG barra are lost in these events either, barra of all sizes will take the opportunity to head downstream, particularly at the peak of their natural breeding cycle – in the middle of the wet season! Other species including mangrove jack, mullet, catfish, gar , bony bream, eels, Australian bass & even silver perch where observed going over some dam walls during this period where present.
Lake Awonga attracted a lot of attention being our countries most heavily stocked barra dams. So what about the fish that did go over the spillway? Unlike a lot of dams – Lake Awonga's spillway is fairly "fish friendly" with a gradual slope and scooped bottom that ends with a channel. Local barra guru & guide Jason Wilhelm (http://www.barramadness.com ) experienced some outstanding sessions with his clients in both the saltwater & freshwater sections of the river with the average fish being over the magic metre. It was these reports that prompted my flying visit with a metre plus barra on fly still being on my bucket list!
I arranged a flying visit in March to fish with Kurt Hutchby whom I have worked with through our local Fraser Coast fish stocking association over the last four years. Water was still coming over the spillway & the river was running after more recent rains. I was using my new G.Loomis NRX 12 wht outfit matched with SA 400 grain Bluewater express line. I started off with a big black deceiver pattern, but quickly discovered it was not going to be like shooting fish in a barrel without so much as a bump in our first two sessions!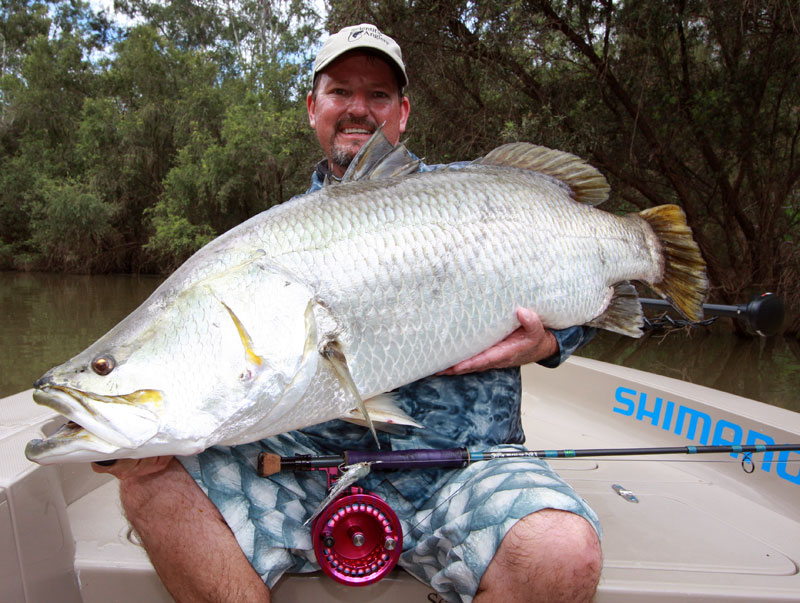 I finally cracked a pattern on the second day with a 3D profile pattern tied by Geoff Skinner which resulted in 5 fish over a metre and my PB to date at 124cm and 61lbs !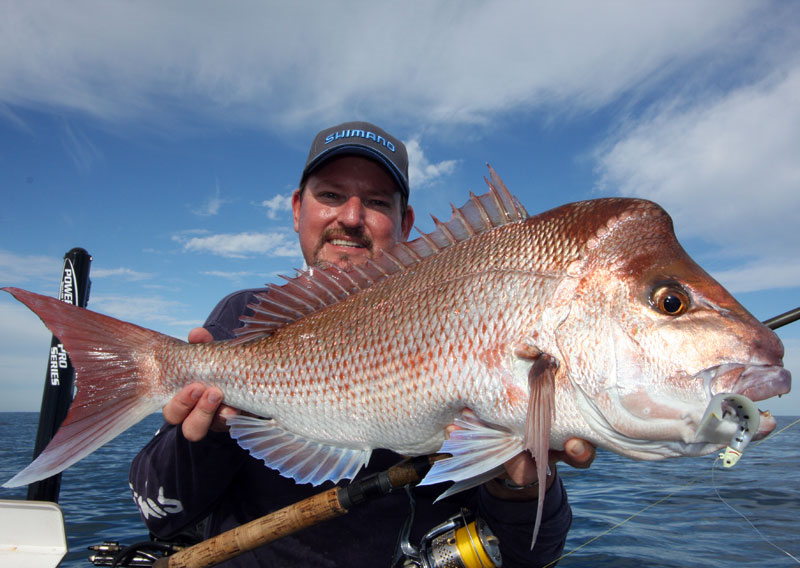 We  experienced some great longtail tuna sessions up the island in April & May with plenty of school fish around 10-12kgs. This was followed by the best snapper season I have ever had through winter with some fantastic sessions resulting in fish averaging 4-5kgs & our largest going 8.5kg !
This news attracted a number of Southern anglers to the bay & I enjoyed some great time on the water with some new mates including  Bill Maguire, Matt Armistead, Lee Parkhouse, Nathan & Shan Wolhunter.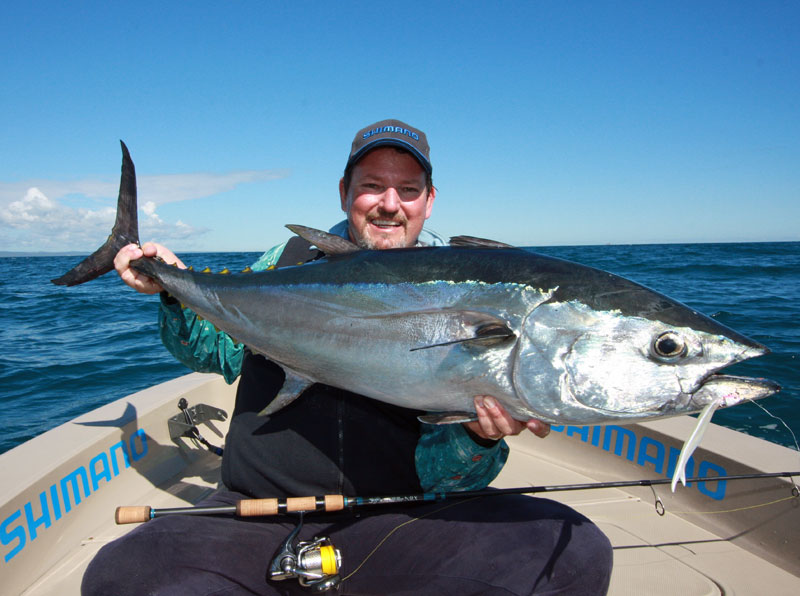 Also managed some cracking long tails mixed in with the snapper with this beast going 20kgs !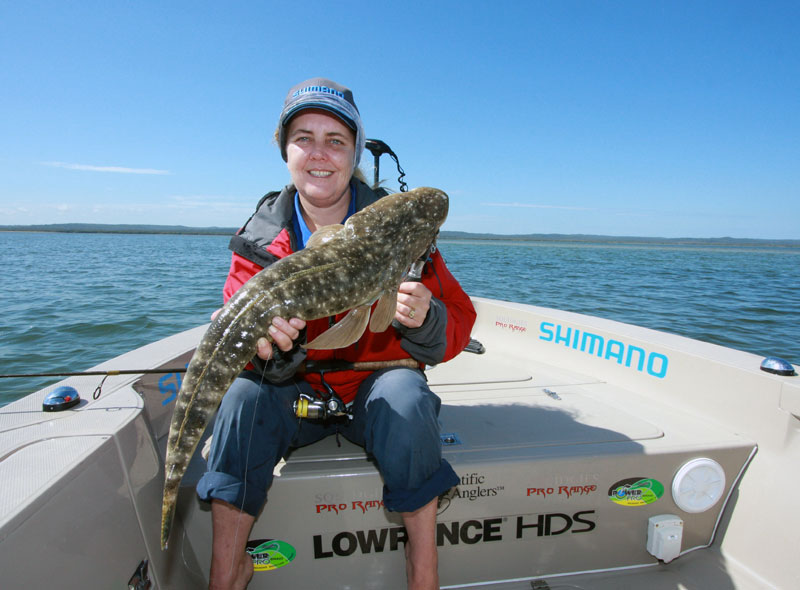 We chased some flathead & bream in July & August with some more great fishing resulting in numbers of quality fish above 60cm with our largest going over 85cm .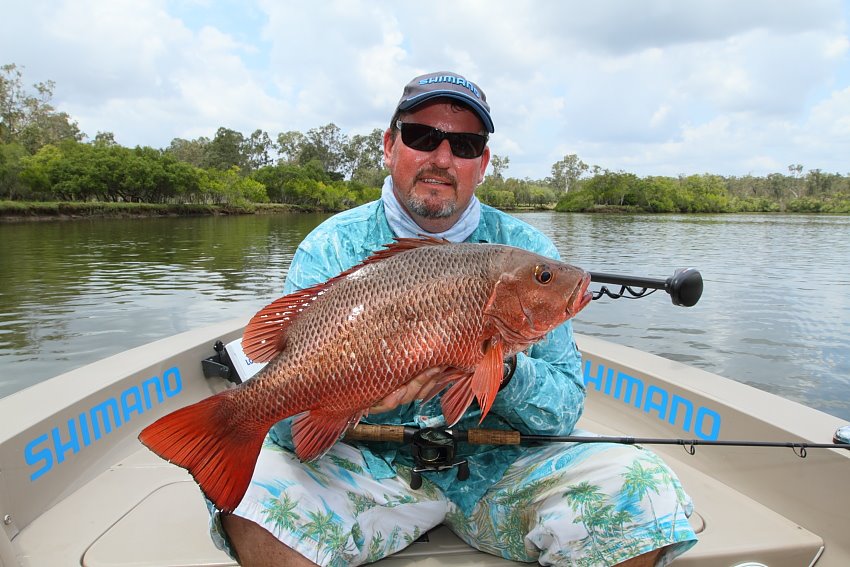 As things warmed up in Sept the Burrum river began to fire for both barra & jacks. We fished weedless/snag proof slick rigs for great results & topped my PB jack at over 50cm ..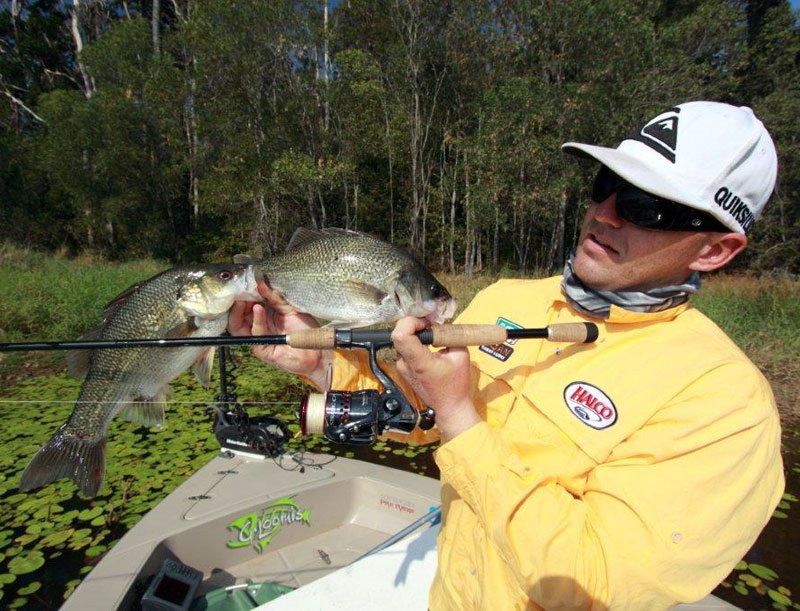 Lenthalls dam also came back on line in October with both bass & barra starting to show up. I had one great day on the lake with Brad Bell with over 25 fish to 45cm being landed on a range of techniques !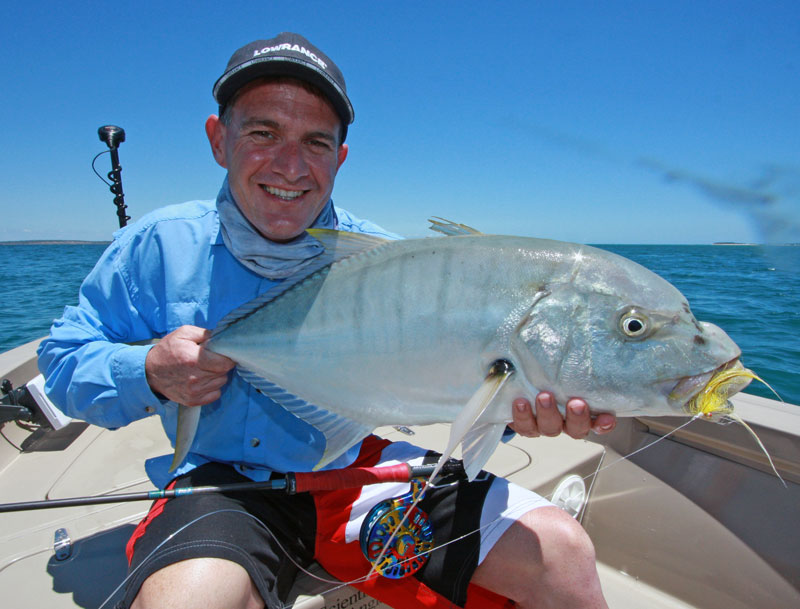 Next up was the start of our Goldy season with good mate Andrew Homann coning up in November to get his 1st Hervey Bay golden on fly .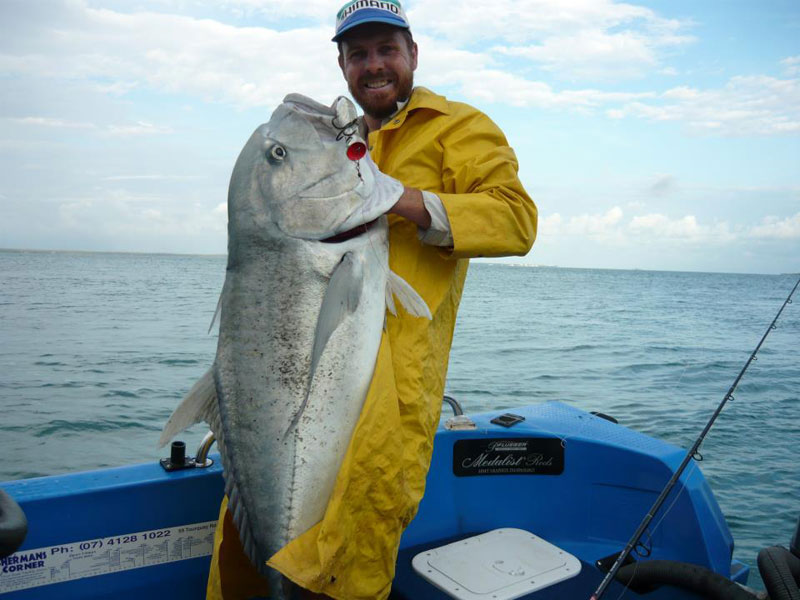 Local Mates Nathan & Andrew snuck in a GT session recently which resulted in this great fish & a number of monumental wipe out !

We have just had two weeks of stormy / wet weather with strong SE winds – which should bring all our pelagics in just in time for Christmas & the Holiday season 😉
With that Katrina & I would like to wish you all a very Merry Christmas & look forward to catching up with you all again in the New Year !