The fishing gape vine had been leaking reports of cricket score numbers of BIG barra being caught in the Boyne river near Gladstone since early February. These fish have most certainly taken the opportunity to exit Lake Awonga during the flood event of Summer 2011 & are now reaping havoc in the river down stream all the way to it's mouth in the salt.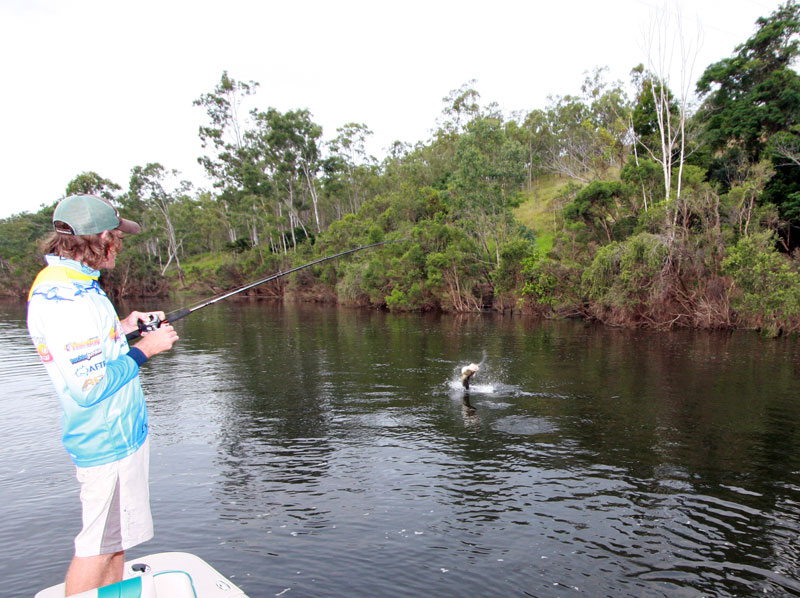 We arranged to catch up with GAWB hatchery manager Kurt Hutchby as he was interested to see how we'd go targeting these great fish on fly fishing tackle…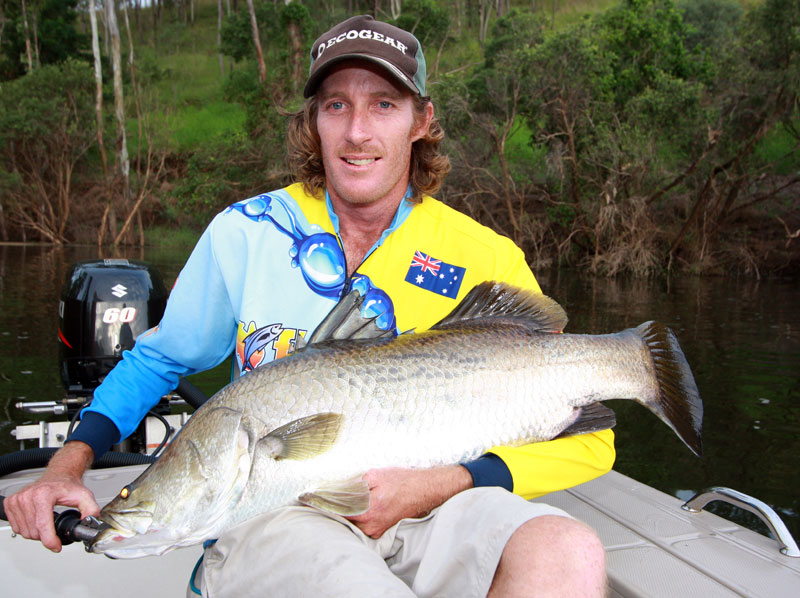 Kurt caught this lovely 97cm fish on our 1st afternoon using a hard body – just prove they where there
Unfortunately we didn't get a touch on the fly …….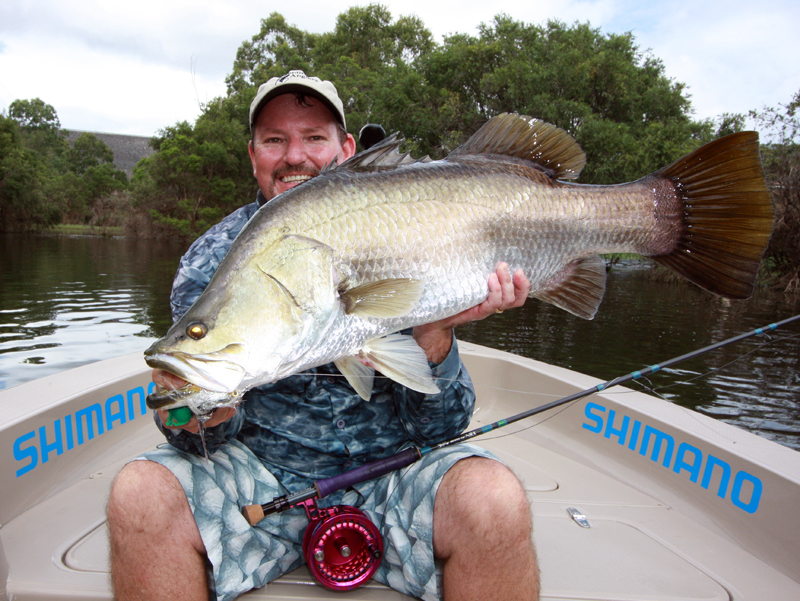 I had heard some say it was like "shooting fish in a barrel " – which after 6 hours of throwing a #12 wht with a number of different flies & lines with out so much as  bump I would argue ! I did jump off a HUGE fish at around 10am – there was a minutes silence after that  
At around midday we where about to throw the towel in when Kurt suggested we try the head of a run one last time as we where marking fish on the HDS 8 Side scan – just had to find a fly they liked ! I switched to a natural 3D profile pattern Geoff Skinner had tied me in a natural olive/silver colour. With six fish marked on the HDS 8 sitting in the run I put a cast up & across , allowing the 400 grain deep water express line to swing before stripping the fly back in short , abrupt strips followed with plenty of pauses between. First cast I came up tight on this fish which put on a great show & measured up at 97cm ..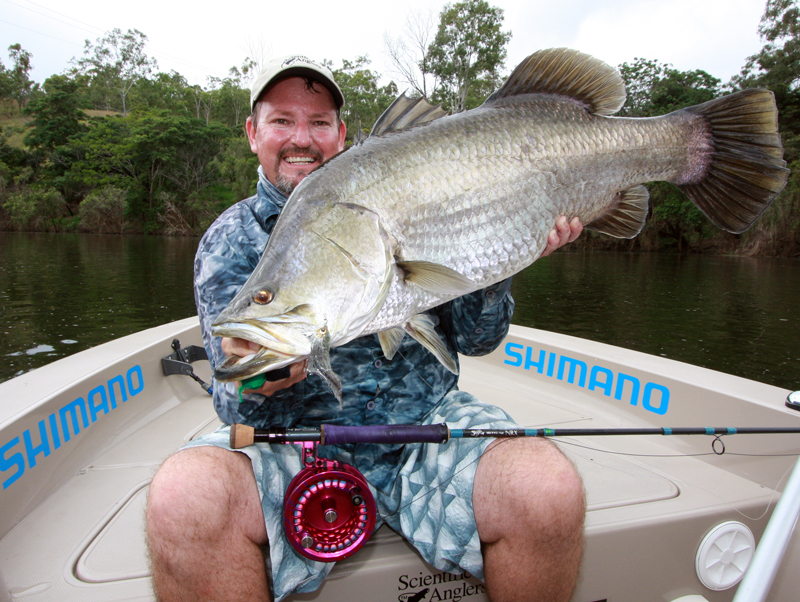 Finally we had a fly they liked – taking this great 103cm fish on my very next cast ! My first barra over the metre on fly tackle 
I am wrapped with the new G.Loomis NRX #12 wht which is significantly lighter & livelier than my previous Cross Current with plenty of reserve power for handling these amazing fish. I was running a Scientific Angler 400 grain blue water express line with 80lb leader straight through.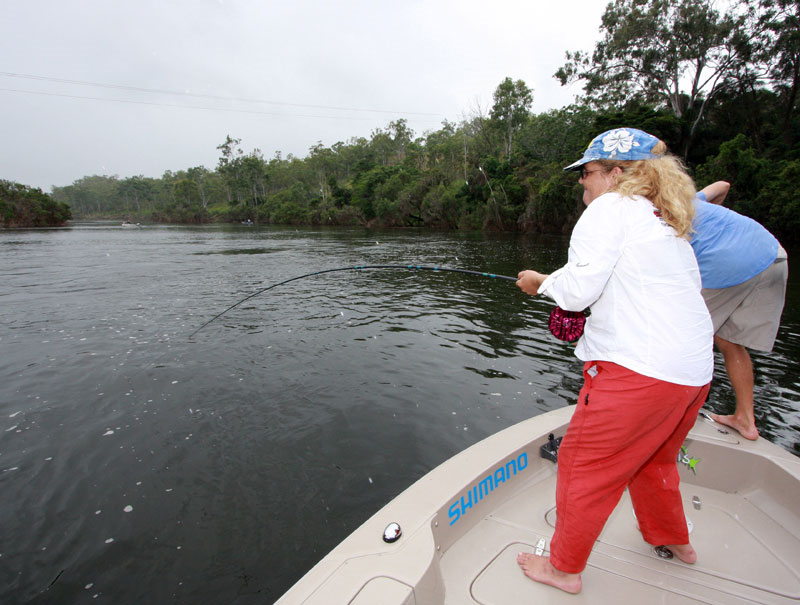 With what appeared to be a hot bite coming on – Katrina was up next to see if she could crack the metre as well ….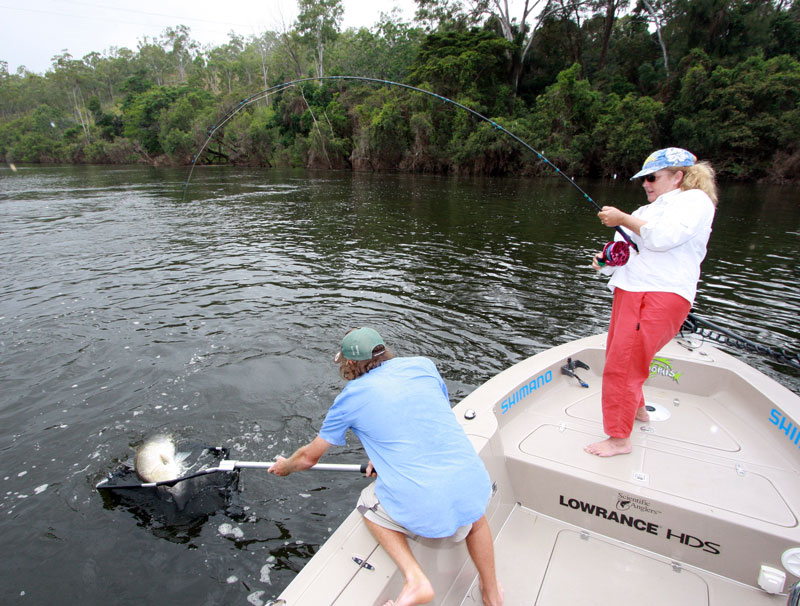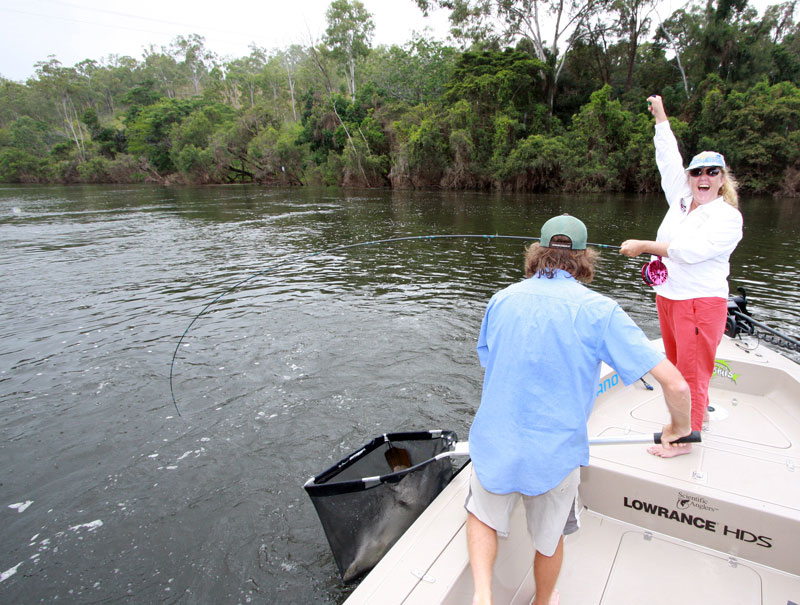 It only took her three casts to come up tight on yet another big fish – which really put on a show & wrapped her knuckles a couple of time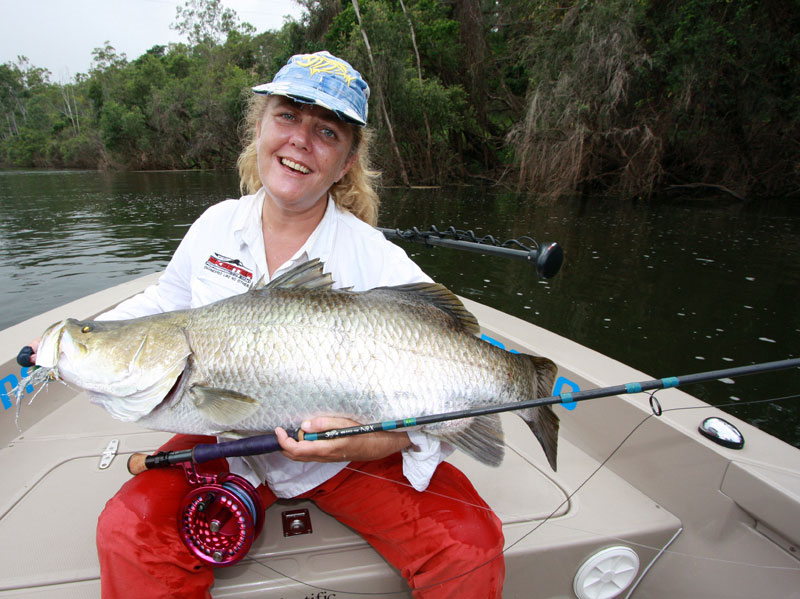 At 98cm – not a bad fish for her first one on fly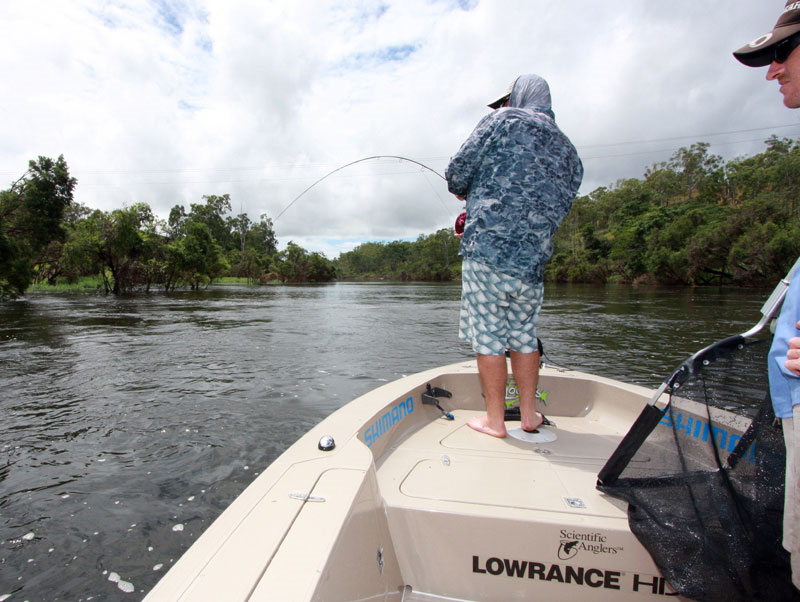 We had definitely cracked a pattern with my next cast being hammered by a heavy fish. You can tell when you hit a BIG fish – the retrieve just stopped solid & was followed by big tail beats as line was ripped through my fingers. The fish ran out into the middle of the river before heading for snags on the opposite bank.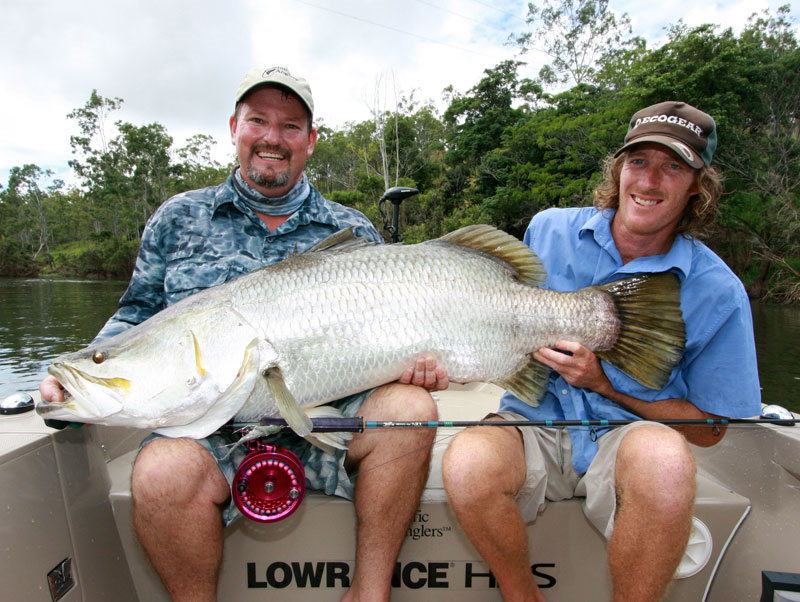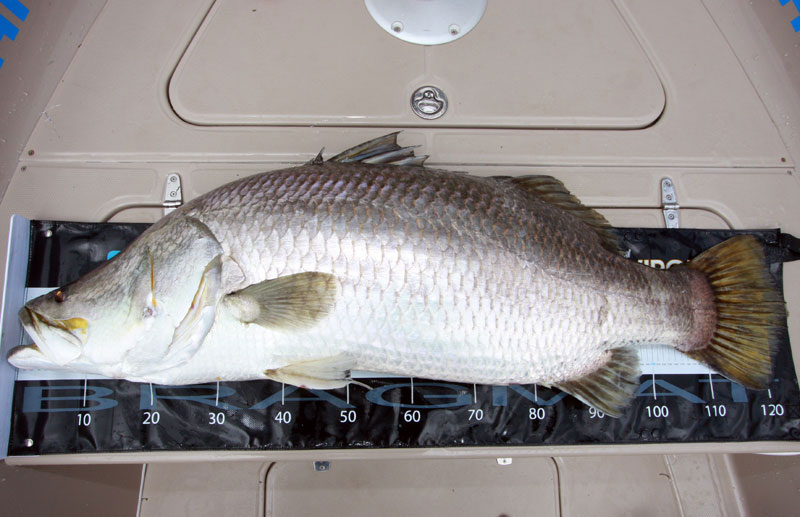 We could not believe our eyes when this amazing fish came up alongside the boat after 15 minutes of some fancy rod work – you could of heard us in Gladstone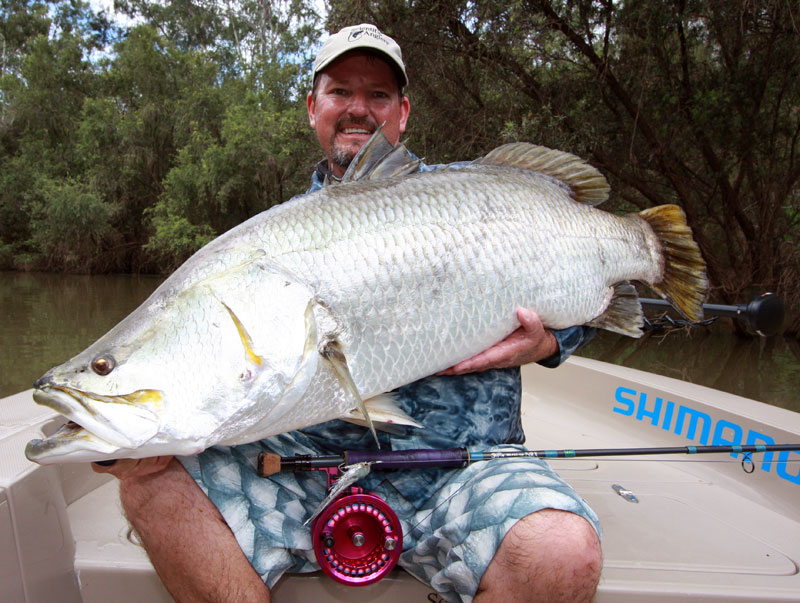 At 124cm & just over 60lbs – It ranks as one of the most memorable fish I have caught to date ( unfortunately she didn't revive & Kurt kept her for research purposes ). I'd like to thank Kurt for fishing with us as this would not have happened with out his efforts. We'd also like to thank our mates Treno & Tracey who live in Gladstone & put us up overnight – you'll be seeing us more regularly in future