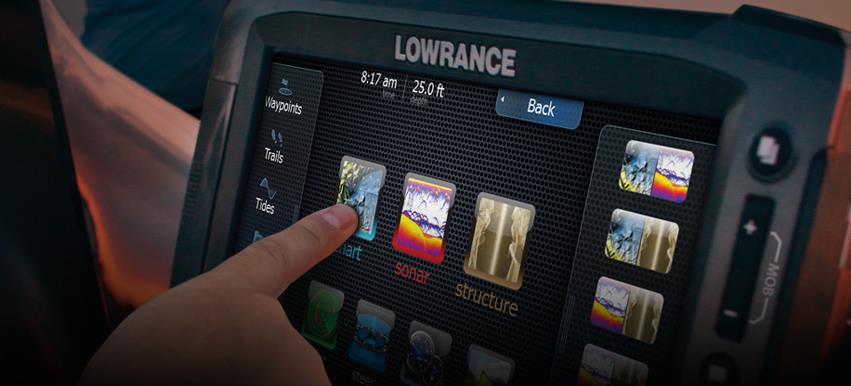 Incredible Lowrance StructureScan™ Sonar Imaging Option for HDS®.
Sees More. Shows More. Does Much More………
Lowrance StructureScan™ is the brightest new edge in high-detail, picture-perfect bottom viewing of ledges, channels, drop-offs, brush and all the other great other fish hidey holes, with superb clarity, for add-on performance to any HDS multifunction display.
It's pure, advanced and exclusive Lowrance technology through and through.
It easily networks via ethernet with up to three HDS devices for sonar display and waypoint sharing.
It features the dedicated transducer array for the Lowrance innovation of down-looking imaging producing the clearest, truest picture possible.
It features a high-technology plug-and-play performance module to deliver the most horsepower in fishfinding imaging.
It works separately and in tandem with the award-winning, built-in Broadband Sounder of HDS displays and existing transducers.
It offers the exclusive TrackBack™ feature for simultaneous scroll-back of sonar and chart plotter "history" to set waypoints, and share them across the network.
It gives you multiple choices in imaging transducer mounting locations.
Even more exciting, StructureScan™ features an added new dimension in sonar imaging never before seen, so anglers don't miss a thing.
Techno Marvel. Marvelously Easy to Install.
For any HDS display, two easy-to-install add-on components launch the newest giant leap in fi sh- and structure-finding.
The Brains:
The Lowrance LSS-1 fully-waterproof module. Hook it up to a 10-18 VDC power supply, and via simple plug-and-play ethernet cables, network with up to three HDS displays for viewing and independent display control. Or, network with other HDS add-on options to enhance your on-the-water safety and fun. Like the Lowrance BR24 Broadband Radar™ option, the fi rst high-detail radar safe enough for inland waters and tight harbors. Or the LWX-1 antenna for satellite weather and radio with unique SIRIUS® subscriptions.
The Heart:
The Lowrance LSS-1 imaging transducer. Rugged, yet with a smoothly fl uid low-profi le, low-drag design, it's made for multiple mounting locations – transom, transom step, jackplate, even trolling motors (with a simple, inexpensive adapter option). It also has a built-in water temp sensor.
For transoms, there's a smarter-designed, stainless steel mounting bracket with a kick-up feature for water hazard strikes. Damage the bracket, and you simply replace it (not the entire transducer) inexpensively.
Read more about the StructureScan™ System here  
Lowrance LSS-1 StructureScan™ sonar imaging options compatible for networking, viewing and independent control with all HDS multifunction displays, including HDS-5m, -7m, -8m and 10m dedicated marine chart plotters.
More Details @ Lowrance Structure Scan
#Lowrance #StructureScan #FishingWithScotto