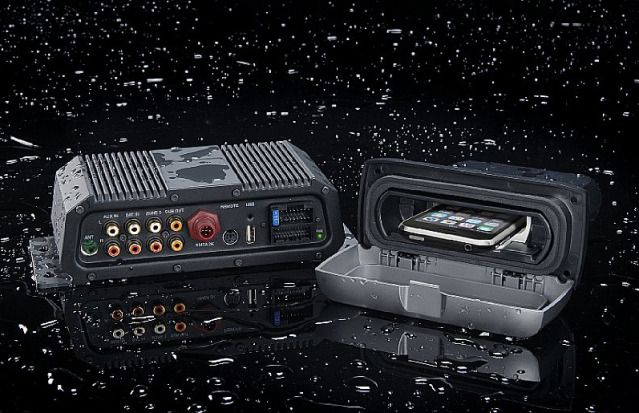 SonicHub™

This is a nifty marine audio server that hooks up to your Lowrance HDS or Simrad NSE unit and allows you to play an iPod, iPhone or MP3 music files on a USB stick, AM/FM radio and control everything via your HDS. So you can choose the songs you want to hear, change the volume control etc all through the HDS display. The unit is a black box that you can store underneath the dash, then there's the hub which can either be mounted on your dash where the iPod sits and also comes with 2 x Speakers. It all hooks up to the HDS unit via NMEA 2000. More information can be found here: http://www.lowrance.com/en/SonicHub/

Availability wise, dealers will be able to stock the unit around from September with an expected retail of $599-

Lowrance Facebook Site

For those of you that have Facebook accounts, we have launched a good Lowrance Facebook page –www.facebook.com/Lowrance. Take a look and become a Fan if you want to. It's becoming more and more popular and is an excellent site to post great screenshots, tournament wins, ask for advice etc.
HDS 3.5 software version and demonstration files – 1st Oct 2010
The HDS 3.5 software upgrade is recommended for all HDS displays worldwide. The 3.5 software MUST be installed to HDS to activate the new Lowrance SonicHub™ features.
For a complete list of enhancements, click here to download the HDS 3.5 release notes.
---
Copy the update to your SD/MMC card
Make sure the SD/MMC card reader is properly connected to your computer (and, if necessary, that the drivers are installed).
Insert a blank SD/MMC card that is 512MB or larger into the SD/MMC card reader.
Transfer the HDS 3.5 software files to your SD/MMC card.
Choose your operating system:
PC Win98/ME/2000/XP/2003/Vista/7
Click on the link and wait for the installer software to download and run on your computer.
Follow the Lowrance update installation instructions to transfer the files to your SD/MMC card.
When the installer finishes you will be prompted to click Finish to exit.
Mac OS X (.zip file)
Click on the link, unzip the .zip file and copy only the Sims folder, update.conf, and
hds-3.5.33.217-1-11494-r7-standard-1.upd file to your SD/MMC card. 
HDS 3.5 is a 220 MB file and may take a while to download.  Please be patient.
Installing the update on your HDS (all units except HDS-5x)  Installation instructions for HDS-5X
Turn your Lowrance HDS unit off.
Place the SD/MMC card containing the updated operating software in the unit's SD/MMC card tray.
Turn your HDS unit on. The software update will automatically install.
After the install is complete, remove the SD/MMC card from the unit, and restart the unit.
---
How to see if your HDS is already using version 3.5:
From a chart or sonar page, press the MENU key twice to activate the Settings menu.
Select SYSTEM.
Select ABOUT from the SYSTEM menu.
The software version is displayed with the title "Application" and 3.5.33.217. 
If your application is the same as listed in step 4 above, there is no need to download the software.
Troubleshooting
Mac OS X users need to copy only the Sims folder, update.conf, and hds-3.5.33.217-1-11494-r7-standard-1.up file to their SD/MMC card.
---
What changes are made in this update?
HDS 3.5 includes all functionality previously included with 3.0 update along with the following:
SonicHub™ Compatibility – HDS 3.5 update provides complete functionality for SonicHub™, the world's first marine audio server and docking station controlled by a stunning high-definition, waterproof colour HDS display.
System Improvements – HDS 3.5 software improves system stability and increases speed when operating with multi-channel sonar configurations.
Navionics® Charting Improvements – This new software update enhances a user's experience with Navionics® mapping products, including smoother route planning, shading of safety depths and contours with both metric and non-metric measures, correcting issues with User Settings not being retained, and correcting issues with HDS reverting to (0,0) position upon power-up with no GPS lock.
LCM Maps – This latest HDS software upgrades several issues associated with displaying older user-created LCM map data.
---
Still having problems?
Please contact Customer Support based on your location:
Want more?
Watch a Tutorial Video on Updating Your Lowrance HDS
#Lowrance #FishingGear #FishingWithScotto