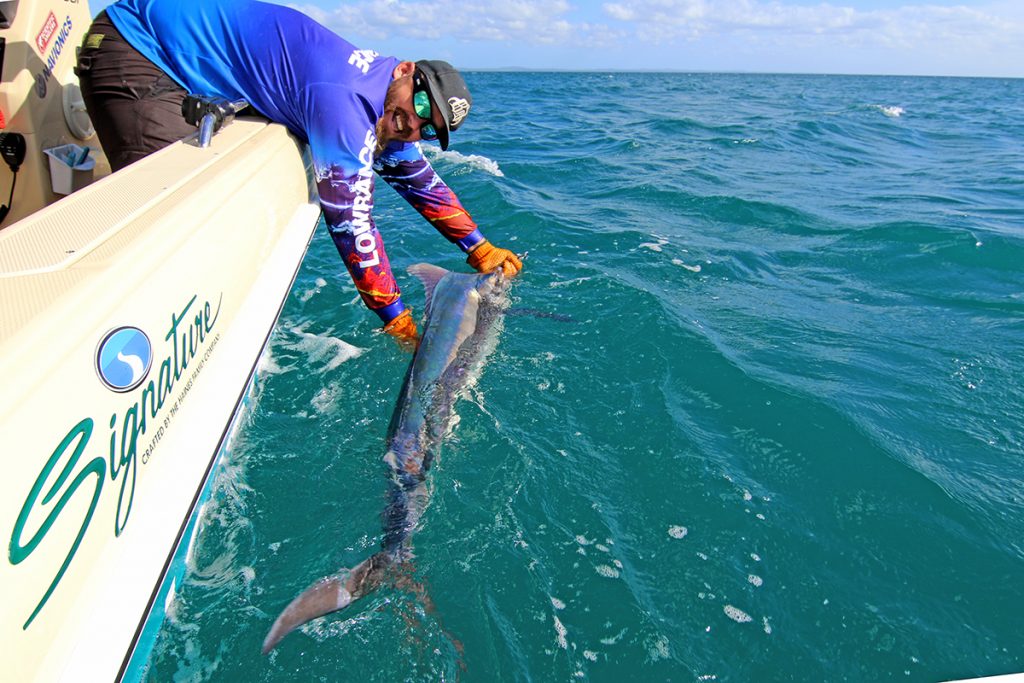 Good mate Nathan Nitschinsk has wanted to tick off a marlin on fly since we arrive in the Bay back in 2006 and I had promised him I would assit in achiving that goal. So with a few marlin about and a weather window in the persistent Northerlies this year we headed up the island with Gordon Dawson taking on the skippers job for the day. Billfishing on fly tackle is a team sport as you really do need some one driving the boat to ensure the teaser is kept in clear water once you raise a fish. Then you need someone on the teaser pole with the angler generally having to clear the daisy chain priro to making the cast as well. We always do a few trial runs at the start of the day to ensure eveyone knows the routine once a fish is raised as it all happens quickly and if it can go wrong – my experience is – it will 😉
It was a great day and everything went like clockwork on both the fish we raised. Nath was unlucky on the 1st fish of the day which was a significantly larger fish than the one he landed later in the afternoon – it just threw the fly after a dozen or so jumps. The second fish was another text book switch and eat and everything stayed connected to get it to hand !
They're are not too many cooler things you can do with a fly rod than cast at a hungry marlin and watch it eat your fly !
Cya's next trip – Scotto