The "Evolution" video above show cases what you can expect to see at your preferred Shimano stockist in the next few months – I know I can't wait to fish some of this stuff !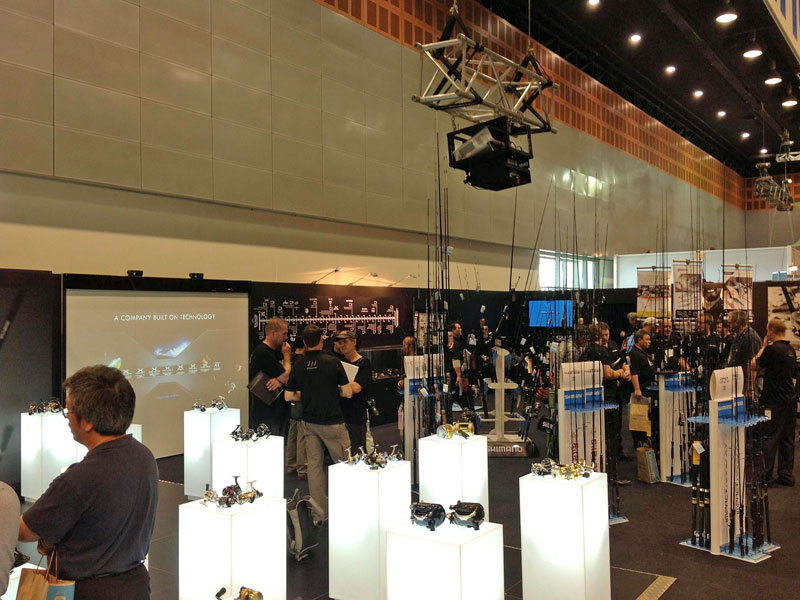 The Shimano Stand this year was truly a stand – designed to clearly showcase their new product ranges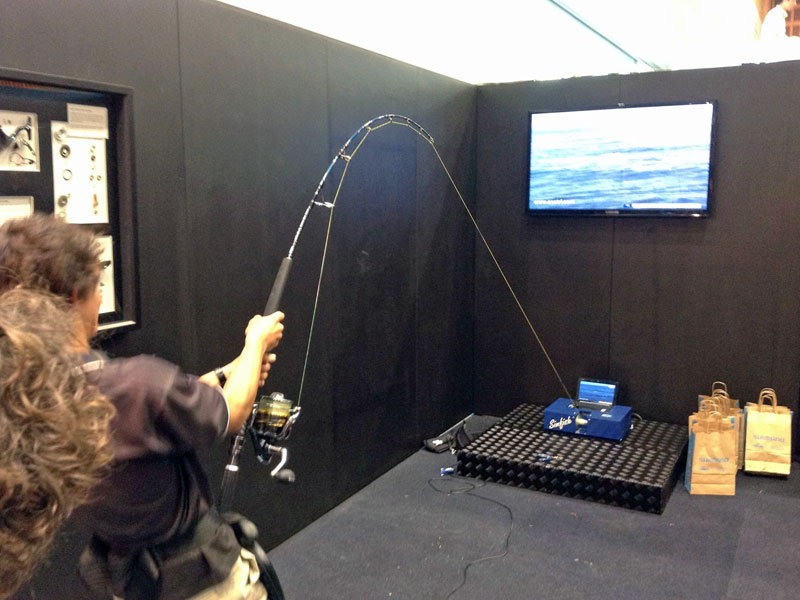 It even featured a mini cinema at front and fish fighting machine !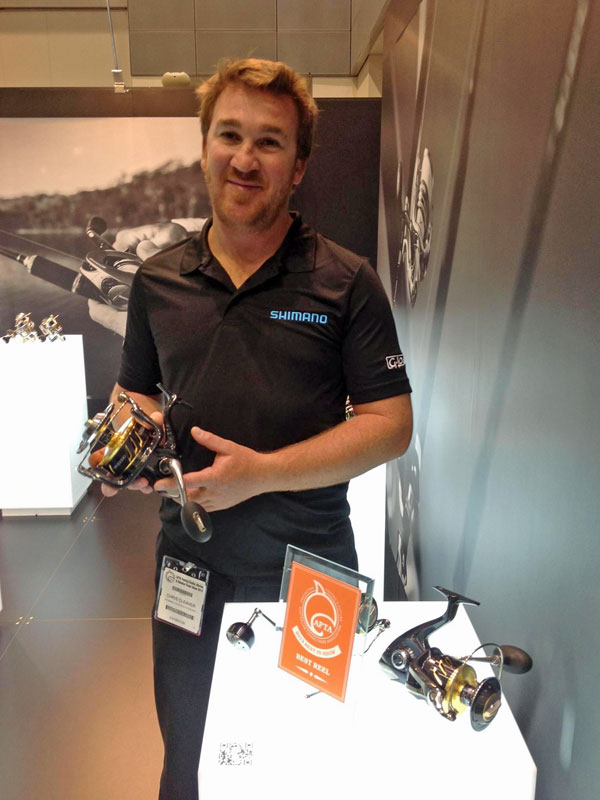 Chris Cleaver proudly displays the new Stella 30000 which won Best Reel again – Making it 3 years in a row Stella has won best reel !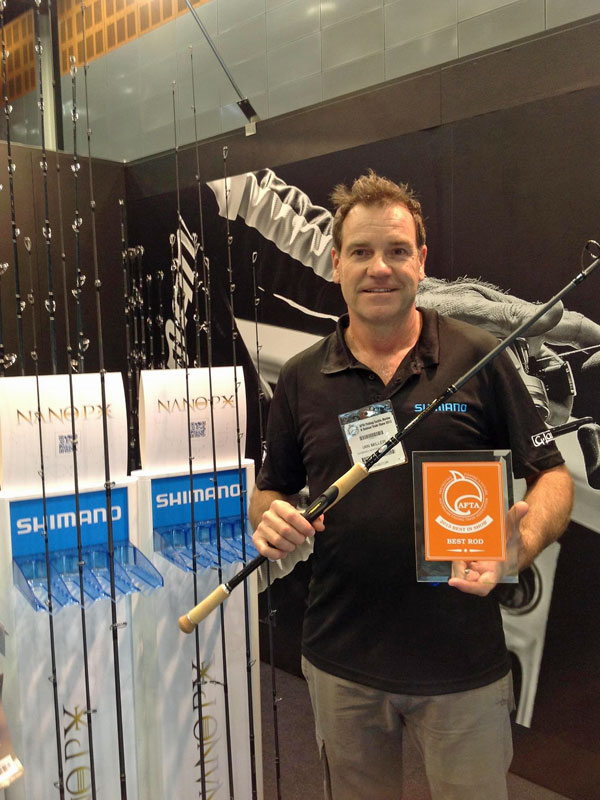 Ian Miller with this years AFTA Best rod – the Shimano NanoPX series – making it 2 years in a row taking out best rod in show !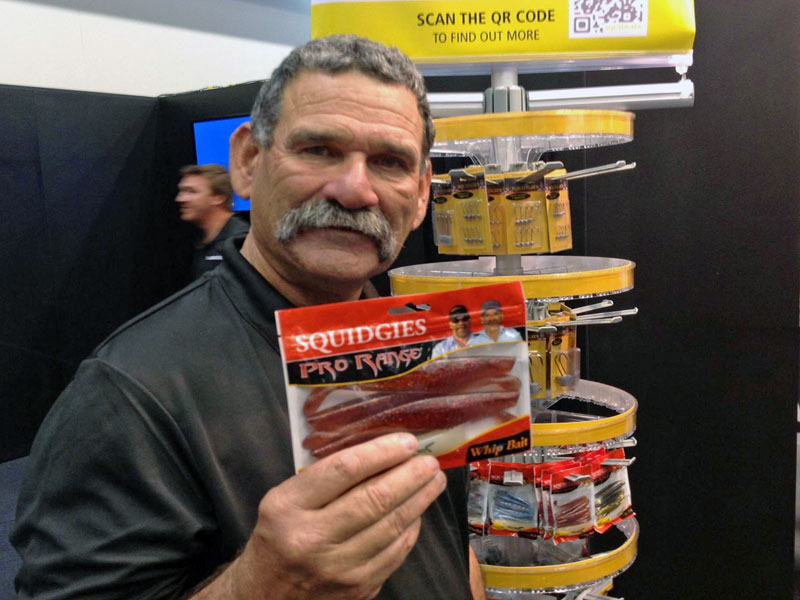 Bushy showing off the new & highly anticipated Squidgy "Whip Baits" ..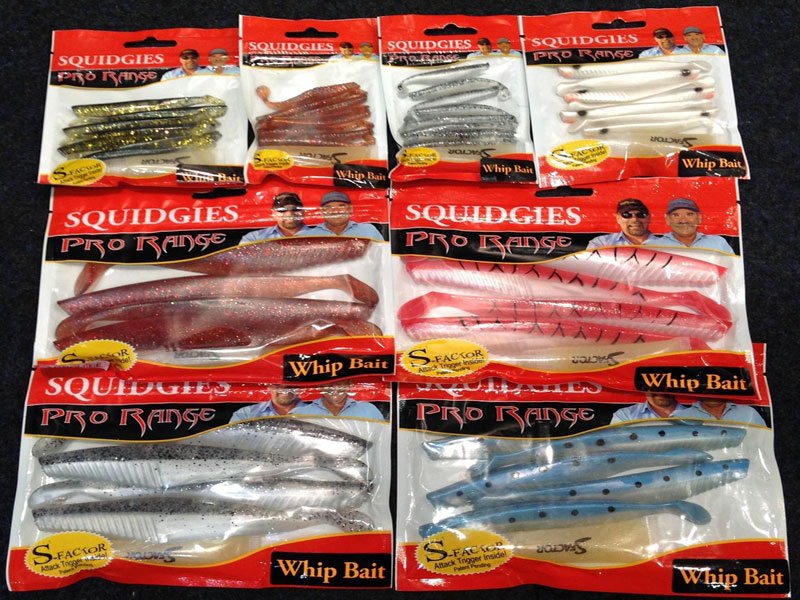 The New Whip bait come is a fantastic range of colours and should be a killer on everything from flathead to Longtails !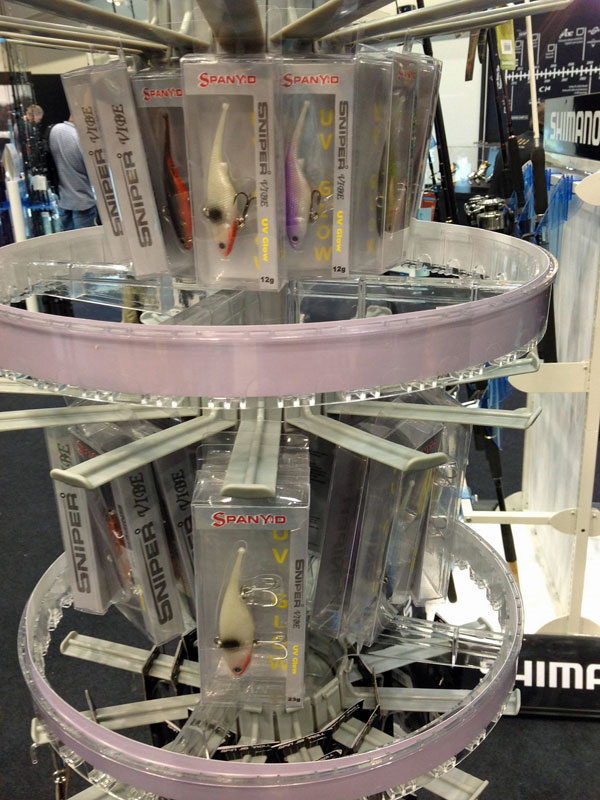 Spanyid also released a new soft Vibe that looked and felt fantastic !
Another stand out reel was the NEW SHIMANO AERO CI4+ SPIN REEL. Decreased weight and increased strength; that's what you get with the new Shimano Aero CI4+ spin reel. Making use of Carbon Interfused Technology in the rotor and its compact body, this is a reel that's a pleasure to use for long periods, but can really stick it to a fish when needed.
Shimano's legendary X-Ship system provides more efficient power transmission, a long-cast AR-C spool delivers improved casting performance, and Aerowrap II works with it to create a neater line lay on the retrieve, so greater casting distance without any wind-knots is the result.
Six shielded A-RB bearings and one roller bearing keep everything moving smoothly inside, as you'd expect in a reel of this stature. With nine kilos of drag power up your sleeve and a line capacity of 240 metres of 15 pound Power Pro braid, the AeroCI4+ is going to develop a strong following in a variety of fisheries, from fresh to salt.
There's a choice of two models with different gear ratios — 4.8:1 for general-purpose work, and a faster 6.2:1 for situations where high speed is an advantage.
New Chronarch Ci4+ Baitcasters, engineered to perform, the newest version of the legendary Shimano Chronarch baitcasting reel takes performance to even higher levels. The SVS Infinity Braking System exerts gentle braking force in two directions: centrifugal outward force from adjustable inner pins, and internal friction force in the concave raceway housing the external pins. With the addition of X-Ship for incredibly precise gear engagement and a positively rigid retrieve, plus an advanced a CI4+ frame that's lighter than and stronger than aluminum, you've got a super-powered low-profile baitcaster unlike any other you've ever palmed.
Other benefits that come standard are High Efficiency Gearing (HEG); Super Free bearing supported pinion gear system; A7075 aluminum Magnumlite™ spool; Dartainium® 2 drag washer; 8 bearing system (7SARB bearings + 1 ARB roller bearing); Super Stopper® II anti-reverse with Assist Stopper; Septon PV power grips; titanium IP line guides; double-anodized spool and handle; Disengaging Levelwind System; and QuickFire II® clutch bar.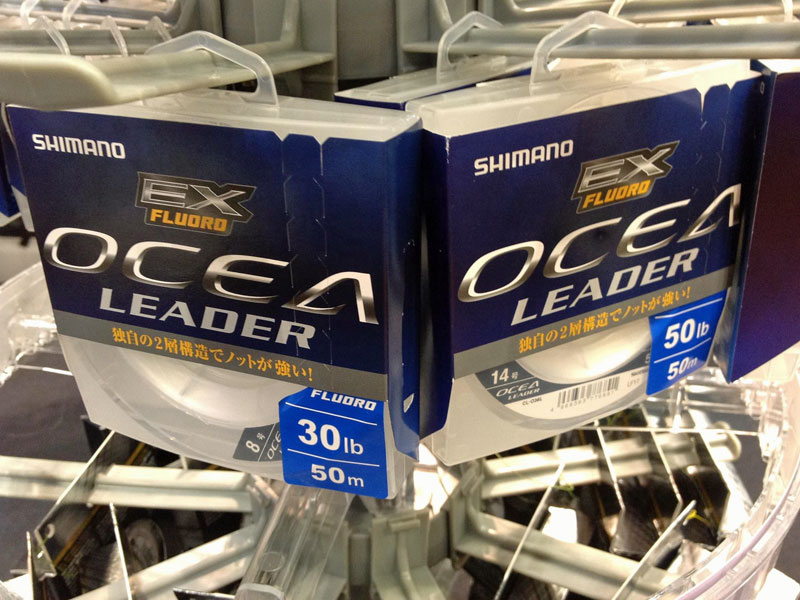 NEW – Shimano OCEA EX Fluorocarbon Leader material – feels great and comes on a smart dispenser !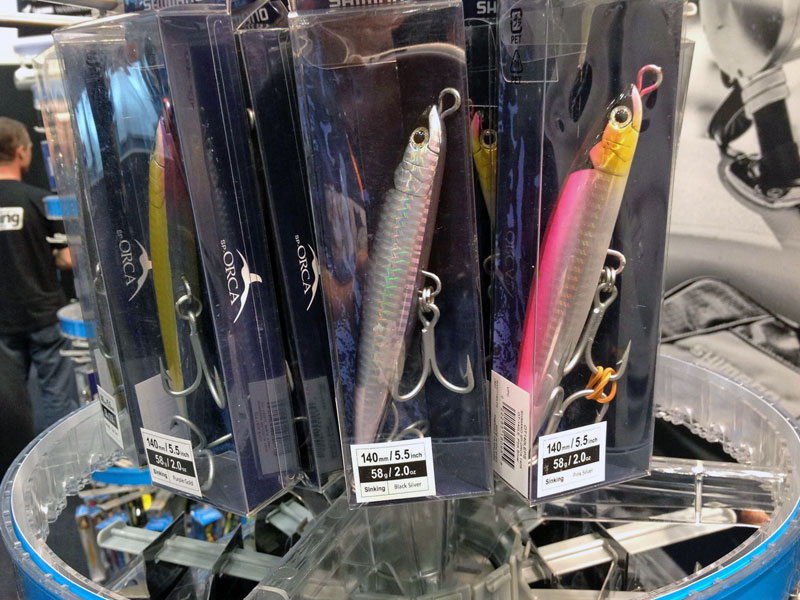 The NEW Shimano Orca Pencil Baits are available in 6 fish catching colours and two sizes, 160mm and 190mm. While the finish on these lures has to be seen to believed? They almost shimmer like a real bait!
Tested around the world the Shimano Orca Pencil Baits have been designed for anglers that want to catch big game fish such as GT's, tuna, big kings and mahi mahi, etc.
The Shimano Orca Pencil Baits are of Japanese design and the quality is second to none. The Orca Pencil Baits produce a unique zig and zag action that occasionally 'ducks' under the surface, enticing the big fish into explosive "jaw dropping" strikes.
The highly efficient and design creates helps produce long powerful casts. While the internal weight position produces an extremely erratic pop & dive action! The Shimano Orca is wired right through and finished off with ultra sharp, high tensile strength treble hooks so you know when you hook that big one they won't let go!
Available in two sizes 160mm- 58 grams and 190mm- 88grams and 6 great fish catching colours.
It was an honor to share the table with two genuine legends of the fishing tackle and media industries – Rex Hunt and John Dunphy who where both inducted into the AFTA Hall of Fame at the trade dinner !
#AFTA2013 #Shimano #FishingWithScotto