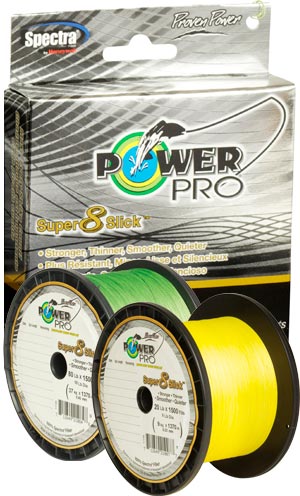 Power Pro Super 8 Slick Braided Line
For performance fishing situations, it's hard to go past Power Pro Super Slick braid. Innovative Textiles' Enhanced Body Technology or EBT means this eight-carrier braid is rounder in cross-section than other braids, so it maintains its shape and packs better onto a reel spool. With less resistance when coming off, it also casts better.
Run some Super 8 Slick through your fingers and you'll find it lacks the coarse feel of other braids, which means it's noticeably quieter when travelling through the rod guides. This smoothness also translates into increased sensitivity to pick up contact with snags and the often subtle taps from shy or half-hearted fish.
Power Pro Super Slick is available in high-vis yellow or a more subdued Aqua Green in 10, 15, 20, 30 and 40 pound breaking strains on 150-yard spools, and 10, 15, 20, 30, 40, 50, 65 and 80 pound on 300 and 1500 yard bulk spools.
#PowerPro #FishingGear #FishingWithScotto