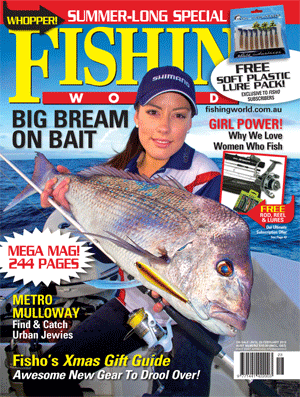 The massive 244-page December edition of Fishing World is now on sale – Check out my article on Hervey Bay Bay on Page 80 – The Bay of Plenty
Featuring keen angler Chloe Taylor displaying her PB snapper on the cover, our summer annual will be on sale until February 29, 2012. With a huge array of articles covering all fishing styles and some fantastic destinations stories aimed at helping you maximise your fishing over the holiday period, the summer-long edition of Fisho is sure to be a hit with anglers of all skill levels and experience.
Also included is a bonus Boat Fishing mag which features in-depth tests on trailer boats ranging from basic tinnies to you-beaut bluewater sport fishers. We've also got plenty of kayak tests and reports for all you keen yakkers out there. As an extra special treat, we've packaged up a pretty cool freebie for you this year.
If you buy the mag in your local news agency you'll score a free tackle box loaded up with hooks, sinkers and other terminal tackle that will doubtless come in handy over the summer holidays. This tackle box is too big to mail out to our valued and loyal subscribers so we've organised a pack of nifty softies for you guys to use as you while away the hours at your local creek, river or estuary.
Be sure to check out the December issue of Fisho at your local news agent – for just $9.90 it's fantastic value and should provide informative and enjoyable reading throughout the entire summer of 2011-2012. Hope you enjoy it!
#FishingWorld #DecemberEdition #FishingWithScotto