Lowrance launches Elite 4 & Mark 4 sounder/GPS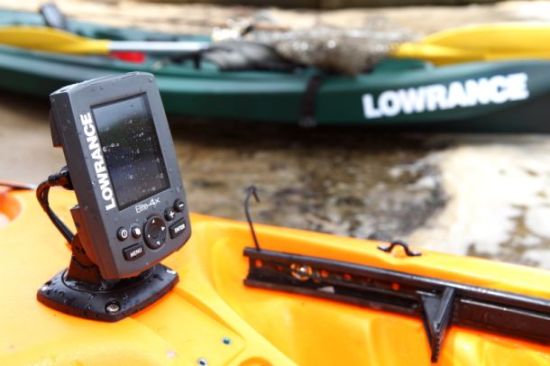 02 Dec 2011
By Scott Thomas
LOWRANCE yesterday launched its Elite 4 and Mark 4 sounder and sounder/GPS combo units in a media event held at Narrabeen Lake north of Sydney.
Sounder and GPS technology has come a long way over the past few years. Some of the latest gear suited for larger and more expensive boats is incredible and has become a vital part of any serious sportfishing boat's arsenal. What's equally impressive, and a lot more affordable is the latest line up of smaller units now on the market. Companies such as Lowrance are feeding some of the latest technology down into smaller products and this is fantastic news for the growing army of keen kayak fishos out there. The Elite 4 and mark 4 range is aimed squarely at this popular 'yak fishing market. Small tinny users or someone looking for a decent secondary sounder unit would also find these suitable.
The line-up offers a number of options starting at the lower end greyscale unit, with an RRP of $299, right up to a colour Downscan Imaging (DSI) fishfinder/Chartplotter, with an RRP of $499.
There are six units in the new range: The Mark-4 fishfinder/chartplotter (greyscale); Elite-4x dual-frequency fishfinder (colour); Elite-4x DSI fishfinder; Elite-4m chartplotter; Elite-4 fishfinder/chartplotter; and the Elite-4 DSI fishfinder/chartplotter.
Both series feature bright, LED-backlit, 8.9cm displays that provide good visibility at wider viewing angles, as well as readability in all conditions, including direct sunlight. Yesterday's woeful conditions weren't exactly favourable to viewing a small screen with cloudy weather creating glare and plenty of salt spray that would have tested any sounder unit. However, the screens delivered a decent clear image, even while wearing polarized sunnies. The screens are only small, which is ideal for use in a kayak, although it's worth mounting the units close to the paddler for best viewing.
Non-DSI models feature Lowrance's dual-frequency, transom-mount 83/200kHz Skimmer transducer with up to 120° of coverage, advanced signal processing and accurate water temperature readings. Utilising proven greyscale or colour technologies, the units reach depths in excess of 300m (1000ft).
DSI-equipped models deliver great below-the-boat views of bottom structure such as rocks, vegetation and drop-offs, as well as thermoclines, baitfish and target fish. Providing crystal-clear underwater definition in shallow and deep, fresh or saltwater, the DSI models also help anglers recognise variations in weed growth and bottom composition. The rugged, low-profile, dual-frequency DSI Skimmer transom-mount transducer with built-in temperature sensor operates at 455kHz for wider and deeper coverage, or at 800kHz for more concentrated scans in shallower conditions with greater target separation.
All fishfinders in the Mark-4 and Elite-4 series feature Lowrance's TrackBack function, which allows anglers to scroll back into sonar history and pinpoint possible fishing hotspots. This is a great feature and really useful for 'yak fishos who easily drift past likely looking spots.
Featuring a built-in GPS antenna, the chartplotter models are pre-loaded with a built-in background map and also feature a waterproof microSD memory-card slot for Navionics charts. Owners can store up to 3000 waypoints, 100 routes with 100 waypoints per route, 100 retraceable plot trails and up to 10,000 points per trail.
All Mark-4 and Elite-4 models feature a simplified user interface with a start-up wizard to optimise performance for specific user needs, while the backlit-enhanced keypad provides fast one-handed control of the menus.
The slimline design allows the units to be flush-mounted or bracket-mounted for tilt-swivel operation, and each model features a quick-release latch for easy removal. Fully waterproof to IPx7 standard, all models are also covered by a one-year limited warranty.
View on Youtube @ http://www.youtube.com/watch?v=vuecKJQHw3k&feature=player_embedded
#Lowrance #FishingGPS #FishingWithScotto