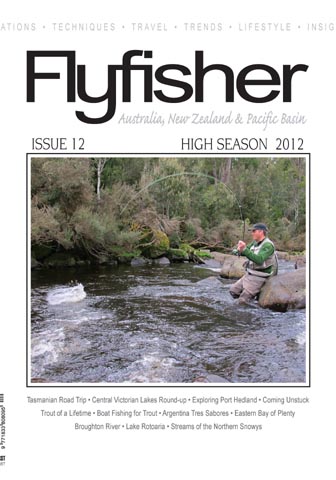 Contents – Issue 12 High Season Out Now!

Features
18. Tasmanian Road Trip – Peter Hayes
24. Central Victorian Lakes Round-up – Phillip Weigall
34. Exploring Port Hedland – Mark Davis
40. Coming Unstuck – Nick Taransky
48. Trout of a Lifetime – Philip Weigall
56. Boat Fishing for Trout – Craig Coltman
64. Argentina Tres Sabores – David Reverdito
72. Eastern Bay of Plenty – Andrew McGovern
82. Broughton River – Lubin Pfeiffer
88. Lake Rotoaria – John Murphy
100. Streams of the Northern Snowys – Trevor Hawkins

Fly Tying
114. Estuary Essentials – Muz Wilson
126. Trout Ties – Pheasant Tail Nymph – David Dodd

Regulars
 7. Editorial – Phillip Weigall
 8. Master Caster – Peter Hayes
 10. Hardcore Harro – Rod Harrison
 12. Salt Shaker – Scott Mitchell
 15. Native Cunning – Rob Meade
 80. In the Kitchen
 94. Subscriptions
 96. The Dusty Chase – Mick Hall
 108. News, Views & Reviews
 116. Flyfisher Shop
 124. Bamboo – Nick Taransky
 
Flyfisher Magazine
 
Flyfisher is a boutique magazine that many flyfishing enthusiasts have enjoyed ever since it first hit shelves in 1993. In the early days of publication, the magazine was an annual and soft cover issue. Flyfisher magazine has grown to earn the respect of hardened fly anglers in Australia and New Zealand. The magazine is today beautifully published and goes to market twice a year. The editorial team is led by Trevor Hawkins and Phillip Weigall, two of Australia's most respected flyfishing authors. The magazine always attracts the best content from leading authors around the country, and in an age where flyfishing is growing in popularity once more, this is a publication to get your hands on as soon as it hits the shelves!
#FlyFisher #ReadToday #FishingWithScotto