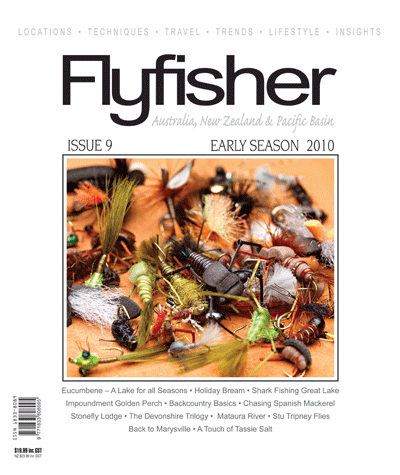 The Australian Fishing Network is proud to announce the upcoming release of its latest new magazine – Flyfisher.
ISSUE 9 – High Season 2010
The new Flyfisher is a relevant, sophisticated and cutting edge flyfishing magazine targeting the dedicated and highly committed fly fisher. At a size of 310 x 260 mm, 132 pages of 128 gsm high gloss art paper and a 350 gsm distinctive front cover and totally different from any other fishing magazine on the market. It will be published twice a year.
Flyfisher magazine—you'll need a season to read it.
Flyfisher is aimed squarely at the passionate fly angler and their partner, those who want to be kept informed of the latest techniques, destinations and equipment.
FEATURES:
Eucumbene- A Lake for all Seasons – Steve Dunn
Holiday Bream – Micah Adams
Shark Fishing Great Lake – Craig Coltman
Impoundment Golden Perch – Rod Harrison
Backcounty Basics – Philip Weigall
Chasing Spanish Mackerel – Christopher Bassano
Stonefly Lodge – Trevor Hawkins
The Devonshire Dun Trilogy – Mick Hall
Mataura River – Mark Salisbury
Stu Tripney Flies – Trevor Hawkins
Mack to Marysville – Max Caruso
A Touch of Tassie Salt – Trevor Hawkins
Available at select specialist tackle stores Or On-Line @ But It Now
#FlyFisher #ReadNow #FishingWithScotto